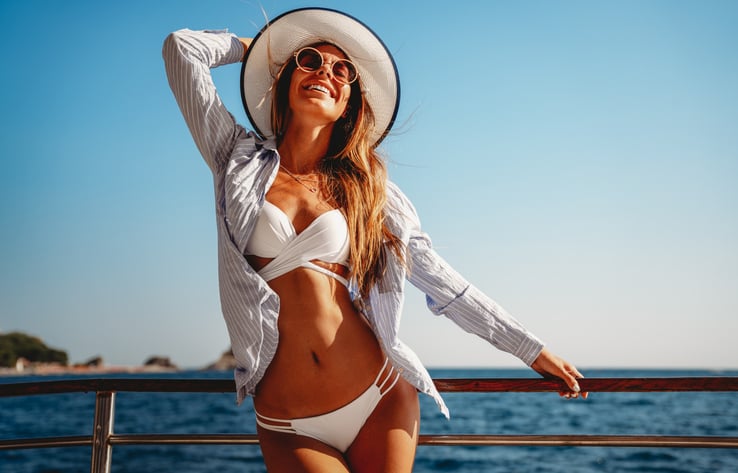 To be self-assured about your face and body, to feel confident and youthful and attractive, has so much to do with how you feel about yourself. For many people, women and men, having plastic surgery or a cosmetic treatment is a highly satisfying way to achieve the beautiful and natural results they desire.
In fact, plastic surgery continues to grow in popularity, with almost 18 million surgical procedures taking place in the U.S. every year, states the American Society of Plastic Surgeons. And it's not only women having cosmetic surgery. Men are also requesting procedures, wanting to look and feel better, younger and more attractive. Which procedures are people asking for? The following are the 10 most common plastic surgery procedures, according to verywellhealth.com.
Top 10 plastic surgery procedures
Liposuction is a surgical procedure that suctions fat from specific areas of the body in order to provide a slimmer and shapelier silhouette. There are two types of liposuction:
Tumescent liposuction. This is the most popular type of liposuction. After infusing a solution consisting of saline, a blood vessel-constricting drug and a numbing agent into the area to be treated, a plastic surgeon suctions the liquid along with unwanted excess fat out of the body using small hollow metal instruments called cannulas.
Ultrasonic-assisted liposuction. With this type of liposuction, the cannula releases ultrasonic energy to melt fat so that it can be suctioned out of the body. This procedure has more risks than tumescent liposuction, including the risk of internal and external burns and a lengthier surgery.
On average, liposuction patients are able to return to work within a few days, depending on the area(s) that are treated.
The surgical enlargement of women's breasts with breast implants has become enormously popular, with over 300,000 procedures done every year in the U.S. alone.
Breast augmentation surgery is typically performed to enlarge small breasts, underdeveloped breasts, or breasts that have decreased in size after a woman has had children. It can also make breasts more symmetrical if one is significantly larger than the other.
There are four types of breast implants available in the U.S. today:
Most patients have 1-2 weeks of recovery before they can return to normal activities. High impact activity, such as running or aerobics, may require additional healing time.
Eyelid reshaping surgery, or an eye lift, is performed when a patient wants to lose undereye bags and look less tired and droopy, or wants to improve their vision because the eyelids are obstructing the way they see. Too much skin or sagging skin can impair vision and also contributes to the appearance of aging.
During this procedure, upper and lower eyelids with chronic puffiness or wrinkling are reduced to produce a more youthful appearance. In addition, fat pads ("bags") under the eyes are removed.
Most patients can go out in public in 10-14 days, with swelling becoming less noticeable over several weeks or months.
Abdominoplasty, or tummy tuck, removes excess loose, flabby skin from the abdominal area that has lost its shape and elasticity and tightens the skin that remains for a flatter, smoother abdominal surface. This surgery is often performed on patients who have excess skin after pregnancy or after losing significant weight from bariatric surgery.
Most patients are able to resume normal activities in 2-3 weeks but strenuous physical activity may be limited for a longer period of time.
Fortunately, breast reduction surgery is one of the few plastic surgeries routinely covered by insurance, due to the fact that the benefits go beyond an improved appearance. Women with very heavy or overly large breasts often experience chronic back, shoulder and neck pain, develop poor posture, and have difficulty finding clothing that fits.
Breast reduction is often considered a reconstructive procedure, since greatly oversized breasts may interfere with normal function and physical activity. It is also a cosmetic procedure, since it vastly improves the shape of the breasts.
Most patients can return to work within two weeks.
Rhinoplasty, or a nose job, reshapes the nose, creating a better balance with the rest of the face. A plastic surgeon can reduce the overall size of the nose or refine areas of the nose and nostrils for a more pleasing appearance.
Nose reshaping is generally performed through surgical incisions inside the nose: the "closed" approach. A modified technique, called the "open" approach, can be used for patients who need more complex correction or who are undergoing a secondary rhinoplasty procedure. In these cases, a small incision is made outside the nose across the tissue that divides the two nostrils.
Bruising from surgery should fade over 10 days, when most patients are ready to return to work.
A rhytidectomy, or facelift, is a surgical solution to the wrinkles and sagging skin that occur due to aging. A facelift tightens the skin of the face, smooths deep lines, and minimizes sagging, achieving a more youthful appearance.
For an overall smoother, fresher and younger appearance, a facelift is frequently combined with a forehead lift, eyelid shaping or skin peels.
Sutures from a facelift are often removed 5-10 days after the procedure, but recovery will take several weeks.
For sagging or poorly shaped breasts, or ones that look deflated due to aging, pregnancy and breast feeding, a breast lift is an excellent way to lift and reposition the breasts for a younger-looking, sexier cleavage. Many women choose to have breast implants at the same time as a breast lift.
Most patients are able to return to work within two weeks and resume full physical activity within a month.
Similar to a facelift, a forehead lift tightens the skin of the forehead to remove wrinkles and smooth creases. This procedure corrects drooping eyebrows, "hooded" eyelids, forehead furrows and frown lines.
Most patients are able to resume normal activity within ten days of surgery, but recovery can be longer if combined with other facial surgeries.
Gynecomastia treatment (removal of excess male breast tissue)
Plastic surgery to reduce excessive amounts of male breast tissue, a condition known as gynecomastia, is a permanent, highly successful treatment for most men. In addition, some men experience enlargement of their breasts after habitually using steroids or marijuana, and can also benefit from this surgery. The procedure typically involves an incision around the nipple line so that the scar is not noticeable, allowing patients to go shirtless after recovery.
Most men are able to return to work within one week and are able to return to normal activity within a few weeks.
How much do these procedures cost?
One of the first questions my patients ask me when they're considering a cosmetic procedure is how much will it cost. My answer is that there is no one standard price. Every person's body is different, and what each individual is hoping to achieve is unique to them. That's why I determine the exact cost of a treatment after I have met with the patient, evaluated their face and body, and talked with them about their personal goals and expectations. For further pricing details, please contact me.
Considering having a cosmetic or plastic surgery?
If you are thinking about having a procedure for your body, face or skin and would like to schedule a free consultation, please

contact me

and I will send you additional information prior to your appointment. During our consultation, I will examine you, discuss your reasons for wanting a particular procedure, and learn what you are expecting to achieve. Then together, we will decide which procedure(s) will bring you the results you're hoping for.
For more information on plastic surgery options, I recommend these 3 blogs
So you can be fully informed before deciding to have a cosmetic or plastic surgery treatment, please read these three blogs explaining a sampling of procedures and their benefits:
Learn more about the many procedures I offer for the face, body and skin
A wide range of procedures, both surgical and non-surgical, are available to you, focusing on the breasts, body, face and skin. To learn more, please visit these pages on my website:
Board certified by the American Board of Plastic Surgery (ABPS), a member of the American Society of Plastic Surgeons (ASPS) and the American Society for Aesthetic Plastic Surgery (ASAPS), and a Fellow of the American College of Surgeons (FACS), Samuel J. Beran, MD is a highly accomplished plastic surgeon with offices in Manhattan, Harrison and Mount Kisco, NY. With more than 20 years' experience and a thorough command of the most advanced techniques and technologies, Dr. Beran consistently provides his patients with the highest level of plastic, cosmetic and reconstructive surgery of the breast, face, skin and body. Recently, Dr. Beran was named a "Top Doctor" by RealSelf for his dedication to responding to consumer questions and patient feedback. The "Top Doctor" designation is awarded to less than 10% of the RealSelf physician community.