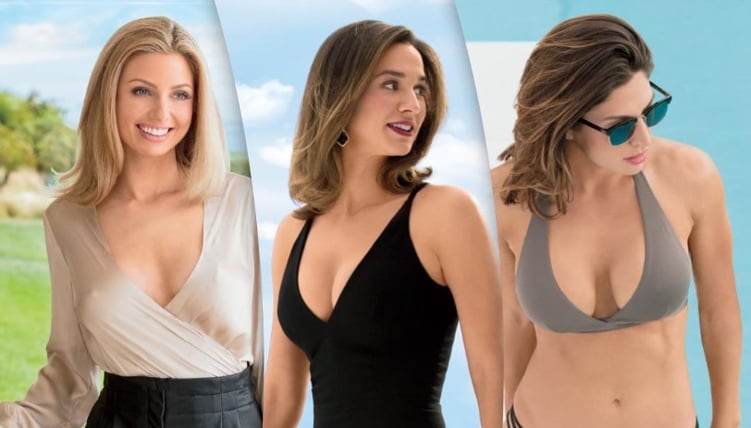 Courtesy of Natrelle®
Your eyes, your nose, your smile…all of these are unique to you. Wouldn't it be great if your breast implants were unique to you, too? With Natrelle gummy gel breast implants, they are!
What is a "gummy" breast implant?
As Natrelle's website states, gummy describes the particular consistency of the silicone gel inside Natrelle INSPIRA® breast implants that enables the implant to hold its shape. All of the Natrelle gummy implants are soft, but you can choose between three different levels of gumminess, depending on how much gel firmness or squishiness you want.
The best way to determine the amount of gumminess that would be right for you is to feel each implant during your consultation with me in my office. You'll be able to hold the different implants in your hands so you can judge their softness, and then turn them upright to get an idea of what their shape and silhouette would be once implanted.
With Natrelle gummy gel implants, you have a choice of four different degrees of breast fullness
Natrelle smooth gummy gel implants offer you four choices of breast fullness, from minimal to maximum, depending on the personalized look you would like to achieve.

You also have a choice of five breast silhouettes…
In addition to the four choices of fullness, Natrelle smooth gummy gel implants also offer you five profiles, or breast silhouettes, ranging from low to extra full. Based on your body structure and appearance goals, I can customize the particular look you are hoping to achieve.

…and three different levels of gumminess
Since no two women are alike, and the results they are seeking to achieve from breast augmentation are unique to each individual, Natrelle offers gel-filled breast implants with different amounts of cohesivities ("gumminess"). The gummier the implant, the more it holds its shape when held in your hand.
Choosing the best implant for you
When helping a patient decide on which type of implant would be right for her, I take into consideration the following:
her body type
her age
her overall health
the current size of her breasts
How much do breast implants cost?
One of the first questions my patients ask me when they're considering getting breast implants is how much they will cost. My answer is that there is no one standard price. Every woman's breasts are unique, and the results she is seeking from breast augmentation surgery are specific to her. That's why I determine the exact cost of the procedure after I have met with the patient, evaluated her breasts, body type, overall physical condition and personal goals and expectations. Then together, she and I will decide what type of procedure will achieve the best possible results.
NOTE: If you are a good candidate for breast augmentation without a breast lift or other surgery, you may qualify for my special pricing. For further pricing details, please contact me.
If you have breast implants, contact me to get them checked
If you have breast implants — saline, silicone, gummy or textured — it's important to get them checked regularly for ruptures, slippage, leakage, swelling or any other potential problems. For all of my patients with implants, I strongly recommend getting them checked once a year. If you have textured implants (the subject of a recent recall), you should act even sooner — contact me to get them checked right away.
Symptoms of potential implant problems

If you are experiencing of the following symptoms, contact me right away:
pain
lumps
swelling
breast asymmetry
However, if there are no symptoms, there is no reason to remove the implants.
For more information about breast implants, read these 3 blogs
So that you can be fully informed about this important decision, I've written several blogs explaining the many aspects of breast implant surgery:
Seeing is believing
To see unretouched "before and after" photos of actual patients of mine who have had successful breast implant surgery, please visit the Breast Augmentation page in the Photo Gallery section of my website.
Considering breast implants?
If you are thinking about getting Natrelle breast implants or another type of breast augmentation and would like to schedule a free consultation, please contact me and I will send you additional information prior to your appointment. During our consultation, I will assess the current appearance of your breasts, your reasons for wanting surgery, and your expectations. Then together, we will decide which breast procedure will bring you the results you're looking for. I specialize in the most advanced techniques of breast augmentation surgery and am ready to help you achieve your goals.
Learn more about the many breast procedures I offer
You can find a good deal of information on my website about the many breast procedures available to you:
Board certified by the American Board of Plastic Surgery (ABPS), a member of the American Society of Plastic Surgeons (ASPS) and the American Society for Aesthetic Plastic Surgery (ASAPS), and a Fellow of the American College of Surgeons (FACS), Samuel J. Beran, MD is a highly accomplished plastic surgeon with offices in Manhattan, Harrison and Mount Kisco, NY. With more than 20 years' experience and a thorough command of the most advanced techniques and technologies, Dr. Beran consistently provides his patients with the highest level of plastic, cosmetic and reconstructive surgery of the breast, face, skin and body. Recently, Dr. Beran was named a "Top Doctor" by RealSelf for his dedication to responding to consumer questions and patient feedback. The "Top Doctor" designation is awarded to less than 10% of the RealSelf physician community.