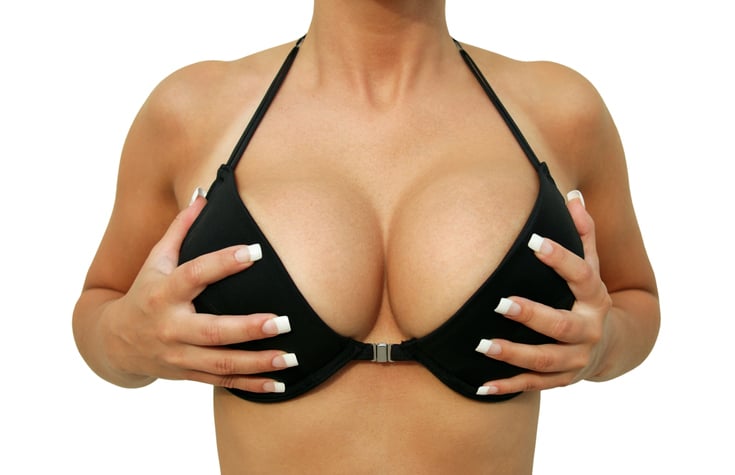 According to the American Society of Plastic Surgeons, more than 300,000 breast augmentations were performed in the U.S. in 2018, making it the most popular cosmetic surgery. In general, most women — including the majority of my patients — are pleased with the fuller, shapelier, sexier silhouette they can achieve with breast implants.
Rethinking your decision
However in some cases, women find that the size of implant they chose before surgery is larger than what they actually want. Others find that the extra weight of larger breasts is affecting their neck, back, shoulders and posture. And some may find it challenging to find clothing that fits properly and looks flattering on their bigger breasts.
For these and many other reasons, an increasing number of women these days are choosing to have breast revision surgery to replace their large implants with smaller ones. This is just one of several breast procedures I perform in my practice. To learn more, click here.
More women are choosing smaller breast implants (or none at all)
If you feel your breast implants are too large, I can replace them with smaller ones that better fit your body's frame and proportions. Or I can completely remove them, if that is your desire.
If you want smaller implants, there are three types, all of them safe
Silicone breast implants—filled with silicone gel.
Saline breast implants—filled with saline (sterile saltwater).
Natrelle® gummy breast implants—filled with silicone

gel. Choose from five profiles (low to extra full), four degrees of fullness (minimal to maximum) and three levels of cohesivity (gumminess).
Most women—and most plastic surgeons, myself included—prefer the look and feel of silicone implants rather than saline.
1. Silicone breast implants
Most women and plastic surgeons prefer the look and feel of silicone breast implants, which are generally considered to be more like real breast tissue. However, silicone implants are more expensive, require a slightly longer incision, and are a little more difficult to know if they have ruptured. Although they were taken off the market by the FDA for several years due to safety concerns, recent scientific studies have shown this type of implant to be safe.
2. Saline breast implants
Saline breast implants are silicone shells filled with sterile salt water (saline). Since they are filled after they are implanted in the breast, they require a slightly smaller incision than silicone ones. Saline breast implants provide a uniform shape, firmness and feel and are less expensive than silicone implants.
3. Gummy gel-filled implants
Natrelle smooth gummy gel-filled implants

offer five profiles to choose from, four degreesof breast fullness and three

levels of cohesivities ("gumminess") for a personalized look that's unique to you

.
Are there risks with breast revision surgery?
There is a risk of infection following any major surgery. In order to avoid this or any negative outcomes for my patients, I perform all of my surgeries at the Surgical Specialty Center of Westchester, a leading-edge, state-of-the-art facility specifically designed by our group of surgeons to provide the highest level of care, privacy and surgical results in the most technologically advanced facility in the area.
How much does this procedure cost?



Often, one of the first questions my patients ask me when they're considering having their breast implants removed is how much it will cost. My answer is that there is no one standard price. The type, size and shape of a woman's implants can differ a great deal. That's why I determine the exact cost of this surgical procedure after I have met with the patient, evaluated her implants and the skin around them, and talked about her personal goals and expectations. For further pricing details, please contact me.
For more information about breast implants, read these 3 blogs
So that you can be fully informed about this important decision, I've written several blogs explaining the many aspects of breast reduction surgery:
Considering having your breast implants made smaller?
If you are thinking about changing your breast implants to a smaller size and would like to schedule a free consultation, please contact me and I will send you additional information prior to your appointment. During our consultation, I will examine your implants, discuss with you your reasons for wanting them changed, and talk about your expectations post-surgery. Then together, we will decide if you are a good candidate for breast revision surgery and if so, move forward with plans for the procedure. As a highly-experienced plastic surgeon, my #1 intention is to help you achieve your goals.
Learn more about the many breast procedures I offer
You can find a good deal of information on my website about the many breast procedures available to you:
Board certified by the American Board of Plastic Surgery (ABPS), a member of the American Society of Plastic Surgeons (ASPS) and the American Society for Aesthetic Plastic Surgery (ASAPS), and a Fellow of the American College of Surgeons (FACS), Samuel J. Beran, MD is a highly accomplished plastic surgeon with offices in Manhattan, Harrison and Mount Kisco, NY. With more than 20 years' experience and a thorough command of the most advanced techniques and technologies, Dr. Beran consistently provides his patients with the highest level of plastic, cosmetic and reconstructive surgery of the breast, face, skin and body. Recently, Dr. Beran was named a "Top Doctor" by RealSelf for his dedication to responding to consumer questions and patient feedback. The "Top Doctor" designation is awarded to less than 10% of the RealSelf physician community.