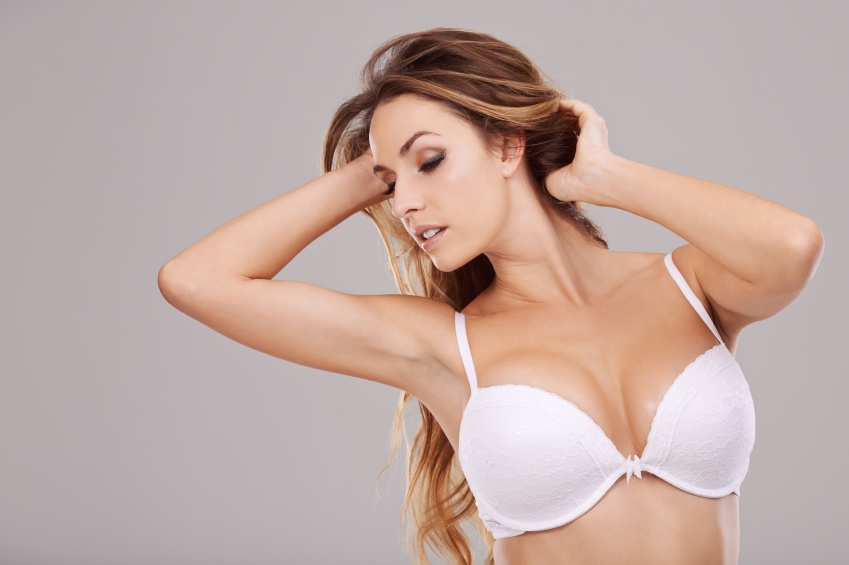 Today, breast implants are as popular as ever but a new trend many plastic surgeons are seeing is "less is more." Although women still desire larger, sexier breasts, surgeons are observing a significant change in the size of breast implants their patients request for breast augmentation surgery. For more information on breast augmentation, download our free fact sheet!
For many, less is more
Currently in many parts of the country, many women simply want to increase their bust by approximately one cup size. Instead of a D or DD, a number of women are now requesting a B-cup or small C-cup size implants. Celebrities are also requesting more modest results when they undergo breast augmentation surgery, which might be influencing this trend.
Dr. Scot Glasberg, president of the American Society of Plastic Surgeons, commented on this trend in a recent interview with ABC News, saying that the celebrities he sees in his practice are opting to trade in their larger implants for smaller ones.
Though natural now seems to be the new look, there are regional differences when it comes to requested cup size. What's a modest size in one place may not translate to another. For example, women in Miami might have one idea of what breast size looks attractive while women in the Northeast might have quite another. The current smaller implant trend is currently most prevalent in New York and Beverly Hills but in time may spread to other areas of the country.
Whether small and natural-looking or large and eye-catching, breast augmentation remains one of the most popular plastic surgery procedures. According to the most recent data from the American Society of Plastic Surgeons, breast augmentation was the most popular cosmetic surgical procedure in 2013, with 290,000 performed.
If you are interested in breast implants
If you are thinking about having breast implant surgery and would like to schedule a free consultation, please contact me. I will send you additional information prior to your appointment. During our meeting, I will answer any questions you may have, assess your breasts, your reasons for wanting surgery and your expectations. Then together, we will decide which option would be the best one for you.
Want to know more about breast implant surgery?
You might also find these pages helpful on my website:
Board certified by the American Board of Plastic Surgery (ABPS), a member of the American Society of Plastic Surgeons (ASPS) and the American Society for Aesthetic Plastic Surgeons (ASAPS), and a Fellow of the American College of Surgeons (FACS), Samuel J. Beran, MD is a highly accomplished plastic surgeon with offices in Manhattan, Harrison and Mount Kisco, NY. With more than 20 years' experience and a thorough command of the most advanced techniques and technologies, Dr. Beran consistently provides his patients with the highest level of plastic, cosmetic and reconstructive surgery of the breast, face, skin and body. Recently, Dr. Beran was named a "Top Doctor" by RealSelf for his dedication to responding to consumer questions and patient feedback. The "Top Doctor" designation is awarded to less than 10% of the RealSelf physician community.