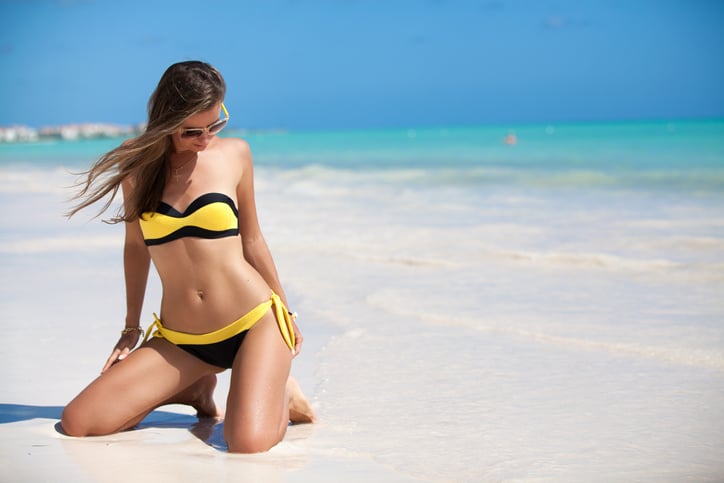 After this particularly long, cold winter, spring has finally arrived. Before you know it, summer will be here, which means bathing suits, skimpy shorts, sundresses, swimming pools and the beach. To get that trim, toned, sexy body you're looking for, now is the time of year to consider liposuction.
Liposuction sculpts and tones your body for a trimmer, firmer silhouette
Would you like to finally lose those unwanted bulges and pooches that diet and exercise have not been able to erase? Liposuction can do that for you. It slims and reshapes specific areas of the body by permanently removing excess fat deposits and improving your body contours and proportion. Liposuction is just one of the many ways I can help you achieve a more beautiful body. To learn more, click here.
Liposuction can be performed at the same time as other plastic surgery procedures for even more satisfying results
Some of my patients choose to have liposuction performed on its own, while others combine it with other body sculpting procedures such as a facelift, breast augmentation, tummy tuck, Mommy Makeover or lower body lift in order to achieve the results they want in time for swimsuit season. NOTE: If you're interested in decreasing fat throughout your entire body and trimming and tightening several areas, this will likely take multiple procedures.
The best areas of the body for liposuction
Liposuction can be performed on almost any part of the body but the most commonly requested areas are:
cheeks, jowls and neck

upper arms

breast or chest areas

back

abdomen and waist

hips and buttocks

inner and outer thighs

inner knees

calves and ankles
Are you a good candidate for liposuction?
In order to be considered a good candidate for this surgical procedure, you should be in good overall physical health and maintain a routine of regular exercise and proper diet. Liposuction tends to work best on smaller areas of fat, so you should be somewhat close to your ideal weight at the time of your procedure. This surgery is not a substitute for other weight loss strategies and is not designed for patients who are overweight or obese.
What happens during liposuction surgery
During the liposuction procedure, body fat is removed by first inserting a small, hollow tube (a cannula) through one or more tiny incisions near the area to be suctioned. Incisions are usually less than one-quarter inch in length and are placed in places where they will be least noticeable, often within skin folds or contour lines. The cannula is connected through a tube to a vacuum pressure unit. Guided by a plastic surgeon, the suction device then vacuums away your unwanted fat — permanently.
Laser-assisted liposuction (SmartLipo)
One of the newest liposuction techniques for fat dissolution is laser-assisted liposuction or SmartLipo. Using laser technology, SmartLipo liquefies fat by producing a burst of energy as the laser enters the fatty tissue. This laser energy is delivered by a thin laser fiber that is inserted through small incisions in the skin. Laser-assisted liposuction also stimulates collagen production in the skin, which may offer additional skin-tightening benefits.
Is liposuction safe?
A common question patients ask me about liposuction is: is it safe? Like any procedure, there are some risks involved, but if you're healthy, without medical problems, a non-smoker, you're in good shape, and you're having the procedure done in the right location with the right surgeon, the procedure can be done very safely.
I perform liposuction at the Surgical Specialty Center of Westchester
For almost every plastic surgery procedure I perform, including liposuction, I use the Surgical Specialty Center of Westchester. Located in Harrison, NY, the Surgical Specialty Center has four operating rooms and an 11-bed recovery room. Each operating room is fully equipped with state-of-the-art anesthesia (provided by a board-certified anesthesiologist), emergency equipment and everything else I and my surgical team need to provide the highest standard of care to each one of our patients. To learn more, watch this short video by clicking here or on the image below.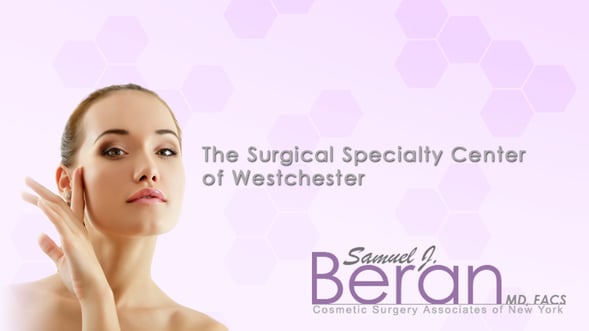 How much does liposuction cost?
Because everyone's body is unique and the amount and location of fat to be removed with liposuction varies from person to person, the exact cost of this procedure is determined after I have met with the patient and together, we have decided how many areas of the body are good candidates for liposuction in order to achieve the best possible results.
Insurance coverage
Insurance companies consider liposuction to be elective cosmetic surgery and usually do not cover it, which means the procedure would be self-pay.
Considering liposuction?
If you are thinking about having liposuction, please contact me for a free consultation where you'll hear about all your options and have the opportunity to ask as many as questions as you like. I have performed hundreds of liposuction procedures and am highly experienced in this specialized type of plastic surgery. Deciding to have liposuction is an important decision and I am dedicated to helping you achieve the beautiful body you've always wanted.
To know more about liposuction, I

recommend

these 3 blogs
So you can be fully informed before you decide to have liposuction, I've written several blogs explaining the procedure and its benefits. Here are the three most popular:
To learn about the full range of body contouring procedures I offer
There are several body procedures available to you in my plastic surgery practice. To learn more, please visit these pages on my website:
Board certified by the American Board of Plastic Surgery (ABPS), a member of the American Society of Plastic Surgeons (ASPS) and the American Society for Aesthetic Plastic Surgery (ASAPS), and a Fellow of the American College of Surgeons (FACS), Samuel J. Beran, MD is a highly accomplished plastic surgeon with offices in Manhattan, Harrison and Mount Kisco, NY. With more than 20 years' experience and a thorough command of the most advanced techniques and technologies, Dr. Beran consistently provides his patients with the highest level of plastic, cosmetic and reconstructive surgery of the breast, face, skin and body. Recently, Dr. Beran was named a "Top Doctor" by RealSelf for his dedication to responding to consumer questions and patient feedback. The "Top Doctor" designation is awarded to less than 10% of the RealSelf physician community.