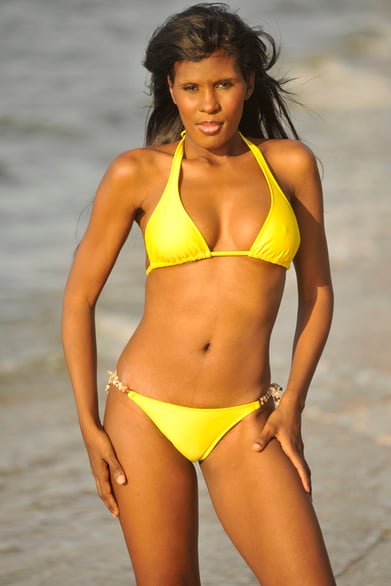 If you're like many of my patients, you probably spend a good deal of your time doing things for others: your kids, your spouse or partner, your co-workers, your parents. But do you ever take a step back and decide to do something just for you? Liposuction could be that turning point.
A highly-effective, permanent solution to fat deposits
If you've tried dieting and exercise but still have localized areas of fat that simply won't go away, liposuction could be the perfect solution. It slims and reshapes specific areas of your body by eliminating excess fat and improving your body contours, giving you a toned, curvy shape you can feel good about. And the best part about liposuction : since fat cells do not reproduce, once they are gone, they're gone for good!
In addition to liposuction, I also offer a wide range of other body sculpting procedures to help you achieve a more shapely body, which you can learn about here. To find out more about liposuction, watch my short video by clicking on the image below.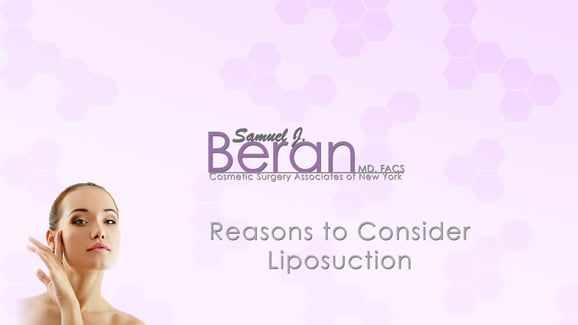 2 types of liposuction
There are 2 different liposuction techniques:
Tumescent liposuction. With this technique, the surgeon will inject a solution into your fatty areas before the fat is removed. It is made up of a saline solution, lidocaine anesthetic and epinephrine (contracts your blood vessels). The solution helps the surgeon extract the fat more easily, helps decrease blood loss and eases pain during and after surgery.


Laser-Assisted Liposuction (SmartLipo). Using laser technology, SmartLipo liquefies fat by producing a burst of energy as the laser enters the fatty tissue. This laser energy is delivered by a thin laser fiber that is inserted through small incisions in the skin. Laser-assisted liposuction also stimulates collagen production in the skin, which may in turn offer additional skin-tightening benefits.
10 most popular areas to reduce fat by having liposuction
Here are the areas of the body where liposuction is most commonly requested:
1. Waist
For both men and women, "love handles" can be extremely hard to get rid of, even with a healthy regimen of diet and exercise. The waist area is very responsive to liposuction because of optimal skin elasticity, and patients who undergo waist liposuction experience a notable decrease in waist size.
2. Flanks
This area is considered the back end of the "love handles" and resides in the lower back above the pant line. Liposuction in this area is commonly done in conjunction with the waist to achieve the hourglass curves many women desire.
3. Hips
Liposuction is very effective in re-shaping this area to create a rounder, well-defined buttock, as well as a curvy feminine silhouette.
4. Upper Arms
A common sign of aging is excess fat and tissue in the upper arm. Liposuction can tone this area, resulting in a more youthful appearance.
5. Lower Abdomen
Liposuction of a flabby abdomen ("muffin top") can result in a tight and toned stomach.
6. Upper Abdomen
Typically if the lower abdomen is treated, the upper abdomen (the area between the belly button and the ribs) should also be treated in order to create a smooth transition from one to the other.
7. Buttocks
Generally, I try to steer patients away from liposuction of the buttocks because the procedure can result in a deflated or flat-looking appearance. Instead, I recommend the Brazilian butt lift to create a full, shapely buttocks shape.
8. Inner Thighs
Liposuction can help keep the inner thighs from touching when standing. Some women only need the upper inner thigh to be contoured, while others require treatment of the entire inner thigh to achieve their desired result.
9. Outer Thighs
Commonly referred to as "saddle bags," the outer thigh is a common problem area for most women. It plays a significant role in a woman's silhouette and therefore it is important to accurately reduce the correct quantity of fat given the specific body attributes of the individual patient.
10. Lower Legs
Liposuction in this area is often challenging because the entire lower leg needs to be reshaped to achieve natural-looking proportions. Calves and ankles also have very little "deep fat" pockets, therefore the procedure must be done carefully to avoid creating any irregularities in appearance.
Liposuction is often performed at the same time as other plastic surgery procedures
Liposuction can successfully be combined with other cosmetic surgery procedures such as a facelift, breast augmentation, tummy tuck or lower body lift. If you're interested in decreasing fat throughout your entire body, this will likely take multiple procedures.
What liposuction won't do
Liposuction is not a treatment for obesity or a substitute for proper diet and exercise.
It is also not an effective treatment for cellulite (dimpled skin that typically appears on the thighs, hips and buttocks) or loose, saggy skin.
Liposuction will not prevent you from gaining weight. To keep your new shape and new weight after liposuction, you must follow a proper diet and exercise plan.
People should resort to liposuction only after they have tried other means of losing weight, particularly diet and exercise.
How much does liposuction cost?
Because every person's body is unique and the amount and location of fat to be removed through liposuction vary from person to person, the exact cost of surgery is usually determined by a plastic surgeon after he or she has met with the patient and together, they have decided which and how many areas of the body are good candidates for liposuction in order to achieve the best possible results.
For more facts about liposuction, here are 3 blogs
So you can be fully informed before you decide to have liposuction, I've written several blogs explaining the procedure and its benefits. Here are the three most popular ones:
Considering liposuction?
If you are thinking about having liposuction, please contact me for a free consultation where you'll hear about all your options and have the opportunity to ask as many as questions as you like. I have performed hundreds of liposuction procedures and am highly experienced in this specialized type of plastic surgery. Deciding to have liposuction is an important decision and I am dedicated to helping you achieve the beautiful body you've always wanted.
Learn more about the many body contouring procedures I offer
There are several body procedures available to you in my plastic surgery practice. To learn more, please visit these pages on my website:
Board certified by the American Board of Plastic Surgery (ABPS), a member of the American Society of Plastic Surgeons (ASPS) and the American Society for Aesthetic Plastic Surgery (ASAPS), and a Fellow of the American College of Surgeons (FACS), Samuel J. Beran, MD is a highly accomplished plastic surgeon with offices in Manhattan, Harrison and Mount Kisco, NY. With more than 20 years' experience and a thorough command of the most advanced techniques and technologies, Dr. Beran consistently provides his patients with the highest level of plastic, cosmetic and reconstructive surgery of the breast, face, skin and body. Recently, Dr. Beran was named a "Top Doctor" by RealSelf for his dedication to responding to consumer questions and patient feedback. The "Top Doctor" designation is awarded to less than 10% of the RealSelf physician community.