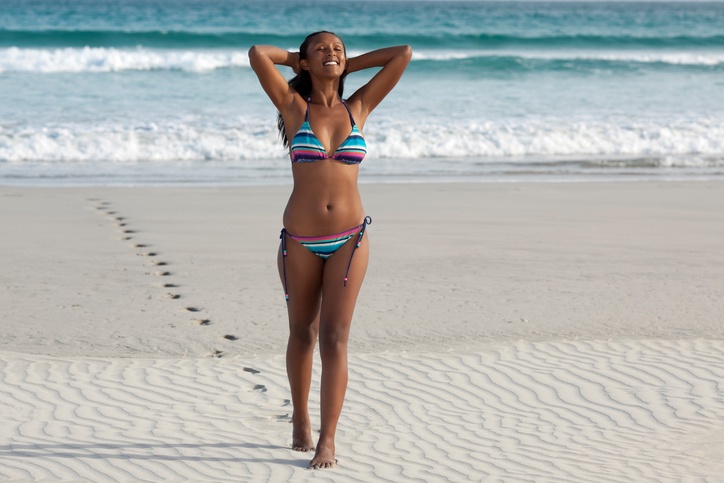 Some people are perfectly happy with the body they were born with, or at least readily accept the changes that have occurred over time or after having children. Many other people, however, would like to make some improvements to their shape, whether to boost their self-esteem, look younger and sexier, or feel more confident in body-hugging clothing, bathing suits and lingerie. They may want to flatten their tummy, trim their inner and outer thighs, and/or contour their waist, hips and buttocks.
When patients ask me which body contouring procedures would be best for them in order to achieve the results they're looking for, I often suggest CoolSculpting or liposuction.
Both CoolSculpting and liposuction are very effective at removing excess fat and dramatically changing a person's shape, but as I tell my patients who are considering either of these procedures, the treatment that's right for you depends on your unique body type and desired results.
They both can be performed on several areas of the body at the same time and both can be done in conjunction with other cosmetic procedures. However, there are some significant differences between the two procedures to keep in mind when you're deciding which one would best bring you the results you're looking for.
CoolSculpting is a highly effective non-surgical way to remove fat
Particularly effective in the treatment of sagging fat pockets on the tummy, back, hips, thighs and arms, CoolSculpting is a non-invasive, non-surgical cosmetic procedure that freezes away stubborn fat. By gently targeting and cooling unwanted fat cells in the selected area, it achieves a noticeable, natural-looking reduction of approximately 25% of fat bulges. During the CoolSculpting procedure, the treated fat cells are destroyed and then "flushed" from your body. Since it is not surgery, CoolSculpting involves no needles, stitches, scarring, anesthesia or "downtime."
With CoolSculpting, the results are very long-lasting but not immediate. You will see benefits as soon as 3 weeks following treatment,* with the greatest results occurring over the next 2-4 months.* If you would like more than a 20-30% reduction in fat, you may require multiple CoolSculpting treatments. This depends on the size of the fat layer to be removed and what your particular goals are.
However, as I tell my patients who are considering CoolSculpting, this is not a weight-loss treatment. It is designed for people who live active lifestyles, experience minimal weight fluctuations and are looking to target certain areas of their bodies that are stubbornly resistant to exercise and healthy eating habits. CoolSculpting is ideal for patients who only need a small reduction in fat, have no hanging skin, are within 20 pounds of their ideal weight, and do not want surgery in order to achieve a tighter, toner body. As long as you maintain your weight with normal diet and exercise, your results should be long-term. For more information on CoolSculpting, download our free fact sheet.
Liposuction surgically slims and re-shapes specific areas of your body
A major difference between CoolSculpting and liposuction is that liposuction can deliver dramatic results after just one treatment, depending on the amount of fat you want extracted and from how many areas of your body. Another big difference is that liposuction is surgery, and therefore carries some risks. It also causes a certain amount of bruising, scarring and downtime.
During liposuction surgery, body fat is removed by first inserting a small, hollow tube (cannula) through one or more tiny incisions near the area to be suctioned. Incisions are usually less than one-quarter inch in length and are placed in places where they will be least noticeable, often within skin folds or contour lines. The cannula is connected through a tube to a vacuum pressure unit. Guided by a plastic surgeon, the suction device then vacuums away your unwanted fat.
Liposuction can successfully be combined with other cosmetic surgery procedures such as a facelift, breast augmentation, Brazilian butt lift or tummy tuck. If you're interested in reducing fat throughout your entire body, this will likely take multiple procedures.
In order to be considered a good candidate for liposuction, you should be in good overall physical health and maintain a routine of regular exercise and proper diet. Liposuction tends to work best on smaller areas of fat, so you should be somewhat close to your ideal weight at the time of your procedure. This surgery is not a substitute for other weight loss strategies and is not designed for patients who are overweight or obese. For more information on liposuction, download our free fact sheet.
Laser-Assisted Liposuction (SmartLipo)
One of the newest liposuction techniques for fat dissolution is laser-assisted liposuction or SmartLipo. Using laser technology, SmartLipo liquefies fat by producing a burst of energy as the laser enters the fatty tissue. This laser energy is delivered by a thin laser fiber that is inserted through small incisions in the skin. Laser-assisted liposuction also stimulates collagen production in the skin, which may in turn offer additional skin-tightening benefits.
Which is the right choice for you?
Both CoolSculpting and liposuction can dramatically change a person's shape, boost their confidence and motivate them to live a healthier lifestyle. In my years of experience, I have seen many of my patients use these procedures as a starting point to change their lives for the better and let go of bad habits, such as smoking or overeating.
In fact, along with their new shape, many of my patients experience newfound confidence and self-esteem and work hard to maintain their "new" bodies, often even improving upon the initial body-contouring results.
I have performed both of these body contouring procedures hundreds of times and am highly experienced in both. Depending on your own unique body type, lifestyle and physical changes you would like to make, I am ready to help you achieve your goals with whichever procedure you decide on.
Want more information about CoolSculpting and liposuction?
If you're thinking about having CoolSculpting or liposuction and would like to know more before making your decision, please contact me to schedule a free consultation. I will send you additional information prior to your appointment, then when we meet, I will answer all your questions, evaluate your body type and hear what you're hoping to achieve. Then together, we'll decide which procedure will bring you the best possible results.
More information on body sculpting procedures
For further information on body slimming and toning procedures, you might find these pages helpful on my website:
Board certified by the American Board of Plastic Surgery (ABPS), a member of the American Society of Plastic Surgeons (ASPS) and the American Society for Aesthetic Plastic Surgeons (ASAPS), and a Fellow of the American College of Surgeons (FACS), Samuel J. Beran, MD is a highly accomplished plastic surgeon with offices in Manhattan, Harrison and Mount Kisco, NY. With more than 20 years' experience and a thorough command of the most advanced techniques and technologies, Dr. Beran consistently provides his patients with the highest level of plastic, cosmetic and reconstructive surgery of the breast, face, skin and body. Recently, Dr. Beran was named a "Top Doctor" by RealSelf for his dedication to responding to consumer questions and patient feedback. The "Top Doctor" designation is awarded to less than 10% of the RealSelf physician community.