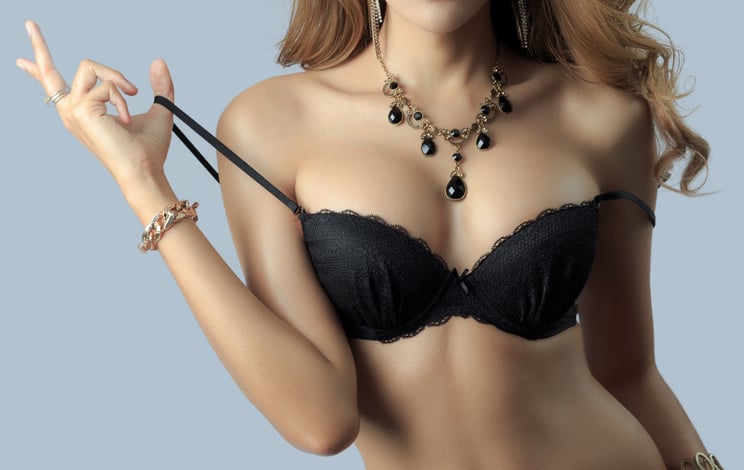 For many of my patients, breast augmentation helps them look and feel sexier, more feminine and more attractive. As well as giving them a bigger bust size, this breast enhancement procedure can be a wonderful turning point in their lives, boosting their self-esteem. Sometimes for the first time, they feel confident wearing bathing suits, lingerie and figure-hugging tops and dresses. In addition to breast augmentation, I offer a complete range of breast procedures which you can learn about here.
Learn more about your choices of breast implants in this short video
No matter which type of plastic surgery procedure my patients are considering, I truly believe that the best patient is an informed patient. It's very important to me that before you have a procedure, you have all the information you need to make the decision that's right for you.
That's why I like providing short videos where I briefly explain a certain body enhancing procedure—in this case, breast implants. You can read what I talk about below or you can watch my 2-minute video by clicking here or on the image below.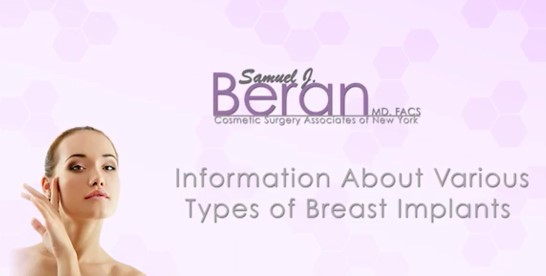 There are two essential types of implants
Smooth implants have a silicone outer covering either with saline or silicone inside, but the outside surface of it is smooth to the touch.
Textured breast implants are a type of silicone implant and saline implant that have been used for years, and their outside surface is rough. These implants have been associated recently with a systemic disease that seems to be related to the texturing of the implant. Current recommendations are: If the implants are fine, they're not ruptured, they're not causing any problems, we would leave those implants alone. We're not necessarily removing textured implants.
But, if the implants are ruptured or if there is fluid that is new and accumulating around the implant, we would need to go in, remove the implant, sample the fluid, and make sure there's nothing going on that could be harmful. The treatment if there is a problem with the textured implant: removal of the implant, the capsule, which seems to resolve the problem.
That being said, patients with textured implants are often worried, so in those cases it's best to have the patients come in. We'll take a look, do an examination and make a determination as to whether it's something that needs further workup or further treatment.
I really haven't used textured implants. They were never a big part of my practice, but many surgeons used them for years without any difficulties or problems. There were some theoretical benefits from the textured implants. I thought the smooth implants overall were a preferable means to augmentation but there's nothing wrong with surgeons who used the textured implants.
Are breast implants safe? My answer is yes.
In over 20 years of performing breast implant surgery in my plastic surgery practice, I have encountered very few complications in my patients as a result. For women who want larger breasts, who want the size and shape of their breasts to match, or who have had a mastectomy and want breast reconstruction, breast implants are a highly satisfying, long-lasting solution.
I perform breast implant surgery at the Surgical Specialty Center of Westchester
For almost every plastic surgery procedure I perform, including breast implants, I use the Surgical Specialty Center of Westchester. Located in Harrison, NY, the Surgical Specialty Center has four operating rooms and an 11-bed recovery room. Each operating room is fully equipped with state-of-the-art anesthesia (provided by a board-certified anesthesiologist), emergency equipment and everything else I and my surgical team need to provide the highest standard of care to each one of our patients. To learn more, watch this short video.
How much do breast implants cost?
One of the first questions my patients ask me when they're considering getting breast implants is how much it will cost. My answer is that there is no one standard price. Every woman's breasts are unique, and the results she is seeking from breast augmentation surgery are specific to her. That's why I determine the exact cost of the procedure after I have met with the patient, evaluated her breasts and body type, overall physical condition and her personal goals and expectations. Then together, we will decide what type of procedure will achieve the best possible results. For further pricing details, please contact me.
Insurance coverage
Insurance companies consider breast augmentation surgery (no matter the type of breast implant) to be elective cosmetic surgery and therefore is usually not covered by insurance, meaning that patients pay the entire cost themselves.
If you have breast implants, contact me to get them checked
If you have breast implants — saline, silicone, structured or textured — it's important to get them checked regularly for ruptures, slippage, leakage, swelling or any other potential problems. For all of my patients with implants, I strongly recommend getting them checked once a year. If you have textured implants (the subject of a recent recall), you should act even sooner — contact me to get them checked right away.
Symptoms of potential implant problems

If you are experiencing any of the following symptoms, contact me right away:
pain
lumps
swelling
breast asymmetry
However, if there are no symptoms, there is no reason to remove the implants.
Considering breast implants?
If you are thinking about getting Natrelle breast implants or another type of breast augmentation and would like to schedule a free consultation, please contact me and I will send you additional information prior to your appointment. During our consultation, I will assess the current appearance of your breasts, your reasons for wanting surgery, and your expectations. Then together, we will decide which breast procedure will bring you the results you're looking for. I specialize in the most advanced techniques of breast augmentation surgery and am ready to help you achieve your goals.
For more information about breast implants, read these 3 blogs
So that you can be fully informed about this important decision, I've written several blogs explaining the many aspects of breast implant surgery:
For more information on the many types of breast procedures I offer, please visit these pages on my website
You can find a good deal of information on my website about the many breast procedures available to you:
Board certified by the American Board of Plastic Surgery (ABPS), a member of the American Society of Plastic Surgeons (ASPS) and the American Society for Aesthetic Plastic Surgery (ASAPS), and a Fellow of the American College of Surgeons (FACS), Samuel J. Beran, MD is a highly accomplished plastic surgeon with offices in Manhattan, Harrison and Mount Kisco, NY. With more than 20 years' experience and a thorough command of the most advanced techniques and technologies, Dr. Beran consistently provides his patients with the highest level of plastic, cosmetic and reconstructive surgery of the breast, face, skin and body. Recently, Dr. Beran was named a "Top Doctor" by RealSelf for his dedication to responding to consumer questions and patient feedback. The "Top Doctor" designation is awarded to less than 10% of the RealSelf physician community.