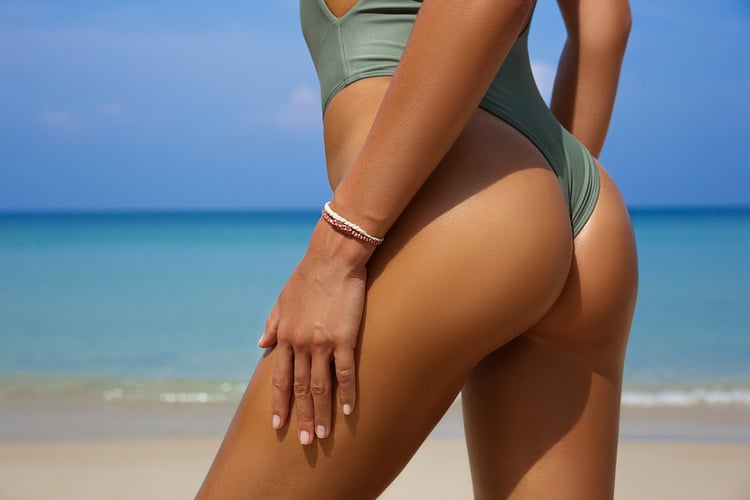 A large, round, toned butt is something that few women are born with but that many women wish they had. Do you feel this way too? With a Brazilian butt lift (also called butt augmentation or BBL), the size, shape and fullness of your butt can be individually sculpted and enhanced, giving you the big, sexy butt you've always wanted. In addition to the Brazilian butt lift, I also offer a wide range of other body sculpting procedures that can help you achieve a firmer, more shapely, younger-looking body. To learn more, click here.
Brazilian butt lift builds up where you want more, slims down where you want less
A Brazilian butt lift takes fat from areas where you have too much — such as the stomach, waist, back or thighs — and transplants it into the buttocks. The unique advantage of this plastic surgery is that as well as adding volume to your butt, it trims areas where you have excess fat where you would like to be slimmer. For this reason, many of my patients choose to have fat removed from their tummy and waist area with liposuction at the same time they're having a butt lift for a more shapely, hourglass figure.
However, in order to have this plastic surgery procedure, you must have a good amount of excess fat in certain parts of your body that can be extracted and then injected into your buttocks.
The difference between a Brazilian butt lift and butt implants
Butt implants are made of artificial material, much like breast implants. In contrast, a butt lift removes your own fat and then transfers it into the buttocks, similar to a graft or transplant. Also, the fat cells that are injected into the buttocks will react to weight changes in the same way that your normal fat does, so if you gain weight, they will get bigger and if you lose weight, they will get smaller.
7 benefits of a BBL versus butt implants
As a highly experienced plastic surgeon who has performed hundreds of successful butt augmentation surgeries, I much prefer the Brazilian butt lift to butt implants. Here are some reasons why:
Improves your body's proportions
A common reason people choose butt augmentation is to improve their body's proportions. Not only does a BBL make your butt bigger, it also reshapes it, allowing you to modify and even improve the natural curvature of your body.
Reduces unwanted fat in other parts of your body
With a BBL, you get a double benefit: you lose fat from areas where you don't want it (hips, stomach, waist, inner and outer thighs, love handles and underarms) and add it to areas where you do (butt and breasts, for example).
Gives you a natural look and feel
Implants and artificial fillers can often lead to unnatural looking results. This is especially true if your body shape changes a great deal. Moreover, implants tend to feel like tight muscles under the skin, compared to injections that add fat to your butt, giving you a butt that feels soft and natural as well as bigger.
Fast results
With a BBL you can see results in a matter of hours. In addition, you only have to do it once, compared to spending hours and hours in a gym.
Your clothing will be more flattering to your new figure
From bikinis to short shorts to dresses with a cinched-in waist, many items of clothing just look better with a bigger, rounder butt. Not only do many of my BBL patients feel more confident, they enjoy showing off their new shape in figure-hugging clothing.
There are fewer complications
A BBL does not involve inserting foreign objects into your body — the fat comes from your own body — so there is no risk of rejection and a much lower risk of infection. Also, the incisions used in a butt lift are smaller than with implants, resulting in minimal scarring.
Recovery from a butt lift is faster than from implants.
BBL patients usually can go back to work in 1-2 weeks after their procedure.
How long will the results last?
With a Brazilian butt lift, I take fat from one area of your body and put it into another, where it stays permanently. This is a very long-lasting procedure. You should know, however, that about 50% of the injected fat stays in the area and about 50% will be reabsorbed by the body. This is why I always put in extra fat grafts.
How much does butt augmentation cost?
Often, one of the first questions my patients ask me when they're considering having a Brazilian butt lift is how much it will cost. My answer is that there is no one standard price. Recognizing that every woman's body and expectations for butt augmentation surgery are unique to her, I determine the exact cost of a Brazilian butt lift after I have met with the patient, evaluated her body type, amount of fat stores, overall physical condition and her personal goals and expectations. Then together, we will decide exactly what will achieve the best possible results. For further pricing details, please contact me.
What to expect during the procedure
During the procedure, thin layers of fat are vacuumed from areas with excess fat deposits and then layered on top of each other in the buttocks to produce the desired contour and fullness. Because of the meticulous way the fat has to be extracted (liposuction), processed and reinjected, butt augmentation surgery typically takes 2-4 hours. However, this depends on the amount of liposuction performed and the amount of fat to be reinjected into the buttocks. Following the procedure, special compression garments are worn for several weeks to help reduce swelling and to help shape the butt.
I perform my procedures at the Surgical Specialty Center of Westchester
For almost every plastic surgery procedure I perform, I use the Surgical Specialty Center of Westchester. As the standard of excellence in the region, this technologically advanced, leading-edge facility was specifically designed by our group of surgeons (Cosmetic Surgery Associates) to provide our patients with the highest level of care, personal privacy and optimal surgical results.
The Surgical Specialty Center is Medicare approved, state licensed and meets all current requirements at the top level of New York State. To learn more about the Surgical Specialty Center of Westchester, watch this short video by clicking on the image below.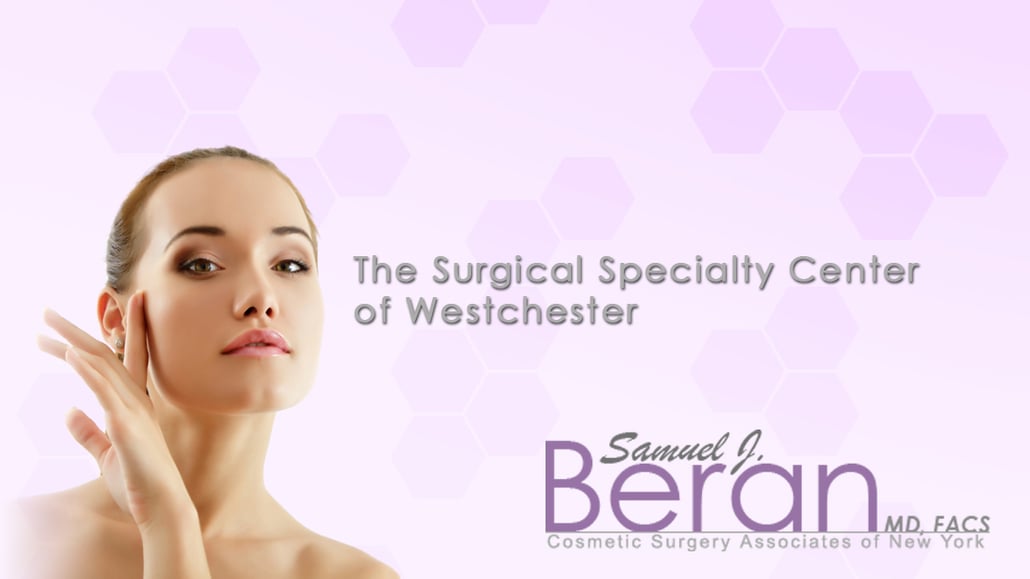 Considering butt augmentation?

Choosing to have a Brazilian butt lift is an important decision for a woman. If you are thinking about getting a Brazilian butt lift and would like to schedule a free consultation, please contact me. I will send you additional information prior to your appointment, then when we meet, I will evaluate your body type and overall health, answer any questions you may have about the procedure and recovery period, and learn what you're hoping to achieve. Then together, we'll determine how to arrive at the best possible results.
Want more information? I recommend these 3 blogs
So that you can be fully informed before you decide to have a Brazilian butt lift, I've written several blogs explaining the procedure and its benefits. Here are 3 of the most popular:
To learn more about the many body contouring procedures I offer
There are several body procedures available to you in my plastic surgery practice. To learn more, please visit these pages on my website:
Board certified by the American Board of Plastic Surgery (ABPS), a member of the American Society of Plastic Surgeons (ASPS) and the American Society for Aesthetic Plastic Surgery (ASAPS), and a Fellow of the American College of Surgeons (FACS), Samuel J. Beran, MD is a highly accomplished plastic surgeon with offices in Manhattan, Harrison and Mount Kisco, NY. With more than 20 years' experience and a thorough command of the most advanced techniques and technologies, Dr. Beran consistently provides his patients with the highest level of plastic, cosmetic and reconstructive surgery of the breast, face, skin and body. Recently, Dr. Beran was named a "Top Doctor" by RealSelf for his dedication to responding to consumer questions and patient feedback. The "Top Doctor" designation is awarded to less than 10% of the RealSelf physician community.