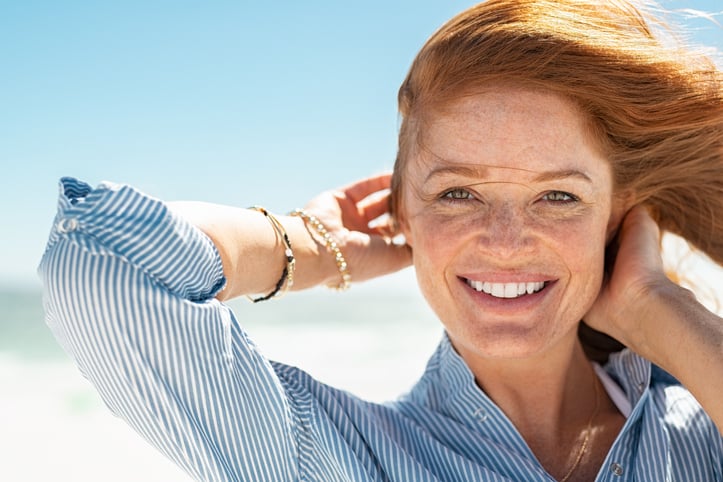 I found this article in today's New York Times very timely and wanted to share it here, as it contains important information about facelifts and other cosmetic surgeries being performed during this time of COVID-19 quarantine and social distancing. A facelift is just one of the many ways I can help you achieve a more beautiful face. To learn more, click here.
A great time for cosmetic surgery
Cosmetic surgeons say business is booming after elective surgery was allowed to resume during the pandemic, reports The New York Times. The main reason? Patients can heal in secret at home, and when they go out, their faces are covered by a mask. Whether it's a facelift to look younger and fresher on Zoom, or a tummy tuck with liposuction to shed extra pounds put on during lockdown, cosmetic surgery procedures are surging.
"I have never done so many facelifts in a summer as I've done this year," Dr. Diane Alexander, a plastic surgeon in Atlanta, told the Times. From mid-May when her clinic opened back up for elective surgery through the end of July, she has performed 251 procedures. She said that her patients have seen themselves on Zoom calls, have not liked how they look, and decided now was the perfect time to do something about it.
The opportunity to have work done without everyone knowing
According to the Times article, many women have considered getting work done on their faces for years but the pandemic finally made it possible because they could conceal the bruising and swelling during their recovery period.
"Knowing everybody is staying in, wearing a face mask, not coming out due to social distancing, made it the spot-on right time," said a 55-year-old woman named Joanne. "Not one friend knows I've done it. Family members don't know and my sister and mom don't even know."
A surprising trend, given the tough economy
Cosmetic surgery generally is not covered by insurance, meaning that procedures (which can cost from $3,000 to $25,000 depending on the scope of the surgery) are typically paid out-of-pocket by the patient, who say that they are choosing to spend that money on themselves that in another year they might have spent on travel, season tickets, art, a new car, a spa or other expenditures.
Invasive procedures on the rise
Before Covid-19, says the Times, "invasive cosmetic procedures like facelifts had been declining in favor of more minimal enhancements, like Botox injections, fillers and other skin-tighteners." During the pandemic, patients are now opting for more invasive procedures than in the recent past. "They were going for fillers and Botox because they didn't have any down time," Colleen Nolan, executive director of the American Academy of Cosmetic Surgery, said. "Now they realize they can have the procedure and privately experience it."
Plastic surgery as a way to combat loneliness
The loneliness of quarantine has also motivated some people to have work done. Another patient of Dr. Alexander in Atlanta told the Times that she got a facelift not only because she had time to recover secretly at home but also because her solitary life without a significant other had gotten very lonely. "I realized I really want to meet somebody," she said.
A way to shed extra quarantine pounds
Some patients have lost weight during the pandemic due to extra walking and online workouts, and they now want their faces to match their new, more toned bodies. Others became sedentary during the early months of the pandemic, snacking on junk food and soda, and are asking for liposuction along with their breast lift. Either way, plastic surgeons are happy to comply.
I am highly experienced in facelifts
Having been in practice for over 20 years as a plastic surgeon, I have performed hundreds of facelifts with outstanding results. I am particularly sensitive to how important it is for both women and men to feel good about themselves, and a lot of that has to do with how they feel about their facial appearance. I can confidently say that by "turning back the clock," a facelift can achieve the smoother, fresher, younger-looking results they are looking for.
For more information on facelifts, I recommend these 3 blogs
So you can be fully informed before deciding to have a facelift, I invite you to read these three blogs explaining the procedure and its benefits:
If you are considering a facelift and would like to schedule a free consultation, please contact me. I will meet with you, explain the procedure and your various options and make sure you understand exactly what results to expect. Also, I will take all the time you need and make sure all your questions are answered.
To learn more about the many facial and skin procedures I offer
There are several facial procedures and skin treatments available to you in my plastic surgery practice. To learn more, please visit these pages on my website:
Board certified by the American Board of Plastic Surgery (ABPS), a member of the American Society of Plastic Surgeons (ASPS) and the American Society for Aesthetic Plastic Surgery (ASAPS), and a Fellow of the American College of Surgeons (FACS), Samuel J. Beran, MD is a highly accomplished plastic surgeon with offices in Manhattan, Harrison and Mount Kisco, NY. With more than 20 years' experience and a thorough command of the most advanced techniques and technologies, Dr. Beran consistently provides his patients with the highest level of plastic, cosmetic and reconstructive surgery of the breast, face, skin and body. Recently, Dr. Beran was named a "Top Doctor" by RealSelf for his dedication to responding to consumer questions and patient feedback. The "Top Doctor" designation is awarded to less than 10% of the RealSelf physician community.