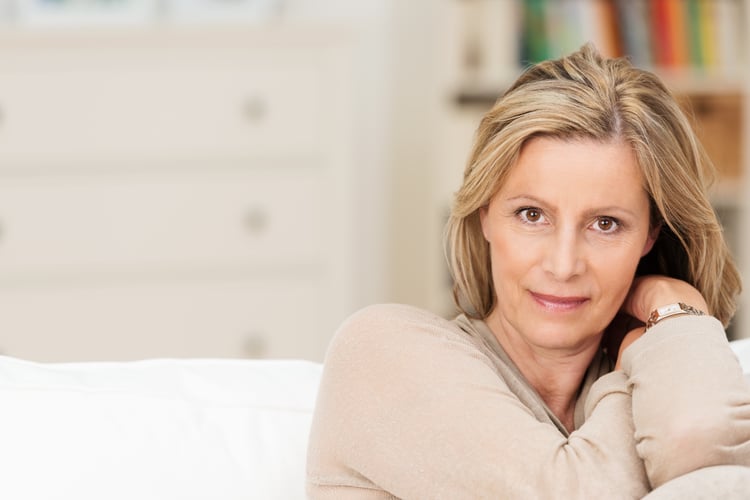 As much as we hate to admit it, age creeps up on all of us. If you're like many of my patients, you may have noticed some or all of the following changes in your facial appearance: the lines between your nose and mouth have deepened; the skin around your mouth, jowls and neck has sagged, giving your face a droopy look; you've developed a saggy second chin; the facial lines and wrinkles around and below your eyes have increased and deepened; your skin looks dull and drab; and you regularly look tired.
If you'd like to look fresher, brighter, smoother and younger, I recommend a facelift, either surgical or non-surgical. A facelift is just one of the many ways I can help you achieve a more beautiful face. To learn more, click here.
What's the difference between a surgical and non-surgical facelift?
Thanks to modern surgical techniques, and the advancement of dermal fillers and Botox® treatments, both surgical and non-surgical facelifts are now available.
What's the difference? According to the Aesthetic Surgery Centre, a traditional or surgical facelift (also called a rhytidectomy) repositions and tightens the soft tissues of the mid and lower face and neck. A non-surgical facelift, which is becoming more and more popular, includes Botox treatments, dermal fillers, fat transfer, Intense Pulsed Light (IPL), ultrasound, laser treatments, Kybella and laser lifts. When Botox is combined with dermal fillers, this is called a "liquid facelift."
Pros and cons of a surgical facelift
A traditional surgical facelift can "turn back the clock on your appearance in several different ways," says the Aesthetic Surgery Centre, helping you look and feel fresher, smoother and younger. Here are the pros and cons:
The pros:
Tightens facial muscles. With age, the underlying tissue and structures of your face tend to weaken and sag. To counteract this, I first tighten and reconfigure the underlying muscles so there is less tension on your skin. This also helps your facelift last longer.
Repairs loose skin. To achieve a more youthful but natural-looking appearance, I then trim and tighten sagging skin. I take great care when I do this, however, so that your skin is not gathered too tight, leaving you with a "pulled" appearance.
Improves facial contours. There are two types of surgical facelifts. A mid-facelift smooths out the cheeks and lower eyelids. A lower facelift results in a more attractive jawline, removing jowls and smoothing out the neck area. Both result in a refreshed, more youthful-looking facial appearance.
The effects last for years, sometimes up to ten years.
The cons:
A certain amount of recovery time. With today's advanced surgical procedures and techniques, post-procedure downtime has been greatly reduced but there is still some recovery time needed.
Post-surgery care. For the first few days after a surgical facelift, some special care needs to be undertaken by the patient.
Cost. Although surgical facelifts are becoming more affordable, they are still a good deal more expensive than non-surgical treatments.
Risks related to surgery. "As with any type of surgery, there is some level of inherent risk," says the Aesthetic Surgery Centre. However, I am well-trained and highly experienced at surgical facelifts and always do everything possible to minimize these risks.
Pros and cons of a non-surgical facelift
A non-surgical facelift offers you the opportunity to look smoother, younger and less tired without surgery, anesthesia, scarring or a lengthy recovery time. Here are the pros and cons:
The pros:
More cost-effective. A non-surgical facelift costs much less than the surgical option.
Not nearly as painful. With a non-surgical facelift, there is minimal discomfort and pain.
Short procedure time. Since there is no anesthesia involved, a non-surgical facelift can usually be performed within an hour. (Note: Since every patient is different, procedure time may vary.)
Achieves a naturally rejuvenated look. With a non-surgical facelift, the skin is not pulled tight. Rather, it is plumped and volumized, giving you a fuller, more youthful look without an appearance of tightness.
Minimal recovery time. With this type of facelift, there is minimum time needed to miss work or other activities or responsibilities. Recovery time is also minimal, much less than with a traditional facelift.
Minimal aftercare. Pain or discomfort from the treatment is typically minimal and short-lived and can be managed with over-the-counter medication.
Fewer risks. Unlike a surgical facelift which includes risks such as infection and complications from anesthesia, a non-surgical facelift does not pose these risks.
The cons:
Regular touch-ups are needed. The injectables used in a non-surgical facelift are absorbed by the body over a period of time. This necessitates additional, regular treatments to maintain the desired results.

Added costs over time. Although a non-surgical facelift is comparatively cost-effective, the results may only last six months to a year. The cost of regular touch-ups may eventually equal or even exceed the cost of a traditional surgical facelift, according to the Aesthetic Surgery Centre.
Don't put it off. You deserve to look and feel your best!

What I tell my patients considering either a surgical or non-surgical facelift is that this is a gift you give yourself. It will make you feel better about yourself, inside and out. You do so much for everybody else, do this for yourself!
I am highly experienced in facelifts
In practice for over 20 years as a plastic surgeon, I have performed hundreds of facelifts, both surgical and non-surgical, with outstanding results. I am particularly sensitive to how important it is for my patients, both women and men, to feel good about themselves, youthful and attractive, and a lot of that has to do with their facial appearance. I can confidently say that a facelift can achieve the smoother, fresher, younger-looking results you are looking for. To learn more, please contact me.
For more information on facelifts, I recommend these 3 blogs
So that you can be fully informed before deciding to have a facelift, I invite you to read these three blogs explaining the procedure and its benefits:
If you are considering a facelift and would like to schedule a free consultation, please contact me. I will meet with you, explain the procedure and your various options and make sure you understand exactly what results to expect. Also, I will take all the time you need and make sure all your questions are answered.
Learn more about the many facial and skin procedures I offer
There are several facial procedures and skin treatments available to you in my plastic surgery practice. To learn more, please visit these pages on my website:
Board certified by the American Board of Plastic Surgery (ABPS), a member of the American Society of Plastic Surgeons (ASPS) and the American Society for Aesthetic Plastic Surgery (ASAPS), and a Fellow of the American College of Surgeons (FACS), Samuel J. Beran, MD is a highly accomplished plastic surgeon with offices in Manhattan, Harrison and Mount Kisco, NY. With more than 20 years' experience and a thorough command of the most advanced techniques and technologies, Dr. Beran consistently provides his patients with the highest level of plastic, cosmetic and reconstructive surgery of the breast, face, skin and body. Recently, Dr. Beran was named a "Top Doctor" by RealSelf for his dedication to responding to consumer questions and patient feedback. The "Top Doctor" designation is awarded to less than 10% of the RealSelf physician community.