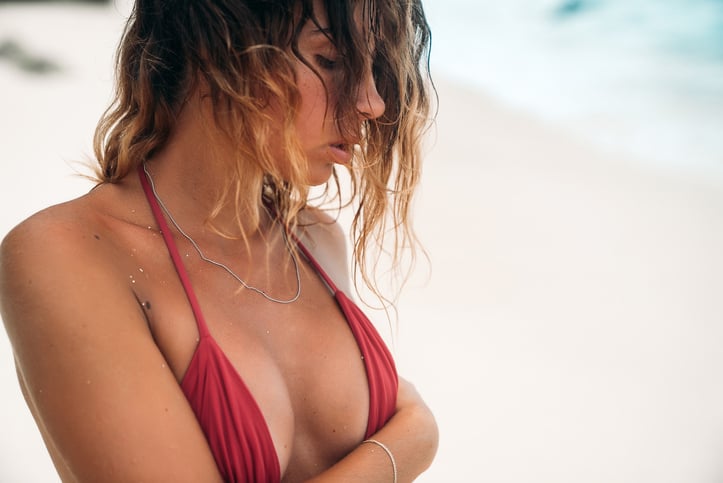 Were you born with small breasts and for years you've wished they were bigger? Is one breast bigger than the other and you would really like them to match? Are you dissatisfied with the shape of your breasts and are finally ready for a change? You are not alone. Despite (or maybe because of) more than a year of pandemic-related lockdowns and limited social contact, breast augmentation is as popular as ever.
In fact, breast augmentation surgery is the most popular cosmetic surgery procedure, according to the latest statistics obtained by the American Society of Plastic Surgeons. Every year, almost 300,000 women undergo breast augmentation in the US, including silicone gel, saline and the newer structured implants.
But although breast augmentation surgery is routinely performed by plastic surgeons in the US and around the world, it is constantly evolving to accommodate changing trends and to provide better outcomes for patients. In addition to breast augmentation, I offer a complete range of breast procedures which you can learn about here.
Here are 6 current trends I've noticed regarding breast implants
Patients today have more options than ever
According to kinodinet.com, today's breast augmentation surgery is the safest and most customizable it has ever been. "As tools and techniques evolve, an increasing number of options are available for patients and surgeons to choose, including the type of breast implant, the shape of the implant, the placement of the implant, and the location of the incisions during surgery," a recent kinodinet.com article states.
One notable innovation that has become very popular is the introduction of highly cohesive gel implants, also known as "gummy" implants. These breast implants retain their shape better than saline or silicone implants while looking and feeling more like natural breasts. They are also less likely to leak or rupture than other types of breast implants, which is one of the reasons so many patients are requesting them. I've written several blogs about these new gummy implants, one of which you can read here.
Smaller breasts are now a big thing
In years past, women's attitudes toward breast implants seemed to be the bigger, the better. But the downside of this was that many women chose large implants that didn't fit their body frame or couldn't be accommodated by their existing breast tissue. This often led to stretched skin and unnatural-looking results that made it obvious that the patient had had breast augmentation surgery.
These days, more women are opting for less drastic breast enhancement and smaller breast implants. They want augmented and lifted breasts, but ones that are closer to their natural breast size and in proportion to their physique. In addition, many women who have already had breast augmentation now want their breast implants removed or swapped for a smaller size.
Patients want a natural look and feel
The patients who currently come to my practice wanting breast implants are putting more emphasis on a natural shape and feel after breast augmentation. Breast implants now come in many shapes, sizes, materials, widths and projections, so plastic surgeons can better choose implants that fit each patient's unique body type and aesthetic goals.
Health is as much a goal as larger breasts
Something I'm hearing more and more from my breast augmentation patients is that while they do want larger breasts, they don't want them so large as to impede their ability to exercise or play sports — another reason they're choosing smaller implants
There is also a growing conversation about the potential health implications associated with breast implants, particularly concerning a rare type of non-Hodgkin lymphoma called anaplastic large cell lymphoma that may be linked to textured breast implants which have been removed from the market. I've written several blogs on this topic, one of which you can read here.
New tools and techniques are improving outcomes
As implant technology improves, so do the outcomes of breast implant procedures. One major change to breast augmentation surgery has been the introduction of the fat transfer technique. Fat transfer breast augmentation involves harvesting fat with liposuction from one part of the body and injecting into the breasts. There's no chance of rejection since the fat is from your own body, making this an excellent option for women who only want a modest increase in their breast size and don't want to put a synthetic material in their body.
Combining surgeries
More women are combining breast augmentation with other surgical procedures, such as a breast lift, tummy tuck, or liposuction. This is a more efficient, economical choice for body contouring because it consolidates multiple procedures into one and means that there's just one recovery period.
Short informative video
So that you can have as much information as possible before deciding to get breast implants, I've made a short video which you can watch by clicking here or on the image below.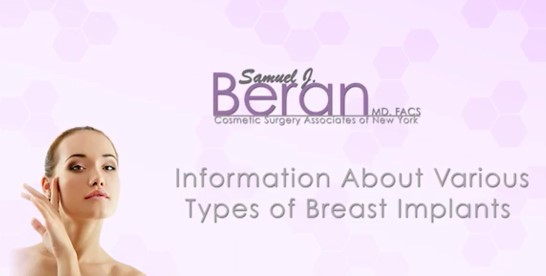 Are breast implants safe? My answer is yes.
In over 20 years of performing breast implant surgery in my plastic surgery practice, I have encountered very few complications in my patients as a result. For women who want larger breasts, who want the size and shape of their breasts to match, or who have had a mastectomy and want breast reconstruction, breast implants are a highly satisfying, long-lasting solution.
I perform breast implant surgery at the Surgical Specialty Center of Westchester
For almost every plastic surgery procedure I perform, including breast implants, I use the Surgical Specialty Center of Westchester. Located in Harrison, NY, the Surgical Specialty Center has four operating rooms and an 11-bed recovery room. Each operating room is fully equipped with state-of-the-art anesthesia (provided by a board-certified anesthesiologist), emergency equipment and everything else I and my surgical team need to provide the highest standard of care to each one of our patients. To learn more, watch this short video.
Insurance coverage
Insurance companies consider breast augmentation surgery (no matter the type of breast implant) to be elective cosmetic surgery and therefore is usually not covered by insurance, meaning that patients pay the entire cost themselves.
If you have breast implants, you should get them checked regularly
If you have breast implants—saline, silicone, gummy or textured—it's important to get them checked for ruptures, slippage, leakage, swelling or any other potential problems. For all my patients with implants, I highly recommend getting them examined once a year. Please make an appointment to come in and see me so I can check for any problems.
Symptoms of potential implant problems

If you are experiencing any of the following symptoms, contact me right away:
pain
lumps
swelling
breast asymmetry
However, if there are no symptoms, there is no reason to remove the implants.
See the beautiful results for yourself
To see unretouched "before and after" photos of actual patients of mine who have had successful breast implant surgery, please visit the Breast Augmentation page in the Photo Gallery section of my website.
Considering breast implants?
If you are thinking about breast augmentation and would like to schedule a free consultation, please contact me and I will send you additional information prior to your appointment. During our consultation, I will assess the current appearance of your breasts, your reasons for wanting surgery, and your expectations. Then together, we will decide which breast procedure will bring you the results you're looking for. I specialize in the most advanced techniques of breast augmentation surgery and am ready to help you achieve your goals.
For more information about breast implants, read these 3 blogs
So that you can be fully informed about this important decision, I've written several blogs explaining the many aspects of breast implant surgery:
For more information on the many types of breast procedures I offer, please visit these pages on my website
You can find a good deal of information on my website about the many breast procedures available to you:
Board certified by the American Board of Plastic Surgery (ABPS), a member of the American Society of Plastic Surgeons (ASPS) and the American Society for Aesthetic Plastic Surgery (ASAPS), and a Fellow of the American College of Surgeons (FACS), Samuel J. Beran, MD is a highly accomplished plastic surgeon with offices in Manhattan, Harrison and Mount Kisco, NY. With more than 20 years' experience and a thorough command of the most advanced techniques and technologies, Dr. Beran consistently provides his patients with the highest level of plastic, cosmetic and reconstructive surgery of the breast, face, skin and body. Recently, Dr. Beran was named a "Top Doctor" by RealSelf for his dedication to responding to consumer questions and patient feedback. The "Top Doctor" designation is awarded to less than 10% of the RealSelf physician community.