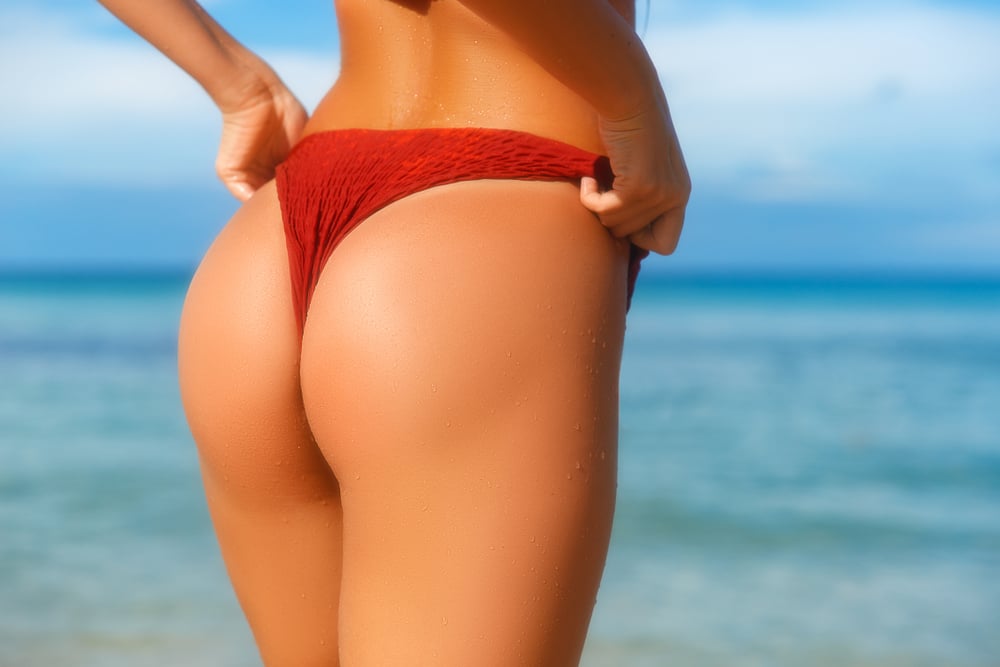 Would you like your butt to be bigger? And not just bigger, but rounder, higher and firmer? A Brazilian butt lift, or BBL, which includes both butt augmentation and butt reshaping, is an excellent, long-lasting way to achieve a fuller, sexier "behind." A BBL can also create a more pleasing balance between your buttocks and the rest of your body. As well as the Brazilian butt lift, I also offer a wide range of other body sculpting procedures that can help you achieve a firmer, more shapely, younger-looking body. To learn more, click here.
For details about a BBL, watch this short video
If you're considering having this plastic surgery procedure, it's important to be fully informed about the entire process. I've made a short video explaining the details which you can watch by clicking on the image below.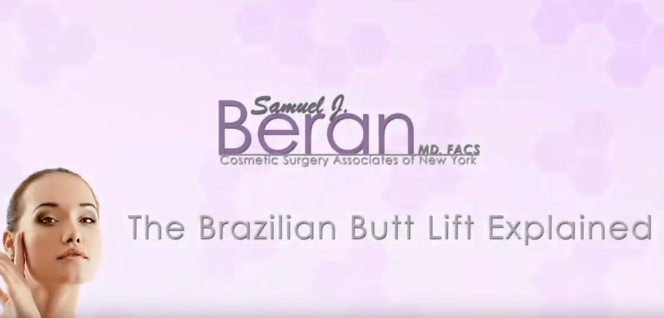 9 tips for a successful BBL recovery
Just as important as understanding the Brazilian butt lift procedure is knowing what is involved afterward during the recovery process. Here are nine extremely helpful tips from BrazilianButtLift.com that can help you get the best results from this potentially life-changing surgery.
How long will the results last?
The good news is that Brazilian butt lift surgery results can be very long-lasting. Once the fat has revascularized (blood flow has been restored), it will stay in its new position permanently. During recovery, some of the fat cells are reabsorbed by the body, and a new blood supply forms to supply blood to the transferred fat cells. After this process is complete, the BBL results are mostly permanent.
Remember, the size of your "new" buttocks will change if you gain or lose weight. If you gain weight, your buttocks will become larger because the fat cells in that part of the body will get bigger too. If you lose weight, your buttocks will get smaller because your bodily fat volume will decrease.
What can I do to make the fat transfer results last?
As I tell my BBL patients, the transferred fat cells in your butt will behave much like the fat cells in the rest of your body, which makes them susceptible to weight changes. To increase the odds that your results will be long-lasting, maintain your pre-surgery weight after your BBL procedure, neither gaining nor losing weight. Here are some additional guidelines: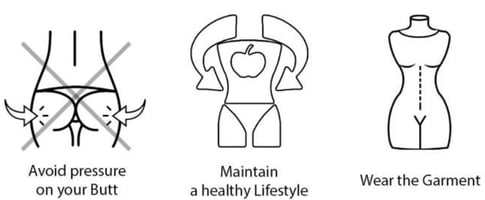 Graphic courtesy of BrazilianButtLift.com
Don't sit on your buttocks for several weeks (follow your surgeon's advice). Only sit if you absolutely need to and only for short periods of time, using a special BBL pillow.
Avoid putting pressure on the grafted areas.Rest on your stomach or sides, not your butt.
Maintain a healthy lifestyle. To help the results of your BBL last for a long time, don't smoke and eat well-balanced, healthy meals.
Wear your compression garment all day, every day (24 x7) for the first 3 weeks. Make sure that it fits properly, is comfortable and does not squeeze the buttocks.
How much fat will survive and actually graft onto my butt?
To achieve the desired results, some surgeons, including myself, will over-inject fat cells into the buttocks to compensate for the projected fat cell loss. The number of transferred fat cells that will survive transplantation is impossible to predict precisely (typically between 50 and 80%), but we do know that a certain percentage die and are reabsorbed by the body.
How should I wear the compression garment?
For the first 2-3 weeks, wear the compression garment 24 hours a day. It should only be removed to wash it and when you are taking a shower.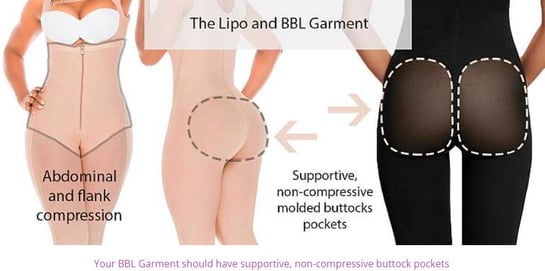 Graphic courtesy of BrazilianButtLift.com
After the first 2 to 3 weeks, wear the compression garment for 12 hours per day, either during the day or at night.
The garment should fit snugly but not be too tight. You don't want too much pressure on the buttocks. It should feel like a bandage wrap that's around your knee or ankle, for example. Also, it should not cause indentations or puckering of the skin where the fat grafting has been performed.
When and how do I sit after the surgery?
The first 2-6 weeks after BBL surgery are a critical time period for transplanted fat cells. Prolonged pressure caused by sitting on them will cause them to die because until they develop a blood supply, it's easy for them to get damaged by pressure over a long period of time. Some surgeons recommend avoiding sitting at all during the first 2 weeks after surgery. Others recommend sitting only using a special BBL cushion during the first 6 weeks of the recovery. If you have to sit during the first few weeks of recovery, do so only when absolutely necessary and always use the BBL pillow. To rest, try to lie on your stomach or legs.
How soon can I see results?
It may take 6 months to a year to see the final, permanent results from a BBL. Fat grafting is a delicate procedure, and if patients do not follow their surgeon's recommendations, they may not see the expected results. Immediately after your procedure, your buttocks will be bigger in size and then the size may vary throughout the recovery process, which is normal.
When can I resume my activities?
Most patients can return to their normal daily routine within 6-8 weeks after their surgery, depending on their response during recovery. NOTE: immediately following a BBL, strenuous high impact activities should be avoided, as any type of bouncing can damage newly transplanted fat cells. After the first month of recovery, you can do light activities such as fast-paced walking. After the fat cells are fully established, you can resume more rigorous activities such as jogging or running.
When can I shower?
Most surgeons recommend that patients wait at least 24-48 hours after the procedure to shower (showers are preferred over baths). Avoid the beach, pools and hot tubs to avoid infection and weakening of the incisions.
More recovery tips
DO:
You need to keep moving to decrease the risk of developing blood clots after surgery.

Wear your compression garment at all times. Remove it only to take a shower and then immediately put it back on.
For the first 2-3 weeks, rest only on your stomach or your legs. After that, use the BBL pillow to sit.
Drink lots of fluids (preferably water) to stay hydrated.
Take all medications prescribed by your surgeon.
DON'T:
Sit on your buttocks for the first 2-8 weeks of recovery. Use the BBL Pillow to sit on the back of your thighs.
Put any pressure on the area of the buttocks that received fat transplants.
Avoid smoking for at least 2 months after the procedure due of the risk of developing complications.
Wear a compression garment that's too tight. It should fit snugly, but not cover your buttocks.
How much does a BBL cost?
Often, one of the first questions my patients ask me when they're considering having a Brazilian butt lift is how much it will cost. My answer is that there is no one standard price. Recognizing that every woman's body and expectations for butt augmentation surgery are unique to her, I determine the exact cost of a Brazilian butt lift after I have met with the patient, evaluated her body type, amount of fat stores, overall physical condition and her personal goals and expectations. Then together, we will decide exactly what will achieve the best possible results. For further pricing details, please contact me.
Will my insurance pay for this surgery?
Generally speaking, Brazilian butt lift surgery is considered to be an elective cosmetic procedure, meaning that it is not covered by insurance.
Considering butt augmentation?

Choosing to have a Brazilian butt lift is an important decision for a woman. If you are thinking about getting a Brazilian butt lift and would like to schedule a free consultation, please contact me. I will send you additional information prior to your appointment, then when we meet, I will evaluate your body type and overall health, answer any questions you may have about the procedure and recovery period, and learn what you're hoping to achieve. Then together, we'll determine how to arrive at the best possible results.
Want more information? I recommend these 3 blogs
So that you can be fully informed before you decide to have a Brazilian butt lift, I've written several blogs explaining the procedure and its benefits. Here are 3 of the most popular:
To learn more about the many body contouring procedures I offer
There are several body procedures available to you in my plastic surgery practice. To learn more, please visit these pages on my website:
Board certified by the American Board of Plastic Surgery (ABPS), a member of the American Society of Plastic Surgeons (ASPS) and the American Society for Aesthetic Plastic Surgery (ASAPS), and a Fellow of the American College of Surgeons (FACS), Samuel J. Beran, MD is a highly accomplished plastic surgeon with offices in Manhattan, Harrison and Mount Kisco, NY. With more than 20 years' experience and a thorough command of the most advanced techniques and technologies, Dr. Beran consistently provides his patients with the highest level of plastic, cosmetic and reconstructive surgery of the breast, face, skin and body. Recently, Dr. Beran was named a "Top Doctor" by RealSelf for his dedication to responding to consumer questions and patient feedback. The "Top Doctor" designation is awarded to less than 10% of the RealSelf physician community.