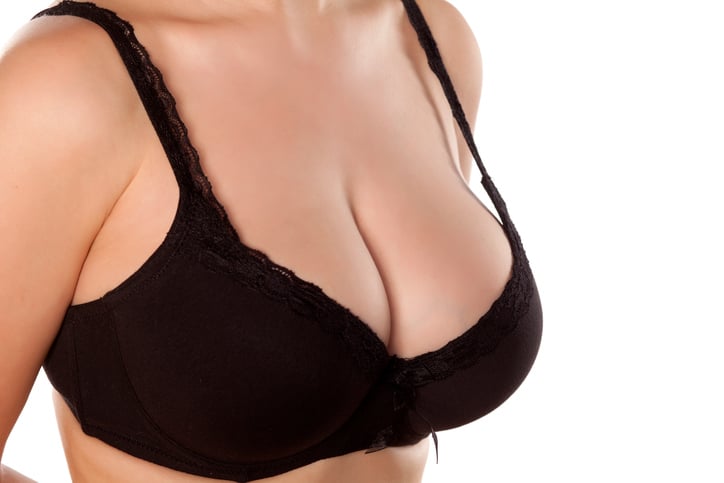 Recently, you may have heard or read that textured breast implants made by Allergan have been linked to a rare and sometimes fatal cancer known as breast implant-associated anaplastic large-cell lymphoma (BIA-ALCL). Because of this link, Allergan voluntarily recalled its textured breast implants this past summer.
The cancer, a form of non-Hodgkin lymphoma, can reside in the scar tissue and fluid near the breast implant and spread throughout the body, compromising the immune system. The exact cause of the lymphoma is unknown, but researchers suspect that the textured surfaces of the breast implants allow potentially harmful bacteria to grow in the shell's nooks and crannies. Textured breast implants account for less than 10% of breast implants in the U.S. but more than 80% in other parts of the world.
To put my patients' minds at ease, I want to clearly state that I only use smooth breast implants, not textured ones, in my practice
To reassure all of my patients with breast implants, as well as those who are considering getting breast implants, I hope this assurance reduces some of the anxiety surrounding the link between textured breast implants and cancer.
A fellow plastic surgeon also recommends smooth breast implants over textured ones
In order for women everywhere to be as informed as possible about this important issue, I include here the comments of Dr. Terence M. Myckatyn, a professor of surgery in the Division of Plastic and Reconstructive Surgery at Washington University School of Medicine in St. Louis.
Dr. Myckatyn conducts research on textured breast implants and is the senior author of a study published recently in Nature's Scientific Reports on breast implants associated with the rare lymphoma. He voices many of the same conclusions as I do when it comes to recommending smooth-surfaced breast implants for cosmetic and reconstructive patients.
Commenting about textured breast implants in the Oct. 23 issue of JAMA Surgery, Dr. Myckatyn states:
"In most cases, I believe that I can achieve equivalent results with either smooth or textured surface breast implants and that differential outcomes resulting from choosing one device over the other are imperceptible. I don't see the value in subjecting my patients to the risk of BIA-ALCL, even if it is only 1 in 3,000. Equally important, I don't see the value in subjecting them to increased anxiety related to their decision."
In addition, Dr. Myckatyn explains the difference between textured and smooth breast implants:
"The shells of breast implants can have a textured or smooth surface. The filler can be either silicone or saline. But this is not a silicone versus saline issue. This type of cancer is associated with the breast implant shell. The shells can be round or shaped like a teardrop. Round implants are typically smooth. But all shaped implants have textured shells that act like Velcro to prevent the implant from slipping. The tissues grow into the pores of an implant and secure it from rotating on its axis. This is one of the main reasons for using textured implants. However, most plastic surgeons in the U.S., including myself, use the round, smooth-shell implants."
For my patients who want breast augmentation, I offer three types of breast implants, all of them safe
Silicone breast implants—filled with silicone gel.
Saline breast implants—filled with saline (sterile saltwater).
Natrelle® gummy breast implants—filled with silicone

gel. Choose from five profiles (low to extra full), four degrees of fullness (minimal to maximum) and three levels of cohesivity (gumminess).
Most women—and most plastic surgeons, myself included—prefer the look and feel of silicone implants rather than saline. Silicone implants are generally considered to look and feel more like real breast tissue, while saline implants are more prone to cause rippling of the skin. Women are also reporting high satisfaction rates with the new gummy versions because they can choose the size and shape of their implants for a more customized, unique look.
Symptoms of potential problems with breast implants of any type include:
pain
lumps in the breast or armpit
skin rash
breast asymmetry
excessive fluid retention around the breast implant
hardening of the breast
If you are experiencing of these symptoms, consult your plastic surgeon right away. However, if there are no symptoms, there is no reason to remove the implants.
If you have breast implants, particularly textured ones, you should call your surgeon or come see me for an exam
If you have breast implants — saline, silicone, gummy or textured — it's important to get them checked for ruptures, slippage, leakage, swelling, the previously-mentioned rare cancer or any other potential problems. For all of my patients with implants, I strongly recommend getting them checked once a year. If you have textured implants (the subject of the Allergan recall), you should act even sooner — get them checked right away.
4 highly informative blogs about the safety of breast implants
So that you can be fully informed on this important subject, I've written several blogs explaining the safety of breast implants, especially regarding textured ones:
When I am asked if breast implants are safe, my answer is yes
In over 20 years of performing breast implant surgery in my plastic surgery practice, I have encountered very few complications. In fact, for many women who want larger breasts, or want the size and shape of their breasts to match, or have had a mastectomy and are seeking breast reconstruction, breast implants are a highly satisfying solution. Also, it's worth noting that according to the American Society of Plastic Surgeons, breast implant surgery is the top cosmetic surgery performed.
Considering breast implants?
If you are thinking about having breast implant surgery and would like to schedule a free consultation, please contact me and I will send you additional information prior to your appointment. I specialize in the most advanced techniques of breast augmentation surgery and am ready to help you achieve your goals. I will assess the current appearance of your breasts, your reasons for wanting surgery, and your expectations. Then together, we will decide which breast procedure will bring you the results you're looking for.
Learn more about the breast procedures I offer
There is lots of information on my website about the many breast procedures available to you so you can be fully informed prior to your decision:
Board certified by the American Board of Plastic Surgery (ABPS), a member of the American Society of Plastic Surgeons (ASPS) and the American Society for Aesthetic Plastic Surgery (ASAPS), and a Fellow of the American College of Surgeons (FACS), Samuel J. Beran, MD is a highly accomplished plastic surgeon with offices in Manhattan, Harrison and Mount Kisco, NY. With more than 20 years' experience and a thorough command of the most advanced techniques and technologies, Dr. Beran consistently provides his patients with the highest level of plastic, cosmetic and reconstructive surgery of the breast, face, skin and body. Recently, Dr. Beran was named a "Top Doctor" by RealSelf for his dedication to responding to consumer questions and patient feedback. The "Top Doctor" designation is awarded to less than 10% of the RealSelf physician community.