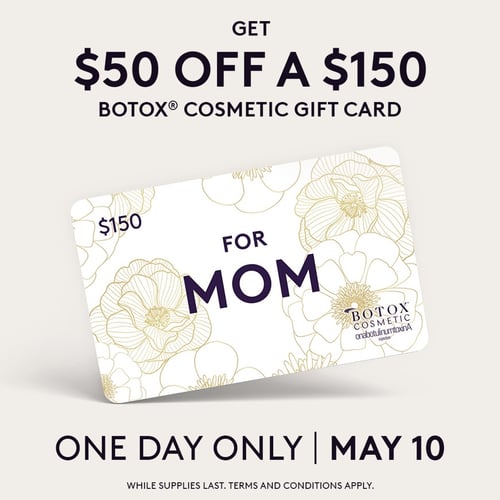 For Mother's Day, you could give Mom the usual flowers (yawn) OR you could give her a $150 Botox Cosmetic Gift Card for only $100! She gets the gift of looking younger, smoother and fresher, you save $50! This special offer is exclusively for Allé Members and can only be purchased on Wednesday May 10th but can be used any time. If you are not an Allé Member and would like to join, click here.
The Botox Cosmetic Gift Card can be used at any time but can only be purchased May 10th
The Botox Cosmetic Gift Card never expires but is available for purchase on one day only, Wednesday May 10th, starting at 9am PT/12pm ET, while supplies last. You must be an Allé Member to purchase this Gift Card, and only one card per Member. To purchase a $150 Botox Cosmetic Gift Card for only $100 on May 10th, click here.
Gift Card Terms and Conditions
This is a limited-time offer, while supplies last.

Must be an Allé Member to purchase and redeem gift cards.

Allé Members may purchase a $150 BOTOX Cosmetic Gift Card for $100.

Gift card can be redeemed for $150 off the purchase of a BOTOX Cosmetic treatment at participating Allé provider offices only.

Limit 1 gift card purchase per Member.

A healthcare provider will determine if Member is an appropriate candidate for a BOTOX Cosmetic treatment.

If Member is an appropriate candidate for a BOTOX Cosmetic treatment, the gift card can be applied toward the cost of Member's purchase at a participating provider's office.

If Member's provider does not deem Member an appropriate candidate for a BOTOX Cosmetic treatment, Member should contact Allé Customer Support at 1-8‍88-912-1572 to learn about other products or treatments the gift card can be applied toward.

Standard Allé Loyalty Program Terms and Conditions apply.

Member will earn Allé Points on all qualifying Earnings Eligible Product purchases, subject to applicable Earnings Caps.

All sales final. Please allow up to 24 hours for payment processing.

Gift card code will be added to Member's Allé Wallet directly after purchase.

Gift card must be purchased online and cannot be purchased by calling Customer Support.

Gift card does not expire.

Gift card cannot be applied to past transactions.

Gift card cannot be redeemed or exchanged for cash.

Gift card can be combined with other applicable Allé or Allé brand-specific gift cards, Allé points, or other Allé brand-specific offers.

Member should use the complete value of the gift card in a single transaction.

If you have questions, contact Allé Customer Support at 1-8‍88-912-1572 M‍on-F‍ri, 8‍am–6pm CT.

Allergan Aesthetics, an AbbVie company, reserves the right to alter or cancel this offer at any time.
The beautiful things Botox can do for your facial appearance
One of the most popular facial procedures I perform, Botox noticeably improves the appearance of moderate to severe "crow's feet" lines around the eyes, frown lines around the mouth and vertical forehead creases between the eyes. In addition, when Botox is injected into the lower face and neck muscles, it can improve some of the visible signs of aging in these areas, too.
What exactly is Botox?
Contrary to what some people think, Botox is not a filler. It is actually a protein produced by a bacteria called clostridium botulinum which, in the small amounts that plastic surgeons like myself use, can safely be injected into a muscle to cause it to relax by blocking signals between the nerves and the muscles. This muscle blocking is what decreases the appearance of wrinkles, lines and creases. Note: Botox cannot decrease wrinkles caused by gravity or sun exposure, only wrinkles caused by squinting and/or muscle patterns.
What happens during a Botox treatment

and how long do the effects last?
Since Botox is a liquid, it is injected with a fine needle into specific muscles. This only takes a few minutes and does not require any numbing medication. A Botox treatment generally takes 3-7 days to take full effect and usually last 3-4 months. After that, as muscle movement gradually returns, the lines and wrinkles begin to reappear and will need to be treated again. However, with each Botox treatment these lines and wrinkles typically appear less visible because they're actually being trained to relax.
As well as decreasing wrinkles and frown lines, Botox has many other important benefits:
Treats migraines
Manages acne
Softens the jawline and chin
Tightens jowls
Gives a temporary facelift
Lifts the lips
Smooths the neck
Smooths out cleavage
Mimics a nose job
I am highly experienced in Botox procedures
Having been in practice for over 20 years as a plastic surgeon, I have performed thousands of Botox treatments with outstanding results. I understand how important it is for both women and men to feel good about themselves, and a lot of that has to do with how they feel about their facial appearance. I can confidently say that by "turning back the clock," Botox can achieve the smoother, younger-looking results they are looking for.
For more information on Botox, I recommend these 3 blogs
So you can be fully informed before you decide to give your Mom a Botox treatment or have one yourself, I invite you to read these three blogs explaining the procedure and its benefits:
To learn more about the many facial procedures I offer
There are several facial procedure options available to you in my plastic surgery practice. To learn more, please visit these pages on my website:
Board certified by the American Board of Plastic Surgery (ABPS), a member of the American Society of Plastic Surgeons (ASPS) and the American Society for Aesthetic Plastic Surgery (ASAPS), and a Fellow of the American College of Surgeons (FACS), Samuel J. Beran, MD is a highly accomplished plastic surgeon with offices in Manhattan, Harrison and Mount Kisco, NY. With more than 20 years' experience and a thorough command of the most advanced techniques and technologies, Dr. Beran consistently provides his patients with the highest level of plastic, cosmetic and reconstructive surgery of the breast, face, skin and body. Recently, Dr. Beran was named a "Top Doctor" by RealSelf for his dedication to responding to consumer questions and patient feedback. The "Top Doctor" designation is awarded to less than 10% of the RealSelf physician community.