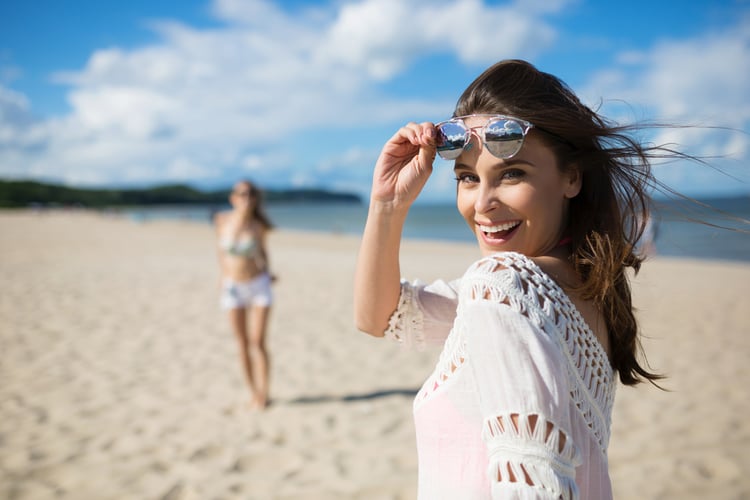 Your face says so much about you. Not only is it the most visible part of your body, to a large extent, it influences the way the world sees you and how you feel about yourself. If your face looks tired, you often feel tired. If it is showing the effects of age and stress, you often feel older than you want to. A great way to freshen up your face, diminish any wrinkles and lines, and help you feel younger and more positive is with Botox. To learn about the many other ways I can help you achieve a more beautiful face, click here.
Turn back time and feel better about yourself in minutes
What can Botox do for your facial appearance? It noticeably improves the appearance of moderate to severe crow's feet lines around the eyes, forehead wrinkles and vertical forehead creases between the eyes. In addition, Botox injected into the lower face and neck muscles can improve some of the visible signs of aging in these areas as well.
Contrary to what some people think, Botox is not a filler.
Botox is actually a protein produced by a bacteria called clostridium botulinum which, in the small amounts that plastic surgeons use, can safely be injected into a muscle. This causes the muscle to relax by blocking signals between it and the nerves that connect to it. This "muscle blocking" is what decreases the appearance of wrinkles, lines and creases. Note: Botox cannot decrease wrinkles caused by gravity or sun exposure, only those wrinkles that are caused by squinting and/or muscle patterns.
What does a Botox procedure involve?
Since Botox is a liquid, it is injected with a fine needle into specific muscles. This only takes a few minutes and does not require any numbing medication.
How long does a Botox treatment last?
A Botox treatment generally takes 3-7 days to take full effect and usually last 3-4 months. After that, as muscle movement gradually returns, the lines and wrinkles begin to reappear and will need to be treated again. However, with each Botox treatment these lines and wrinkles typically appear less visible because they're actually being trained to relax.
Beyond cosmetic applications, here are 5 highly beneficial uses for Botox
Highly experienced in Botox procedures
Having been in practice for over 20 years as a plastic surgeon, I have performed thousands of Botox treatments with outstanding results. I understand how important it is for both women and men to feel good about themselves, and a lot of that has to do with how they feel about their facial appearance. I can confidently say that by "turning back the clock," Botox can achieve the smoother, younger-looking results they are looking for.
For more information on Botox, I recommend these 3 blogs
So you can be fully informed before you decide to have a Botox treatment, I invite you to read these three blogs explaining the procedure and its benefits:
Considering a Botox treatment?
If Botox is something you are interested in, please contact me for a free consultation. I will meet with you, explain the procedure and make sure you understand exactly what results to expect. Also, I will take all the time you need and make sure all your questions are answered.
To learn more about the many facial procedures I offer
There are several facial procedure options available to you in my plastic surgery practice. To learn more, please visit these pages on my website:
Board certified by the American Board of Plastic Surgery (ABPS), a member of the American Society of Plastic Surgeons (ASPS) and the American Society for Aesthetic Plastic Surgery (ASAPS), and a Fellow of the American College of Surgeons (FACS), Samuel J. Beran, MD is a highly accomplished plastic surgeon with offices in Manhattan, Harrison and Mount Kisco, NY. With more than 20 years' experience and a thorough command of the most advanced techniques and technologies, Dr. Beran consistently provides his patients with the highest level of plastic, cosmetic and reconstructive surgery of the breast, face, skin and body. Recently, Dr. Beran was named a "Top Doctor" by RealSelf for his dedication to responding to consumer questions and patient feedback. The "Top Doctor" designation is awarded to less than 10% of the RealSelf physician community.