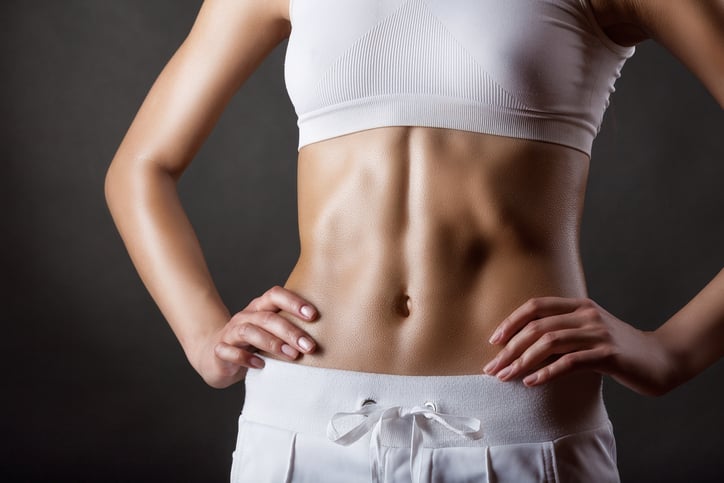 Would you love to have a fit, sleek toned body but with everything going on in the world and in your life, you just don't have time in your schedule to spend hours, weeks, years at the gym? And you don't want to have plastic surgery? Now there's a dramatically different way to burn fat and increase muscle mass without strenuous workouts, called EmSculpt. This is just one of the many ways I can help you achieve a more beautiful body. To learn more, click here.
This revolutionary non-invasive procedure actually builds up muscle and re-shapes your body, especially your abdomen and buttocks, without requiring you to work out. EmSculpt truly is a breakthrough in the world of body sculpting and it's available right in my office. And unlike exercise, Emsculpt gives immediate results.

The only body sculpting procedure that simultaneously builds muscle and burns fat without exercise or surgery

Not requiring surgery, scarring or downtime, EmSculpt is a body contouring treatment that uses an electromagnetic field to induce strong muscle contractions to a degree that cannot be achieved by standard workouts. These high-frequency contractions bring about muscle growth and fat loss. According to the BTL company, EmSculpt increases muscle mass by 16% and reduces a person's waistline by approximately 19%.

Not intended for those individuals who are significantly overweight, EmSculpt is meant for people with a BMI (body mass index) less than 25 who would not be candidates for other fat reduction treatments. Approved by the U.S. Food and Drug Administration, EmSculpt increases muscle mass by 16% and reduces the waistline by approximately 19%, reports the BTL company.
What body areas can be treated with EmSculpt?

Emsculpt is currently FDA cleared to treat the abdomen, buttocks, arms, calves and thighs.
How exactly does Emsculpt work?
The EmSculpt procedure is relatively quick and painless. A rubber pad is placed on the target muscle area, such as your abs, thighs or buttocks. This pad then produces intense electromagnetic waves that cause involuntary supramaximal muscle contractions not achievable though traditional exercise-induced contractions.

When exposed to these hyper-maximal contractions, the muscle tissue responds similarly to how it responds to exercise: by releasing free fatty acids which break down and destroy fat deposits and increase muscular tone and strength, much like performing a sit-up or a lunge would. These forced muscle contractions also cause the body to rebuild and repair muscle tissue, resulting in stronger, firmer muscles. After an EmSculpt treatment, you'll actually feel the same amount of soreness that you would after a strenuous workout.
Frequently asked questions

Am I a good candidate for EmSculpt?
Anyone can benefit from the Emsculpt procedure but it works best for people who:
want to jump-start a workout program
want to tone their muscles and lift their buttocks
are in good shape to begin with
do not have a large amount of excess fat
do not have excess skin
do not have time to go to the gym for hours a day for weeks/months to get the same results as EmSculpt
want to be trimmer but don't want surgery
How long does a treatment take?
The treatment lasts for four 35-minute sessions — two a week for two weeks — to achieve maximum results.
What does it feel like?
The Emsculpt procedure feels like an intensive workout, but you can lay down and relax during the treatment.
Is there any downtime?
Since the Emsculpt is non-invasive and non-surgical, it requires no recovery time or any pre/post treatment preparation.
How fast will I see results?
You will begin to feel tangible results immediately after the treatment. Positive results are usually reported 2-4 weeks after the last session and they continue to improve for several weeks following the treatments.
Are the results permanent?
No, the results aren't permanent. If you stop the treatments and do not exercise the muscles in that area, the toning results will gradually fade away.
Get the facts about EmSculpt in this 1-minute video
My patients who have tried EmSculpt, male and female, really love how it has toned their stomach and buttocks in just a few short treatment sessions. To learn more, watch my video by clicking on the image below.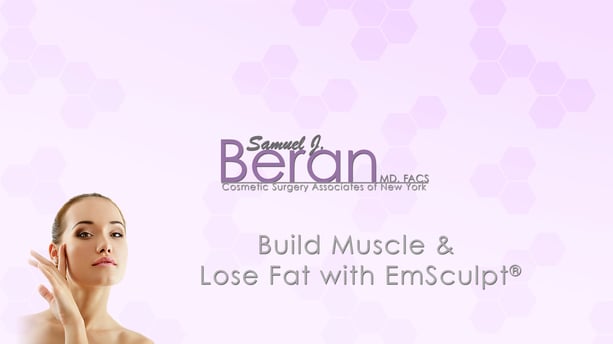 How safe is EmSculpt?
So far, studies have shown no safety issues with EmSculpt but it is still a new technology. Of course, the safest way to lose fat and build muscle tone is to work out and eat healthier. However, if you've tried to lose fatty bulges and tone up saggy areas but can't seem to make a dent, EmSculpt may be a good option for you.
For more information on EmSculpt, I recommend these 3 blogs
So you can be fully informed before you decide to have EmSculpt treatments, I've written two blogs explaining the procedure and its benefits:
Considering EmSculpt?
I understand how important it is for both men and women to have a toned, sculpted body, especially around the abdomen and buttocks, which enables them to feel confident about themselves and their shape. If EmSculpt is something you are interested in, please contact me for a free consultation. I will meet with you, explain the procedure and make sure you understand exactly what results to expect. Also, I will take all the time you need to answer your questions.
Learn more about the full range of body contouring procedures
I offer

There are several body procedures available to you in my plastic surgery practice. To learn more, please visit these pages on my website:
Board certified by the American Board of Plastic Surgery (ABPS), a member of the American Society of Plastic Surgeons (ASPS) and the American Society for Aesthetic Plastic Surgery (ASAPS), and a Fellow of the American College of Surgeons (FACS), Samuel J. Beran, MD is a highly accomplished plastic surgeon with offices in Manhattan, Harrison and Mount Kisco, NY. With more than 20 years' experience and a thorough command of the most advanced techniques and technologies, Dr. Beran consistently provides his patients with the highest level of plastic, cosmetic and reconstructive surgery of the breast, face, skin and body. Recently, Dr. Beran was named a "Top Doctor" by RealSelf for his dedication to responding to consumer questions and patient feedback. The "Top Doctor" designation is awarded to less than 10% of the RealSelf physician community.