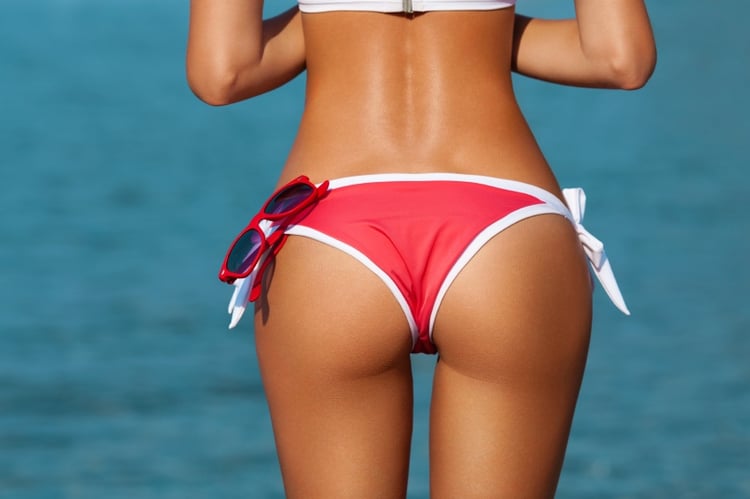 Over time, it's very common to notice physical changes in the size and shape of your buttocks, causing them to droop and sag. These changes can be caused by:
Pregnancy
Weight gain
Weight loss
Genetics
Aging
For many of my female patients, the Brazilian butt lift is an excellent way to achieve a fuller, firmer, more shapely derrière. It also can help them attain a beautiful balance between the shape, size and contour of their "behind" in proportion to the rest of their body. Many women who have breast augmentation also choose to have butt augmentation (and vice versa) in order to create an ideal balance between their upper and lower body. For more information about butt augmentation, download our free fact sheet!
I perform many butt lifts each year and thought it might be helpful to answer some of the most frequently asked questions so that anyone interested in this surgical procedure can determine if it is right for them.
How is a Brazilian butt lift performed?
Through a process similar to liposuction, excess fat is extracted from other parts of the body and transferred to the hip area that needs augmentation (commonly the higher area of the buttocks) to give the butt a lifted, fuller and more rounded appearance. Typically, I take fat from the lower back, love handles and abdomen and use it to shape the top part of the butt and possibly the sides.
How do I know if I'm a good candidate for a BBL?
You have to be in good medical health to be considered a good candidate for any kind of plastic surgery. If you have any heart conditions, lung conditions or neurological disorders, you may not be a good candidate for a BBL.
Another important factor is your pre-surgical weight. Very thin patients are discouraged from having BBL because they may not have enough excess body fat to extract and then re-position in the buttocks area.
Ultimately, the only way to know if a Brazilian Butt Lift procedure is right for you is to consult with an experienced cosmetic plastic surgeon.
Should I gain or lose weight before the procedure?
While it varies from person to person, you should be a few pounds over your ideal weight before having BBL surgery. The important factor is that once you have gained weight for a BBL, you need to maintain that same weight afterwards in order to maintain the results.
How long will the results last?
This is a very long-lasting procedure. On average, expect about 50% of the injected fat to stay in the area and about 50% to be reabsorbed by the body. That's why I always put in extra fat deposits.
If you are interested in a Brazilian butt lift
If you are considering getting a Brazilian butt lift and would like to schedule a free consultation, please contact me. I will send you additional information prior to your appointment. Then together, we'll determine the best way to achieve the beautiful results you desire.
More information on body sculpting surgery
You might also find these pages helpful on my website:
Board certified by the American Board of Plastic Surgery (ABPS), a member of the American Society of Plastic Surgeons (ASPS) and the American Society for Aesthetic Plastic Surgeons (ASAPS), and a Fellow of the American College of Surgeons (FACS), Samuel J. Beran, MD is a plastic surgeon with offices in Manhattan, Harrison and Mount Kisco, NY. With years of experience and a thorough command of the most advanced techniques and technologies, he consistently provides his patients with the highest level of plastic, cosmetic and reconstructive surgery of the breast, face, skin and body.