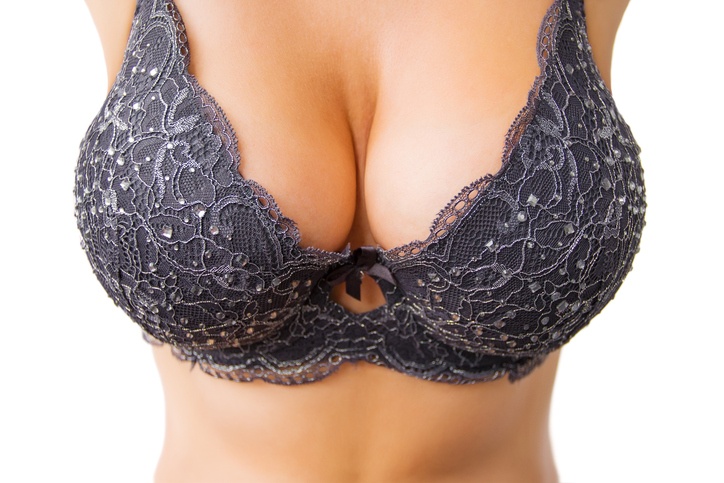 Would you like larger breasts? Do you want to feel sexier, more sensual and more self-confident as a woman? Now you can have the breast size you've always wanted: B cup, C cup, even D cup with breast implants. Breast implants are a safe, highly successful way to achieve the full, beautiful breasts you desire.
Breast implant surgery is typically performed to enlarge small breasts, underdeveloped breasts or breasts that have decreased in size after a woman has had children. Breast implants can also make breasts more symmetrical if one is significantly larger than the other. For more information on breast augmentation, download our free fact sheet!
What do breast implants cost?
One of the first questions my patients ask me when they're considering getting breast implants is how much they will cost. My answer is that there is not one standard price. Every woman's breasts are unique, and the results she is seeking from breast augmentation surgery are specific to her. That's why I determine the exact cost of the procedure after I have met with the patient, evaluated her breasts and body type, her overall physical condition and her personal goals and expectations. Then together, we will decide what type of procedure will achieve the best possible results.
If you are a good candidate for breast augmentation without a breast lift or other surgery, you may qualify for our special pricing. For further pricing details, please contact me.
Three types of breast implants
There are three types of breast implants available in the United States today:
Silicone breast implants

are filled with silicone gel
Saline breast implants

are filled with saline (sterile saltwater)
New structured, saline-filled implant (Ideal Implant) that combines the natural look and feel of silicone gel with the safety and peace of mind of saline (not eligible for my

special pricing

)
Most women (and most plastic surgeons, myself included) prefer the look and feel of the new structured implant or silicone implants, both of which are generally considered to be more like real breast tissue. Saline implants are more prone to cause rippling of the skin.
Silicone breast implants
Most women and plastic surgeons prefer the look and feel of silicone breast implants, which are generally considered to be more like real breast tissue. Silicone implants are pre-filled and come in a variety of shapes and sizes.
Generally, I prefer the feel of silicone over saline. However, silicone implants are more expensive, require a slightly longer incision, and are a little more difficult to know if they have ruptured. Although they were taken off the market by the FDA for several years due to safety concerns, all of the valid scientific studies have shown this type of implant to be safe. Silicone breast implants are FDA-approved for augmentation in women aged 22 and older.
Saline breast implants
Saline breast implants are silicone shells filled with sterile salt water (saline). Since they are filled after they are implanted in the breast, they require a slightly smaller incision than silicone implants.
Saline breast implants provide a uniform shape, firmness and feel, are less expensive than silicone implants and are FDA-approved for augmentation in women age 18 and older.
Structured implants
The structured, saline-filled implant (IDEAL IMPLANT) combines the natural feel of silicone with the safety and peace of mind of saline. Created by a plastic surgeon, structured implants give you a realistic, natural look and feel without the drawbacks that concern women most—unnatural feel and silent rupture.
Which type of implant is best: silicone, saline or structured implant?
In my opinion, the answer is unique to each patient. It highly depends on how a woman feels about a host of issues, such as look, feel, cost, monitoring for silicone gel implant rupture, size of incisions, the potential need to replace the implants, pre-operative breast size and the desired post-operative size and shape.
Your plastic surgeon may have a preference for one type of breast implant over another. For my patients, before deciding on which type, I always take into consideration:
a woman's body type
her age
the current size of her breasts
Are breast implants safe?
Silicone: In 1992, the FDA restricted the use of silicone breast implants and allowed only women having breast reconstruction after breast cancer surgery to get them. For the next 14 years, women who wanted breast augmentation could only receive saline breast implants. In 2006, after reviewing research and finding no connection between silicone implants and disease, the FDA once again approved the sale of silicone breast implants.
Saline: If the implant shell leaks, a saline implant will simply collapse and the saline will be absorbed and naturally expelled by the body.
Structured: Approved by the FDA and Health Canada in 2014, the structured, saline-filled IDEAL IMPLANT has undergone 10 years of development, testing and refinement, including the clinical expertise of numerous plastic surgeons.
Considering breast augmentation?
If you are thinking about having breast implant surgery and would like to schedule a free consultation, please contact me and I will send you additional information prior to your appointment. I will assess the current appearance of your breasts, your reasons for wanting surgery, and your expectations. Then together, we will decide which options will bring you the results you're looking for.
Seeing is believing
To see unretouched "before and after" photos of actual patients of mine who have had successful breast augmentation, please visit the Breast Augmentation page in the Photo Gallery section of my website.
If you already have breast implants, please come see me
If it has been a few years (or more) since your breast augmentation surgery, it's important to get them checked. I highly recommend doing this once a year. Please make an appointment to come in and see me so I can check for any problems.
More information on breast implant surgery
You might also find these pages helpful on my website:
Board certified by the American Board of Plastic Surgery (ABPS), a member of the American Society of Plastic Surgeons (ASPS) and the American Society for Aesthetic Plastic Surgeons (ASAPS), and a Fellow of the American College of Surgeons (FACS), Samuel J. Beran, MD is a highly accomplished plastic surgeon with offices in Manhattan, Harrison and Mount Kisco, NY. With more than 20 years' experience and a thorough command of the most advanced techniques and technologies, Dr. Beran consistently provides his patients with the highest level of plastic, cosmetic and reconstructive surgery of the breast, face, skin and body. Recently, Dr. Beran was named a "Top Doctor" by RealSelf for his dedication to responding to consumer questions and patient feedback. The "Top Doctor" designation is awarded to less than 10% of the RealSelf physician community.