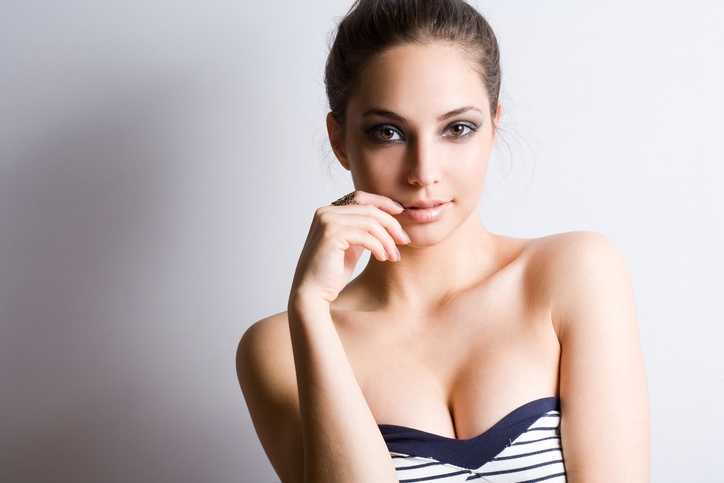 Have you always wanted larger, firmer, higher breasts? If so, breast implants, either saline, silicone, or gummy gel, may be a great option for you. What I have found in my practice after years of performing breast implants is that, although the decision to get breast implants tends to be easy for women with small breasts, the size of the implant is a tougher decision for them to make. However, the more information they have about the many sizes of available implants, the more confident about their ultimate decision. For more information on breast augmentation, download our free fact sheet!
I offer three types of breast implants, all of them safe
Silicone breast implants—filled with silicone gel.
Saline breast implants—filled with saline (sterile saltwater).
Natrelle® gummy breast implants—filled with silicone

gel. Choose from five profiles (low to extra full), four degrees of fullness (minimal to maximum) and three levels of cohesivity (gumminess).
Most women—and most plastic surgeons, myself included—prefer the look and feel of silicone implants rather than saline. Silicone implants are generally considered to look and feel more like real breast tissue, while saline implants are more prone to cause rippling of the skin. Women are also reporting high satisfaction rates with the new gummy versions because they can choose the size and shape of their implants for a more customized, unique look.
What size is best? 3 ways to help you decide.
There are many things you should consider when deciding which breast implant size would be right for you. This is definitely not a one-size-fits-all situation. If you are sure of the look you want to achieve with breast implant surgery, you will have more success in choosing the right size. Plus, your confidence, attitude and desire to be noticed all play a part in choosing the size of breasts you want and the statement you want to make.
A few options to consider before making your final choice:
1) Your body type
If you are a slim person and have always had small breasts, you may want to think carefully before choosing a very large-sized implant. You may find that you are treated very differently (especially by men) and if you are not comfortable with this kind of attention, you may want to consider medium-sized breast implants. Most patients are seeking a "natural" look that fits their bodies.
2) Your body shape
Your body shape also influences what type of breasts will best suit you. Women with a wider chest can more easily carry large breasts. Some lighter-built women who get very large breast implants may suffer from back pain and even consider an implant reduction to alleviate the discomfort.
So whether you are looking for a "B", "C", "D" or even larger cup size we need to have the implant that will bets fit your shape and give you the results you are looking for.
3) Your age
Age is another factor to consider when choosing a breast implant size. Before having children, most of my patients are seeking an enhancement of their current breast size to something a bit larger. Those women who are interested in breast surgery after children are often interested in restoring shape or volume that has been lost with pregnancy and age.
Some additional tips to help you choose a size
Openly discuss with your plastic surgeon your breast size goals and reasons for having breast implant surgery so that he/she knows what you are aiming for.
Choose photos of women's breast size that illustrate the results you're looking for and show these to your surgeon, but make sure that the body type of the women you choose matches yours.
Bra cup size is not the correct measurement to use when choosing breast implant sizes. Cup size often differs among bra brands.
Many plastic surgeons have breast implant samples to help patients decide which size would best suit their body. These fit inside the bra to give a natural look.
Have realistic goals. Bigger is not always better. Very large breast implants may take away your natural beauty rather than enhance it. Also, large breasts are more prone to sagging and may cause neck, shoulder and back pain. The advice I always give my patients is to choose breast implants that will look natural and in proportion with their body.
If you are interested in breast augmentation
If you are thinking about having breast implant surgery and would like to schedule a free consultation, please contact me. I will send you additional information prior to your appointment.
More information on breast implant surgery
You might also find these pages helpful on my website:
Board certified by the American Board of Plastic Surgery (ABPS), a member of the American Society of Plastic Surgeons (ASPS) and the American Society for Aesthetic Plastic Surgeons (ASAPS), and a Fellow of the American College of Surgeons (FACS), Samuel J. Beran, MD is a highly accomplished plastic surgeon with offices in Manhattan, Harrison and Mount Kisco, NY. With more than 20 years' experience and a thorough command of the most advanced techniques and technologies, Dr. Beran consistently provides his patients with the highest level of plastic, cosmetic and reconstructive surgery of the breast, face, skin and body. Recently, Dr. Beran was named a "Top Doctor" by RealSelf for his dedication to responding to consumer questions and patient feedback. The "Top Doctor" designation is awarded to less than 10% of the RealSelf physician community.