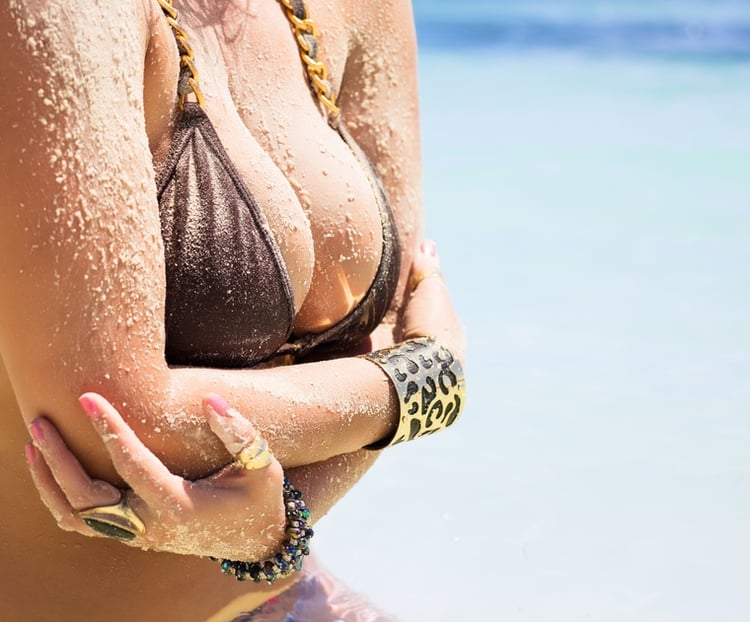 Over the more than 20 years I have been a plastic surgeon, I have heard dozens of reasons why a woman would like her breasts enhanced. I perform a large number of breast augmentations each year and I offer all of my patients the same advice if they are considering this procedure: Breast augmentation can improve the appearance of your breasts but should not be used as a means to improve your overall life, or to make a bad relationship better. You should only consider having breast implants for yourself, not at someone else's urging or to "fix" something in your life. For more information on breast augmentation, download our free fact sheet!
Are you a good candidate for breast augmentation?
The best candidates for breast implant surgery are women who have all the facts they need to make an informed decision, fully understand what the surgery involves and its limitations, and have realistic expectations.
Besides improving a woman's confidence, self-esteem and body image, the most common reasons for breast augmentation are:
Small breasts
Asymmetrical breasts
Drooping or sagging breasts after pregnancy and breastfeeding
Changes in breast size or shape due to weight loss
Reconstruction after surgery to treat breast cancer
Cosmetic improvements after breast reconstruction
During a free consultation with me, I will assess the current appearance of your breasts, your reasons for wanting surgery, and your expectations. Then together, we will decide which options will bring you the results you're looking for.
You are not a good candidate for breast augmentation if:
You have had previous radiation therapy
You are under 18 years old
You do not fully understand breast augmentation surgery and/or breast implant procedures
You do not have realistic expectations about breast augmentation surgery
You are pregnant, breastfeeding or have an infection
What is involved in breast augmentation surgery
I perform breast augmentation procedures at the Surgical Specialty Center located in Harrison, NY. Each of the 4 operating rooms is fully equipped with state-of-the-art anesthesia (provided by a board certified anesthesiologist), emergency equipment and everything else I need to provide excellent care to each of my patients.
Breast augmentation surgery involves surgically inserting an implant filled with either silicone gel or saline (sterile saltwater) solution behind each breast. The most common site for the incision through which the implant will be inserted is in the crease just underneath the breast. It can also be performed around the areola. The incision is very small and inconspicuous in these locations.
Typically, a pocket is created for the implant behind the muscle between your breast and chest wall. Placing the implant behind the muscle creates a very natural appearance and makes it easier for you to obtain accurate mammograms in the future and reduces the risk of capsular contracture.
The risks of breast implants
Although both silicone and saline breast implants are both considered safe, there are some risks associated with each, including:
Ruptures
Ruptures are a risk with either silicone or saline breast Ruptures are most commonly caused by wear and tear of the implant. Over time, the outside shell of the implant can fail and the implant will lose its integrity. If a saline breast implant leaks, the saltwater inside the implant is harmlessly absorbed into the body. When a silicone breast implant fails, the cohesive gel almost always remains within the pocket. In either case, a ruptured implant is almost always replaced.


The need for further surgeries
As years pass, the shape of your breasts change. For some women, this is a loss of tissue or sagging skin. For others, it can be the development of asymmetry. Pregnancies can also result in changes to breast shape. For many women, these changes mean that they wish to have further surgeries to reshape their breasts as they age. In general, a rupture becomes more likely as breast implants age. The FDA estimates that breast implants should last at least ten years, but studies have shown that some breast implants last much longer than that, and others less.
Seeing is believing
To see unretouched "before and after" photos of actual patients of mine who have had successful breast augmentation, please visit the Breast Augmentation page in the Photo Gallery section of my website.
If you are interested in breast augmentation
If you are thinking about having breast implant surgery and would like to schedule a free consultation, please contact me. I will send you additional information prior to your appointment.
More information on breast surgery
You might also find these pages helpful on my website:
Board certified by the American Board of Plastic Surgery (ABPS), a member of the American Society of Plastic Surgeons (ASPS) and the American Society for Aesthetic Plastic Surgeons (ASAPS), and a Fellow of the American College of Surgeons (FACS), Samuel J. Beran, MD is a highly accomplished plastic surgeon with offices in Manhattan, Harrison and Mount Kisco, NY. With more than 20 years' experience and a thorough command of the most advanced techniques and technologies, Dr. Beran consistently provides his patients with the highest level of plastic, cosmetic and reconstructive surgery of the breast, face, skin and body. Recently, Dr. Beran was named a "Top Doctor" by RealSelf for his dedication to responding to consumer questions and patient feedback. The "Top Doctor" designation is awarded to less than 10% of the RealSelf physician community.