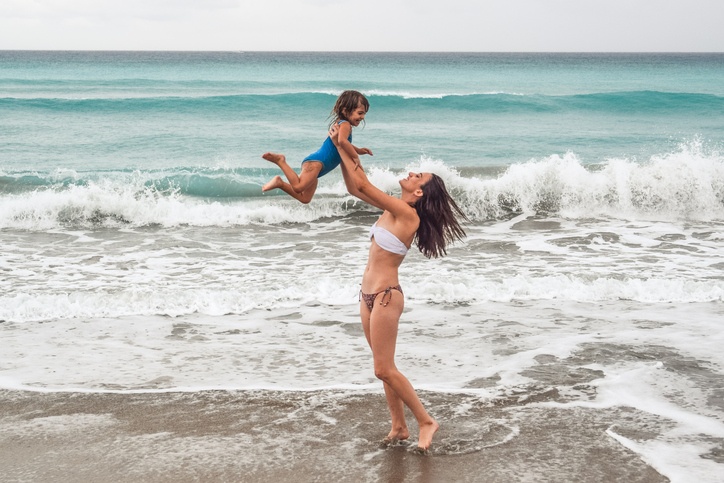 Having children is one of the greatest joys of a woman's life, but pregnancy and breastfeeding do take a toll on her body, often resulting in drooping and smaller-than-before breasts, stubborn fat deposits, a flabby and protruding stomach, loose skin, sagging buttocks and unwanted thigh "saddlebags."
A Mommy Makeover can help correct these problems with a combination of cosmetic surgical procedures including:
Whether you decide to have one body contouring procedures or a combination at the same time, a Mommy Makeover helps women of all ages and body types regain their pre-pregnancy shape, or better yet, achieve a slimmer, tighter, more toned body than they had before. To learn more about the range of body sculpting procedures I offer, click here.
What is a Mommy Makeover and what will it do?
Whether performed under local, "twilight" or general anesthesia, a Mommy Makeover consists of a customized combination of procedures that can help a woman regain the body she had before children, or in many cases, help her look and feel better than ever.

As I tell my patients who are considering a Mommy Makeover, combining surgeries makes the most sense because it not only limits your total recovery "downtime" (so that you're inconvenienced as little as possible) but allows you to enjoy the results all at once, whether than bit by bit after several surgeries.
I perform all of my plastic surgery procedures in The Surgical Specialty Center of Westchester, a state-of-the-art 4-operating-room, 11-recovery-bed ambulatory surgery center that meets the New York Department of Health standards for Hospitals under Article 28. To minimize my patients' pain and recovery time, I use the latest state-of-the-art techniques so they can quickly return to their families and their lives.
Am I a good candidate for a Mommy Makeover?
Mommy Makeover surgery is a highly individualized procedure, or combination of procedures, that can be life-changing. The physical changes are often a wonderful turning point in a person's life, boosting their self-esteem and enabling them to feel confident about their bodies, sometimes for the first time. This is why it's very important to undergo this surgery for yourself, not to fulfill someone else's ideas of what your body should look like.
Ideal candidates for Mommy Makeover surgery should:
be in good medical health
be at or near their ideal body weight
have a positive outlook and realistic expectations
be finished with childbearing
not smoke or drink excessively
The best patient is an informed patient
As a highly experienced plastic surgeon, I feel strongly that my patients should be as well-informed as possible before undergoing any kind of surgical procedure. In addition, they should be realistic about the results they are expecting to see after surgery. For that reason, I meet extensively with each patient beforehand so that together, we can achieve the best possible results.
How much does a Mommy Makeover cost?
Recognizing that every woman's body and desired results are unique to her, I determine the exact cost of a Mommy Makeover after I have met with the patient, evaluated her body type, amount of fat stores, overall physical condition and her personal goals and expectations. Then together, we will decide which combination of plastic surgery procedures will achieve the best possible results. For further pricing details, please contact me.
If you are interested in a Mommy Makeover
I understand that choosing any of the Mommy Makeover procedures is an important decision for a woman. I also know how much it means to each and every patient to achieve the results she wants.
If you are thinking about getting a Mommy Makeover and would like to schedule a free consultation, please contact me and I will send you additional information prior to your appointment. To make sure you are fully informed about your surgery options and understand exactly what results to expect, I will take all the time you need to make sure your questions are answered.
More information on body sculpting procedures
For further information on body slimming, toning and contouring procedures, you might find these pages on my website helpful:
Board certified by the American Board of Plastic Surgery (ABPS), a member of the American Society of Plastic Surgeons (ASPS) and the American Society for Aesthetic Plastic Surgeons (ASAPS), and a Fellow of the American College of Surgeons (FACS), Samuel J. Beran, MD is a highly accomplished plastic surgeon with offices in Manhattan, Harrison and Mount Kisco, NY. With more than 20 years' experience and a thorough command of the most advanced techniques and technologies, Dr. Beran consistently provides his patients with the highest level of plastic, cosmetic and reconstructive surgery of the breast, face, skin and body. Recently, Dr. Beran was named a "Top Doctor" by RealSelf for his dedication to responding to consumer questions and patient feedback. The "Top Doctor" designation is awarded to less than 10% of the RealSelf physician community.