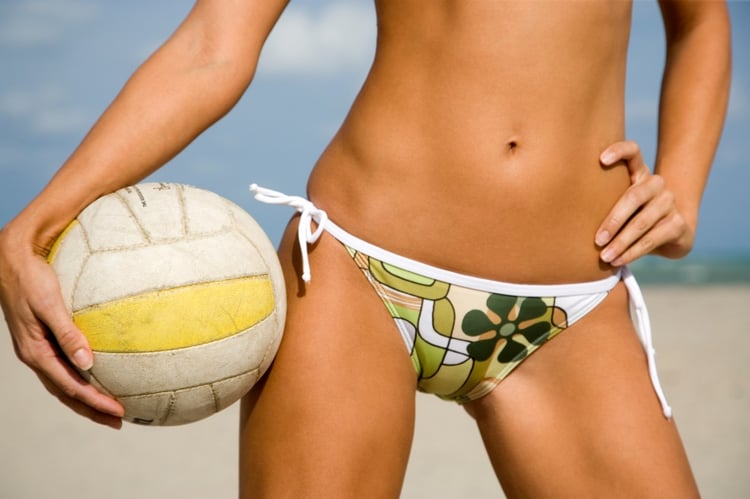 Spring has finally arrived and before you know it, summer will be here — which means the beach, bathing suits, skimpy shorts, sundresses, outdoor parties and vacations. To get that trim, toned beach body you're looking for, liposuction is an ideal treatment to help you shave off those unwanted bulges and pooches that diet and exercise have not been able to erase. Many of my patients choose to have liposuction performed on its own, while others combine liposuction treatments with another procedure, such as a tummy tuck or breast augmentation, in order to achieve the results they want in time for swimsuit season. For more information on liposuction, download our free fact sheet!
Liposuction sculpts and tones your body for a trimmer, firmer silhouette
If you have tried dieting and exercise but still have localized areas of fat that simply won't go away, liposuction could be the answer you've been looking for. It slims and reshapes specific areas of the body by reducing excess fat deposits and improving your body contours and proportion. Liposuction does not reduce cellulite, only fat.
Liposuction can be used for contouring many areas of the body:
cheeks, jowls and neck
upper arms
breast or chest areas
back
abdomen and waist
hips and buttocks
inner and outer thighs
inner knees
calves and ankles
Are you a good candidate for liposuction?
In order to be considered a good candidate for this surgical procedure, you should be in good overall physical health and maintain a routine of regular exercise and proper diet. Liposuction tends to work best on smaller areas of fat, so you should be somewhat close to your ideal weight at the time of your procedure. This surgery is not a substitute for other weight loss strategies and is not designed for patients who are overweight or obese.
What happens during liposuction surgery
During the liposuction procedure, body fat is extracted by first inserting a small, hollow tube (a cannula) through one or more tiny incisions near the area to be suctioned. Incisions are usually less than one-quarter inch in length and are placed in places where they will be least noticeable, often within skin folds or contour lines. The cannula is connected through a tube to a vacuum pressure unit. Guided by a plastic surgeon, the suction device then vacuums away your unwanted fat.
Laser-assisted liposuction (SmartLipo)
One of the newest liposuction techniques for fat dissolution is laser-assisted liposuction or SmartLipo. Using laser technology, SmartLipo liquefies fat by producing a burst of energy as the laser enters the fatty tissue. This laser energy is delivered by a thin laser fiber that is inserted through small incisions in the skin. Laser-assisted liposuction also stimulates collagen production in the skin, which may offer additional skin-tightening benefits.
Liposuction can be performed along with other plastic surgery procedures
Liposuction can successfully be combined with other cosmetic surgery procedures such as a facelift, breast augmentation, tummy tuck or lower body lift. If you're interested in reducing fat throughout your entire body, this will likely take multiple procedures.
If liposuction is something you are interested in
If you are considering having liposuction, please contact me for a free consultation. I have performed hundreds of liposuction procedures and am highly experienced in this specialized type of plastic surgery. I am happy to meet with you, answer your questions, and discuss how liposuction can achieve the beautiful results you desire.
More information on body sculpting procedures
For further information on body slimming and toning procedures, you might find these pages helpful on my website:
Board certified by the American Board of Plastic Surgery (ABPS), a member of the American Society of Plastic Surgeons (ASPS) and the American Society for Aesthetic Plastic Surgeons (ASAPS), and a Fellow of the American College of Surgeons (FACS), Samuel J. Beran, MD is a plastic surgeon with offices in Manhattan, Harrison and Mount Kisco, NY. With years of experience and a thorough command of the most advanced techniques and technologies, he consistently provides his patients with the highest level of plastic, cosmetic and reconstructive surgery of the breast, face, skin and body.