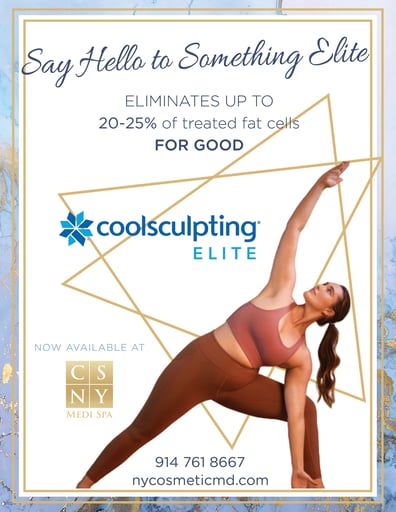 Are you ready to lose your double chin? Have you been carrying around your saddle bags long enough? Would you like a trim, toned tummy without the love handles? If your answer is yes to any or all of these, you're a great candidate for CoolSculpting ELITE, a non-invasive body shaping procedure that dramatically reduces stubborn layers of fat by freezing and then eliminating them from your body for good—without needles, surgery, scarring or downtime. In addition to CoolSculpting ELITE, I also offer a wide range of other body enhancing procedures to help you achieve a more shapely body, which you can learn about here.
CoolSculpting ELITE works by freezing and then eliminating your fat cells
Unlike ultrasound- or heat-based fat-reducing treatments which actually explode unwanted fat cells, CoolSculpting ELITE works by freezing them. This causes them to die and get flushed from your body as waste, leaving you more toned and sculpted. This procedure does not have the side effects of other fat-reducing methods which can cause bruising and soreness, while delivering effective, very satisfying results.
Once your fat cells are frozen, they will not return
After a CoolSculpting ELITE session, your fat cells in the treatment area are completely gone and will not return. As long as you maintain your weight with normal diet and exercise, your results should be long-term.
The 7 best areas for CoolSculpting ELITE
Fortunately, many of the common stubborn areas of fat are the pinch-able, close-to-the-surface type of tissue that CoolSculpting ELITE can effectively and noticeably reduce. Here are the 7 most popular ones:
Flanks: Bulges at the sides of your waist, or "love handles," respond incredibly well to CoolSculpting ELITE, even when weight loss hasn't seemed to shrink them. Bathing suits, leggings and pants will fit better, and you'll feel more confident in slimmer shirts, skirts and dresses, not needing to hide your sides any longer.

Abdomen

: The stomach is one of the most common places the body stores fat so it can be very hard to reduce this area with diet and exercise. This is also the most common area people want treated by CoolSculpting ELITE because the results are so impressive.

Thighs

: Thigh fat can be particularly stubborn but CoolSculpting ELITE produces superior results on the inner and outer thigh areas, even though they're very different. The skin on the inner thighs is usually easier to pinch and to feel surface fat. Fat on the outer thighs or "saddle bags" is harder to pinch but is still usually made up of tissue that's highly treatable with CoolSculpting ELITE.

Double chin

: Fat under the chin responds very well to CoolSculpting ELITE. In fact, there is an applicator specially designed to treat the pad of fat just underneath the chin so that CoolSculpting ELITE can target it precisely and safely.

Upper Arms:

Fat that is "fluffy" and lumpy around the upper arms is the type that CoolSculpting ELITE works well on.

Underneath the buttocks:

The pouches of fat underneath the buttocks can be effectively treated with CoolSculpting ELITE. The procedure will smooth out this area so that it is slimmer, more contoured and follows the rest of the area of your leg under the buttocks.

Back fat:

CoolSculpting ELITE is very effective for treating fat on certain areas of the back. The three most commonly treated areas are the parts of the lower back that extend from the love handles, the mid-back fat on the sides, and "bra bulge" fat under the bra line.
NOTE: CoolSculpting ELITE is for fat reduction, not weight loss
As I tell my patients who are considering CoolSculpting ELITE, this is not a weight-loss treatment. It is designed for people who live active lifestyles, experience minimal weight fluctuations and are wanting to target certain areas of their bodies that are stubbornly resistant to exercise and healthy eating habits.
Real patients, real results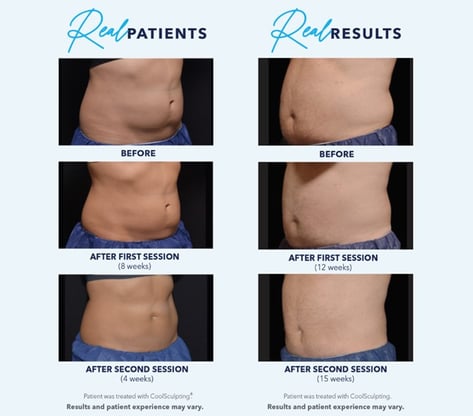 You might be a good candidate for CoolSculpting ELITE if you:
need only a small reduction in fat

have no hanging skin

are within 20 pounds of your ideal weight

want a tighter, slimmer, more toned body but do not want surgery
Have questions about CoolSculpting® ELITE?
Contact Nicole in my office for a 1:1 expert consultation. Call or text her at (914) 761-8667 or email her at nicolen@nycosmeticmd.com.
Ready to discover if CoolSculpting ELITE is right for you?
If you are thinking about having CoolSculpting ELITE and would like to schedule a free consultation, please contact me. I will send you additional information prior to your appointment, then when we meet, I will evaluate your body type, learn what you're hoping to achieve and answer all your questions.

More information on

the many contouring body procedures I offer
For further information on the many body slimming, toning and contouring procedures I offer, you might find these pages on my website helpful:
Board certified by the American Board of Plastic Surgery (ABPS), a member of the American Society of Plastic Surgeons (ASPS) and the American Society for Aesthetic Plastic Surgeons (ASAPS), and a Fellow of the American College of Surgeons (FACS), Samuel J. Beran, MD is a highly accomplished plastic surgeon with offices in Manhattan, Harrison and Mount Kisco, NY. With more than 20 years' experience and a thorough command of the most advanced techniques and technologies, Dr. Beran consistently provides his patients with the highest level of plastic, cosmetic and reconstructive surgery of the breast, face, skin and body. Recently, Dr. Beran was named a "Top Doctor" by RealSelf for his dedication to responding to consumer questions and patient feedback. The "Top Doctor" designation is awarded to less than 10% of the RealSelf physician community.