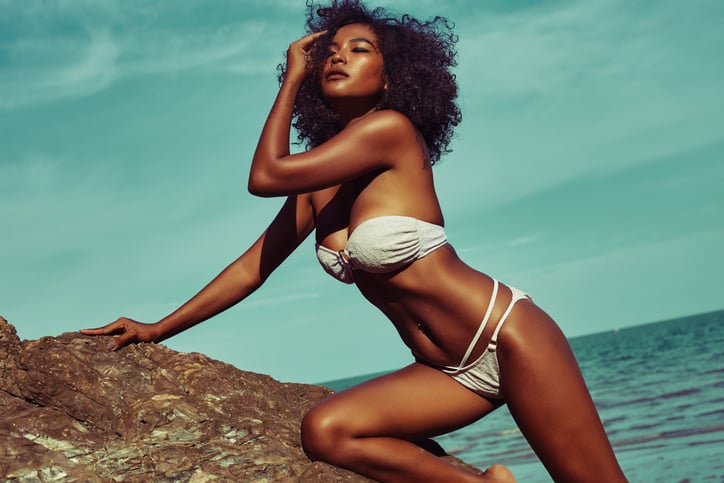 As I tell my patients, we're really in a wonderful time in terms of body contouring. As well as plastic surgery, I can now offer many procedures that are non-surgical and have minimal downtime, if any, that provide excellent results. To learn how I can help you achieve a more beautiful body, click here.
Many ways to get a better, sexier shape
One example of a relatively new non-surgical, non-invasive body contouring treatment is CoolSculpting, in which the patient is wide awake and a machine is attached to the area of the body where he or she wants to get rid of unwanted fat. The machine freezes the fat and then over the next few months, slowly flushes these destroyed fat cells from the body.
EmSculpting is another non-surgical body contouring procedure that uses a machine, in this case to tighten a person's abdominal and/or butt muscles and melt away some of the fat. This treatment is really for patients who are in good shape who are just looking for some extra definition of muscle. They're trying to get that 6-pack but don't have time to go to the gym all the time. They're not looking for major body contouring changes but want, say, a buttock lift with some enhancement to their gluteus muscles.
In addition, I offer fat-removing, body shaping procedures like liposuction which is surgical but can now be performed by using tiny little eighth-of-an-inch incisions and which only causes a little bruising. I also offer more involved surgical procedures such as breast lifts, tummy tucks, Mommy Makeovers and lower body lifts where I'm removing fat, tightening muscle and removing skin at the same time.
It's really a great time for patients
When my patients come into my office, I try and find a way to meet their expectations, to deliver what they want, either non-surgical or surgical, so I can provide the results they're looking for without having to go through the type of big operation we had to do in the past. The new technology has really added a lot to our ability as plastic surgeons to deliver highly successful results to our patients without resorting to major surgery.
To learn more about body contouring procedures, watch this 1½-minute video
For detailed information about a number of body contouring procedures, watch my short 1½-minute video by clicking on the image below.

Several body contouring options
To be self-assured about your body is so important to how you feel about yourself. For some people, this might mean having larger breasts or a higher, firmer butt. For others, it's a flatter stomach or trimmer thighs that they're seeking. Whatever your personal goals, having plastic surgery or a non-surgical body shaping treatment is a highly successful way to achieve the beautiful and natural results you desire.
Some of the procedures and treatments I offer:
You can combine surgical and non-surgical body shaping procedures
Cosmetic (non-surgical) treatments and plastic surgery procedures can successfully be combined to help you feel younger, more attractive and more confident. Some examples are combining liposuction and CoolSculpting, EmSculpt and a breast lift, or a Brazilian Butt Lift with a tummy tuck.
How much does a body contouring procedure cost?
Because every person's body is different and the results they are seeking from a body contouring procedure are specific to them, whether surgical or non-surgical, the exact cost of this treatment is determined after I have met with you and together, we have decided which procedure(s) can give you the beautiful results you are looking for.
Are you considering a body contouring procedure? Let's talk.
If you are thinking about having one or more of the body contouring procedures I offer, from CoolSculpting to liposuction to breast augmentation, please contact me for a free consultation. I will meet with you, explain the procedure(s) and make sure you understand exactly what results to expect. Also, I will take all the time you need to answer your questions.
To learn more about the many
body sculpting options
I offer
For further information on the breast augmentation and body enhancement procedures I offer, please visit my website.
Board certified by the American Board of Plastic Surgery (ABPS), a member of the American Society of Plastic Surgeons (ASPS) and the American Society for Aesthetic Plastic Surgery (ASAPS), and a Fellow of the American College of Surgeons (FACS), Samuel J. Beran, MD is a highly accomplished plastic surgeon with offices in Manhattan, Harrison and Mount Kisco, NY. With more than 20 years' experience and a thorough command of the most advanced techniques and technologies, Dr. Beran consistently provides his patients with the highest level of plastic, cosmetic and reconstructive surgery of the breast, face, skin and body. Recently, Dr. Beran was named a "Top Doctor" by RealSelf for his dedication to responding to consumer questions and patient feedback. The "Top Doctor" designation is awarded to less than 10% of the RealSelf physician community.