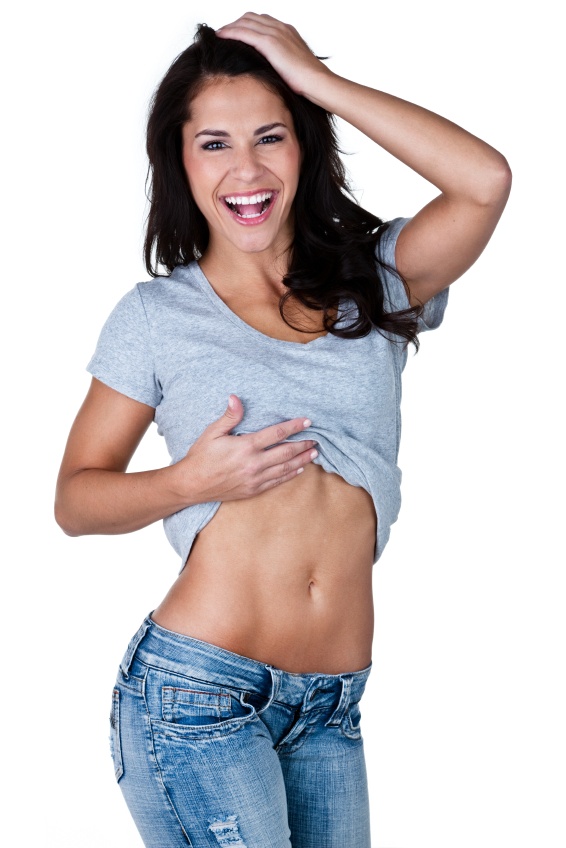 Abdominoplasty — or a tummy tuck, as it is commonly known — is a cosmetic surgery procedure that tightens the muscles and removes loose skin and fat from the abdomen so that a person's midsection appears flat and toned.
Mostly associated with "mommy makeovers," a procedure that helps women restore their figures after having a baby, abdominoplasty is also used to reduce excess skin from patients who have experienced extreme weight loss in a short period of time.
Why have a tummy tuck?
Even though the majority of tummy tucks I perform are for cosmetic reasons, there are several medical benefits to having the procedure, including:
1) Improved appearance
After pregnancy or weight loss, a woman's stomach often does not return to its previous tone, shape and look. The skin may be loose or hanging, the muscles may have spread, there may be some fat in places where it wasn't before, and the waist may have widened. A tummy tuck improves these issues by reducing extra skin and fat and tightening the abdominal muscles. This results in a narrower waist, a flatter belly and a more toned appearance.
2) Return to pre-mommy clothes
Physical changes after pregnancy often cause extra skin or fat to remain in the hips or lower stomach. The extraction of this tissue and the tightening of the muscles usually results in a smaller dress size or the ability to wear clothes you haven't felt comfortable putting on in years.
3) Improved abdominal tone and better posture
After extreme weight loss or multiple pregnancies, stomach muscles can become distended, and diet and exercise alone cannot help. A tummy tuck surgically tightens weak muscles while reducing excess skin and fat, thereby flattening the abdomen. Weak abdominal muscles are often associated with lordosis or "sway back." After abdominoplasty, many of my patients notice that their posture has improved significantly, due to the tightened muscles supporting their spine. The improved support and better posture can have the added benefit of relieving certain types of back pain.
Remember, tummy tuck surgery is surgery
Many people believe that a tummy tuck is an easy procedure but it is important to realize that it is a major operation, requiring 1-2 hours in the operating room under general anesthesia. A typical abdominoplasty removes a few pounds of stomach fat and excess skin and tightens the muscles by suturing them. Recovery times vary, but generally most patients are back to work in 1-2 weeks.
Before deciding to have a tummy tuck, we will discuss the procedure in detail and make sure that you understand all that is involved.
Who is a good candidate for a tummy tuck?
Optimal candidates for tummy tucks are in good health but have excess skin, loose muscle and excess fat which they would like removed. Ideal patients are within 20% of their ideal body weight. Other good candidates are patients who have had significant weight loss, either from diet and exercise or surgery. Men are also candidates for a tummy tuck, especially if they have experienced extreme weight loss.
Who should not consider a tummy tuck?
If you plan to get pregnant, you should postpone a tummy tuck until after you've had children. During surgery, your vertical muscles are tightened and future pregnancies can separate those muscles. Also, if you're planning to lose a lot of weight, you should not have a tummy tuck.
Is liposuction involved?
Liposuction is used to remove excess fat if it is present.
With a tummy tuck, will the skin lose its firmness over time?
If you gain weight, you can adversely affect the result, possibly reversing the gains of the procedure.
Are there alternatives to a tummy tuck that are as effective without anesthesia?
Only a tummy tuck can remove excess skin, contour fat and tighten muscle. A tummy tuck will flatten the tummy and narrow the waist at the same time. Liposuction removes fat, but skin shrinkage after liposuction varies from patient to patient, even if laser is used to assist with the liposuction. There are some devices that can be used to heat and shrink skin, but they do not remove fat and do not affect the muscle in any way.
If you are interested in a tummy tuck
If you are thinking about getting a tummy tuck and would like to schedule a free consultation, please contact me. I will send you additional information prior to your appointment. will send you additional information prior to your appointment.
More information on body sculpting procedures
You might find these pages helpful on my website:
Board certified by the American Board of Plastic Surgery (ABPS), a member of the American Society of Plastic Surgeons (ASPS) and the American Society for Aesthetic Plastic Surgeons (ASAPS), and a Fellow of the American College of Surgeons (FACS), Samuel J. Beran, MD is a plastic surgeon with offices in Manhattan, Harrison and Mount Kisco, NY. With years of experience and a thorough command of the most advanced techniques and technologies, he consistently provides his patients with the highest level of plastic, cosmetic and reconstructive surgery of the breast, face, skin and body.