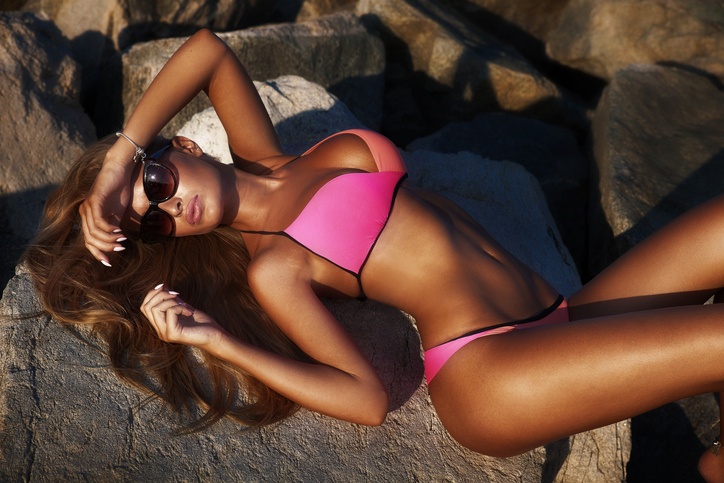 Liposuction is a highly successful way to dramatically reduce stubborn fat that diet and exercise have not been able to erase. It also improves your body's shape, tightening and toning the abdomen, trimming the waist, contouring the buttocks, and slimming the thighs and lower legs. There are so many wonderful things liposuction can do. To learn more about the range of body sculpting procedures I offer, click here.
With over 20 years of specialized surgical experience, I have performed liposuction on almost every part of the body. While each patient is different in body type and goals, there are some common areas where patients, both male and female, want to lose stubborn fat deposits that won't go away, even after diet and exercise. For more information about liposuction, watch my short 2-minute video by clicking on the button below.
The most popular areas where people want to reduce fat by having liposuction
Liposuction can be performed on several areas of the body at the same time. It can also be done in conjunction with other cosmetic surgery procedures. Here are the areas where liposuction is most commonly requested:
Waist

For both men and women, "love handles" can be extremely hard to get rid of, even with a healthy regimen of diet and exercise. The waist area is very responsive to liposuction because of optimal skin elasticity, and patients who undergo waist liposuction experience a notable decrease in waist size.

Flanks

Like the waist, the flank area also has great skin elasticity. This area is considered the back end of the "love handles" and resides in the lower back above the pant line. Liposuction in this area is commonly done in conjunction with the waist to give an even contour and smooth midsection transition, enabling female patients to achieve the hourglass curves they desire.

Hips

In most women, it is very important to shape this area properly in order to create a rounder, more well-defined buttock as well as a curvy feminine silhouette.

Upper Arms

A common sign of aging is excess fat and tissue in the upper arm. Liposuction can tone this area, resulting in a more youthful appearance. And depending on a patient's body type, liposuction may deliver many of the benefits of an arm lift without permanent scarring.

Lower Abdomen

A frequently requested area, liposuction of the abdomen ("muffin top") can result in a tight and toned stomach. However, if the amount of fat in this area is too large or if skin laxity is severe, the patient may be better suited for a tummy tuck or lower body lift.

Upper Abdomen

Typically if the lower abdomen is treated, the upper abdomen (the area between the belly button and the ribs) should also be treated in order to create a smooth transition from one to the other.

Buttocks

Generally, I recommend against liposuction of the buttocks because the procedure can result in a deflated or flat-looking appearance. Instead, I recommend the Brazilian butt lift to create the full, shapely buttocks shape patients desire.

Inner Thighs

Liposuction can help keep the inner thighs from touching when standing up straight, which makes this a very popular area for women desiring liposuction. Some women only need the upper inner thigh to be contoured, while others require treatment of the entire inner thigh to achieve their desired result.

Outer Thighs

Commonly referred to as "saddle bags," the outer thigh is a common problem area for most women. It plays a significant role in a woman's silhouette and therefore it is important to accurately reduce the correct quantity of fat given the specific body attributes of the individual patient. Liposuction in this area can also compliment the curve of the buttocks.

Lower Legs

Liposuction in this area is often challenging because the entire lower leg needs to be reshaped to achieve natural-looking proportions. Calves and ankles also have very little "deep fat" pockets, therefore the procedure must be done carefully to avoid creating any irregularities in appearance.
Liposuction can be performed along with other plastic surgery procedures
Liposuction can successfully be combined with other cosmetic surgery procedures such as a facelift, breast augmentation, tummy tuck or lower body lift. If you're interested in decreasing fat throughout your entire body, this will likely take multiple procedures.
What happens during the liposuction procedure
During liposuction surgery, body fat is removed by first inserting a small, hollow tube (cannula) through one or more tiny incisions near the area to be suctioned. Incisions are usually less than one-quarter inch in length and are placed in places where they will be least noticeable, often within skin folds or contour lines. The cannula is connected through a tube to a vacuum pressure unit. Guided by a plastic surgeon, the suction device then vacuums away your unwanted fat.
Who is a good candidate for liposuction
A good candidate for liposuction should have realistic expectations about the results of the procedure. In addition, he or she should:
Be of average or only slightly above-average weight
Have firm, elastic skin
Be in good overall health
Be within 30% of their ideal body weight
Have concentrated pockets of fat that do not respond well to diet and exercise
Are you considering liposuction?
If you are thinking about having liposuction, please contact me for a free consultation. I have performed hundreds of liposuction procedures and am highly experienced in this specialized type of plastic surgery. I am happy to meet with you, answer your questions, and discuss how liposuction can achieve the beautiful results you desire.
Learn more about body contouring
procedures

For further information on body slimming, toning and contouring procedures, you might find these pages on my website helpful:
Board certified by the American Board of Plastic Surgery (ABPS), a member of the American Society of Plastic Surgeons (ASPS) and the American Society for Aesthetic Plastic Surgeons (ASAPS), and a Fellow of the American College of Surgeons (FACS), Samuel J. Beran, MD is a highly accomplished plastic surgeon with offices in Manhattan, Harrison and Mount Kisco, NY. With more than 20 years' experience and a thorough command of the most advanced techniques and technologies, Dr. Beran consistently provides his patients with the highest level of plastic, cosmetic and reconstructive surgery of the breast, face, skin and body. Recently, Dr. Beran was named a "Top Doctor" by RealSelf for his dedication to responding to consumer questions and patient feedback. The "Top Doctor" designation is awarded to less than 10% of the RealSelf physician community.