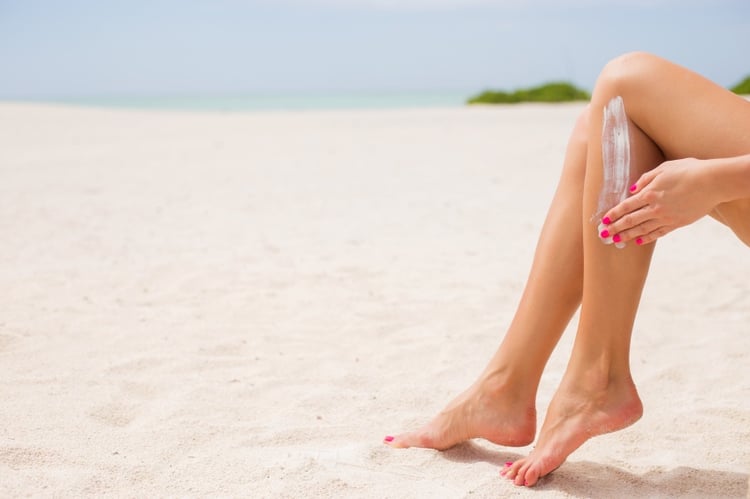 We have all looked out the window and decided that it wasn't necessary to apply sunblock on a cloudy day. That's just a mistake. Believe it or not, the majority of exposure to the ultraviolet radiation that causes aging and skin cancer happens when you're outside running errands, driving in a car or even sitting by a window.
Like all radiation damage, UV radiation damage is cumulative, meaning that the damage to your skin increases and worsens over time as the effects of each sun exposure are added to all the previous ones. Therefore, any amount of damage you can prevent now will pay dividends in the future, not only in the appearance of your skin but in the prevention of skin cancer.
Sunscreen is critical to the defense of your skin
Sunlight consists of two types of harmful rays that reach the earth — UVA rays and UVB rays. Overexposure to either can lead to skin cancer. In addition, UVA rays (or aging rays) can prematurely age your skin, causing wrinkles and age spots. UVB rays (or burning rays) are the primary cause of sunburn. To guard and protect your skin, sunscreen is highly recommended but it's not always easy to determine which sunblock to use. Here are some guidelines to help you make smart choices.
How to pick a sunscreen
Look for a broad spectrum sunscreen which protects you from both UVA and UVB exposure.
The SPF measure is one of the more confusing aspects of choosing the right product. SPF is a measurement of protection against UVB rays. For example, an SPF of 30 blocks 97% of the UVB radiation. Using an SPF above 30 offers only minimal additional benefit, therefore I don't recommend using one above 30.
In the past, sunscreens almost always contained chemicals which absorbed UV radiation. Today, newer zinc oxide and titanium oxide physical blockers add another layer of protection. These chemical agents don't block all aspects of the UV spectrum, but the physical blockers are effective against both UVA and UVB. The best sunscreens incorporate both chemical and physical blockers.
When swimming or sweating, remember to pick a water-resistant product.
Even if you're not swimming or exercising and are only lying in the sun, remember to reapply sunscreen every 2 hours. Not only does it evaporate in that amount of time, you often are sweating it away without realizing it.
The #1 mistake people make with sunscreen
The vast majority of people, both men and women, apply sunblock too sparingly. It takes about an ounce of sunblock to cover your body. What I advise my patients is to fill the palm of their hand 6 times: one "palm" for each arm and leg, one for their chest and stomach, and one for their shoulders and back.
Sun exposure and skin cancer
It's a proven fact that prolonged sun exposure, especially for fair-skinned people, can cause skin cancer. Sunscreen can help prevent skin cancer by protecting you from the sun's harmful ultraviolet rays. Anyone can get skin cancer, regardless of age, gender or race. In fact, it is estimated that 1 in 5 Americans will develop skin cancer in their lifetime. Skin cancer also can form on the lips, so apply a lip balm or lipstick that contains sunscreen with an SPF of 30 or higher whenever you are exposed to the sun.
Skin treatments and procedures that can help reverse sun damage
I provide many cosmetic and plastic surgical procedures and treatments that can reverse the visible signs of aging due to sun damage, including:
If you are concerned about sun exposure and your skin
If you think you may have skin damage or possibly skin cancer due to sun exposure, please schedule a free consultation with me. I will send you additional information prior to your appointment. Together, we'll determine the best way to achieve the healthy, smooth, beautiful skin you desire.
Board certified by the American Board of Plastic Surgery (ABPS), a member of the American Society of Plastic Surgeons (ASPS) and the American Society for Aesthetic Plastic Surgeons (ASAPS), and a Fellow of the American College of Surgeons (FACS), Samuel J. Beran, MD is a plastic surgeon with offices in Manhattan, Harrison and Mount Kisco, NY. With years of experience and a thorough command of the most advanced techniques and technologies, he consistently provides his patients with the highest level of plastic, cosmetic and reconstructive surgery of the breast, face, skin and body.