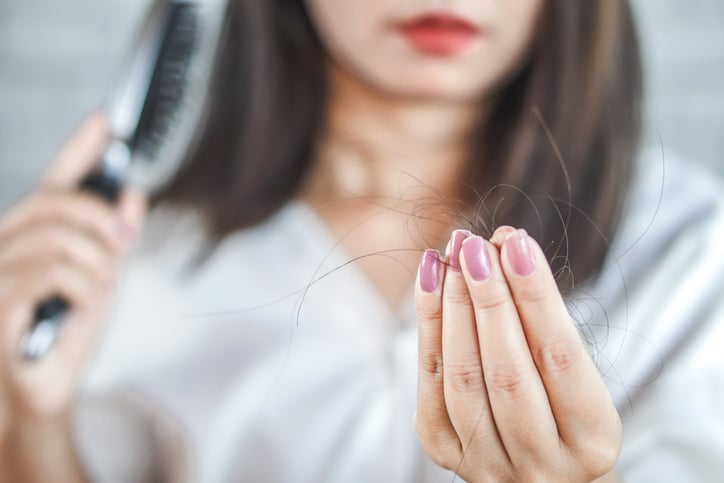 Many people associate thinning hair or bald spots exclusively with men. However, I have many women in my practice who are losing their hair and have come to me wanting a long-lasting solution. And these are not all seniors. Studies show that approximately 33% of women over the age of 30 experience hair loss, and 80% experience some degree of hair loss before menopause. So it's a widespread issue. And, it's particularly upsetting for women who tend to put a great deal of emphasis on their hair, much more so than men.
If you're experiencing thinning hair and want to do something about it, I urge you to consider hair restoration surgery, one of the many facial procedures I offer to help you look and feel more attractive and more confident.
How hair loss affects men and women differently
In men: Hair loss, or "pattern baldness," often appears as a receding hairline or a thinning crown/bald spot on the top of the head.
In women: Hair loss most often occurs across the top of the scalp rather than at the frontal hairline.
A family history of baldness often is a factor for both men and women experiencing hair loss.
What causes female hair loss?
There are many reasons women lose their hair, ranging from a temporary situation—pregnancy or a vitamin deficiency—to something more permanent, such as an inherited genetic condition. Possible causes for hair loss include:
Family history of baldness (female pattern baldness or androgenic alopecia)
Hair styling (hair dyes, chemical straighteners, curling agents, hot irons, blow dryers, hot curlers)
Chemotherapy
Side effects of certain medications
Pregnancy
Giving birth
Menopause
Birth control pills
Eating disorders
Fever
Anemia
Surgery
Hypothyroidism (an underactive thyroid gland)
Autoimmune disease
Beta blockers
Coumadin
Poor diet/malnourishment
Too much vitamin A
Not enough vitamin B
Dramatic weight loss
Antidepressants
Blood thinners
Sudden hair loss (telogen effluvium)
Polycystic ovarian syndrome
Lupus
Trichotillomania ("hair pulling disorder")
Alopecia areata, traction alopecia or alopecia marginalis
NeoGraft™: State-of-the-art technology for hair loss
Medical hair restoration treatments such as Minoxidil (Rogaine) can effectively slow or even reverse hair loss in many patients, but hair restoration surgery (NeoGraft) can provide a natural-looking, long-lasting solution.
NeoGraft is a breakthrough, FDA-approved treatment for hair loss in both men and women. A minimally-invasive surgical procedure, NeoGraft's highly advanced technology gives you a growing, flourishing head of hair with no linear scar, no sutures, no plugs, minimal downtime and a shorter recovery period.
What makes NeoGraft so revolutionary:
Minimally-invasive, pain-free procedure
No scalpel and no stitches
Fast recovery—return to work the next day
Permanent hair growth in just 6-8 months
Fills large areas in just one session for natural, seamless results
No unsightly linear scar
No tightness, discomfort or numbness
How does NeoGraft work?
Traditional "strip" methods of hair transplantation (Follicular Unit Transplantation or FUT) require the removal of large sections of hair and skin from the back of the head. While this is the most common hair restoration technique, it is surgically invasive and leaves patients with a large, unsightly scar in the harvest area—typically across the back of the head. Also with this method, hair follicles can often be damaged during transplantation due to over-handling.
In contrast, using Follicular Unit Extraction (FUE), NeoGraft removes individual hair follicles in a "no touch" fashion from your scalp, then individually transplants them, without damage, into the areas where balding, thinning or hair loss has occurred. Once transplanted, these healthy hair follicles continue to grow new hair seamlessly. Large areas of hair follicles can be transplanted in a single session and the results are very long-lasting. Most patients experience significant hair growth in just six to eight months.
Am I a good candidate for hair restoration surgery?
You might benefit from hair restoration surgery if:
Your hair loss appears to have stopped
Your loss is mainly at the hairline
Balding is concentrated in one or two areas
You have scars, burns or injuries that have caused hair loss
You have experienced hair loss after a facelift or other cosmetic procedure
You have been diagnosed with androgenic alopecia, alopecia areata, traction alopecia or alopecia marginalis
Interested in hair restoration surgery?
If you are thinking about having hair restoration surgery, please contact me to schedule a free consultation. I will evaluate your hair loss history and that of your family. Then I will thoroughly examine your scalp to identify the supply and quality of potential donor hair that can be surgically removed and grafted into a thinning area.
Next, I will help you determine whether transplanted hair should be placed in a key thinning area such as the hairline or spread over a larger area for the best cosmetic results.
Finally, I will discuss with you details unique to you, such as hair-styling preference, in planning your hair transplantation strategy so that together, we can achieve the best possible results.
For more information on hair restoration, I recommend these 2 blogs
So that you can be fully informed before you decide to have hair restoration surgery, I've written several blogs explaining this procedure and its many benefits:
To learn more about the many facial procedures I offer
There are several facial procedures available to you in my plastic surgery practice. To learn more, please visit these pages on my website:
Board certified by the American Board of Plastic Surgery (ABPS), a member of the American Society of Plastic Surgeons (ASPS) and the American Society for Aesthetic Plastic Surgery (ASAPS), and a Fellow of the American College of Surgeons (FACS), Samuel J. Beran, MD is a highly accomplished plastic surgeon with offices in Manhattan, Harrison and Mount Kisco, NY. With more than 20 years' experience and a thorough command of the most advanced techniques and technologies, Dr. Beran consistently provides his patients with the highest level of plastic, cosmetic and reconstructive surgery of the breast, face, skin and body. Recently, Dr. Beran was named a "Top Doctor" by RealSelf for his dedication to responding to consumer questions and patient feedback. The "Top Doctor" designation is awarded to less than 10% of the RealSelf physician community.