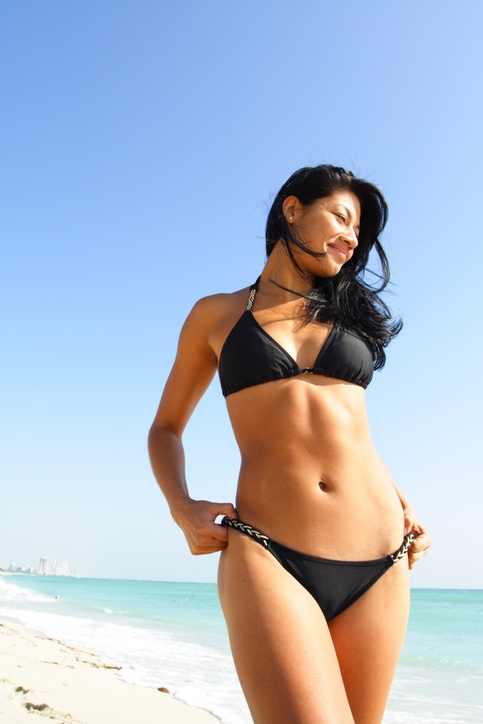 Have you been carrying around your saddle bags long enough? Are you tired of your inner thighs rubbing together? Do you long for slender, toned, sexy legs? If the answer to these questions is yes, you may want to consider CoolSculpting, a non-surgical procedure that dramatically reduces the size of your thighs by freezing and then eliminating stubborn layers of fat on the inner and outer thighs. For more information on CoolSculpting, download our free fact sheet!
With CoolSculpting, you'll see a noticeable reduction of approximately 25% of fat bulges in the areas that are treated — without needles, surgery or "downtime." During the CoolSculpting procedure, the treated fat cells are destroyed and then "flushed" from your body. As long as you maintain your weight with normal diet and exercise, your results should be long-term.
How soon can you see results from CoolSculpting?
Results from CoolSculpting can be seen as soon as 3 weeks following treatment,* with the greatest results occurring over the next 2-4 months* (as shown by the illustration below). Your body will still be flushing fat cells at that time, and it will continue doing so for up to 4 months.*

If your treatment plan calls for a second procedure, you can experience an additional 20% reduction of fat. Note: overall loss of total fat may be more or less, depending on the individual patient, his/her body type and the amount of fat that is treated.
What happens during the procedure
First, a gel pad is placed over the area that is being treated to protect the skin from the freezing treatment. Next, a device similar to a large vacuum hose is attached to your skin. You will feel a cold sensation like an ice pack on bare skin, then a firm tug and pull – enough of a pull to make sure the selected tissue will be cooled most efficiently. Then you will feel a sensation of intense cold, which soon goes away.
The treated fat cells are crystallized, turned into dead cells, and are then flushed by the body, leaving you more toned and sculpted. The fat eventually gets excreted through your urine.
Since the CoolSculpting procedure is completely non-invasive (non-surgical, no incisions), you can return to your normal activities immediately. You may experience redness, minor bruising, tingling or numbness in the treated area, but this is temporary.
How long do the results last?
After a CoolSculpting treatment, the treated fat cells no longer exist and can therefore no longer expand, resulting in the size and occurrence of "trouble spots" being reduced long-term. However, since each contouring treatment reduces only about 20-25% of fat cells, if patients do not continue to eat well and exercise, they can still gain weight in that area due to the remaining 75% of fat cells that can expand. That's why it's important not to gain weight after the procedure or your results will not be long-lasting.
If you get pregnant after CoolSculpting, you may need another procedure to restore your initial results. If you're planning on getting pregnant in the near future, I recommend waiting to have CoolSculpting until after you've given birth.
The ideal CoolSculpting candidate
As I tell my patients who are considering CoolSculpting, this is not a weight-loss treatment. It is designed for people who live active lifestyles, experience minimal weight fluctuations and are looking to target certain areas of their bodies that are stubbornly resistant to exercise and healthy eating habits. CoolSculpting is ideal for patients who only need a small reduction in fat, have no hanging skin, are within 20 pounds of their ideal weight, and do not want surgery in order to achieve a tighter, toner body.
Want to learn more about CoolSculpting?
If you are thinking about having CoolSculpting and would like to schedule a free consultation, please contact me. I will send you additional information prior to your appointment.
More information on body sculpting procedures
For further information on body slimming and toning procedures, you might find these pages helpful on my website:
*Results may vary from person to person
Board certified by the American Board of Plastic Surgery (ABPS), a member of the American Society of Plastic Surgeons (ASPS) and the American Society for Aesthetic Plastic Surgeons (ASAPS), and a Fellow of the American College of Surgeons (FACS), Samuel J. Beran, MD is a highly accomplished plastic surgeon with offices in Manhattan, Harrison and Mount Kisco, NY. With more than 20 years' experience and a thorough command of the most advanced techniques and technologies, Dr. Beran consistently provides his patients with the highest level of plastic, cosmetic and reconstructive surgery of the breast, face, skin and body. Recently, Dr. Beran was named a "Top Doctor" by RealSelf for his dedication to responding to consumer questions and patient feedback. The "Top Doctor" designation is awarded to less than 10% of the RealSelf physician community.