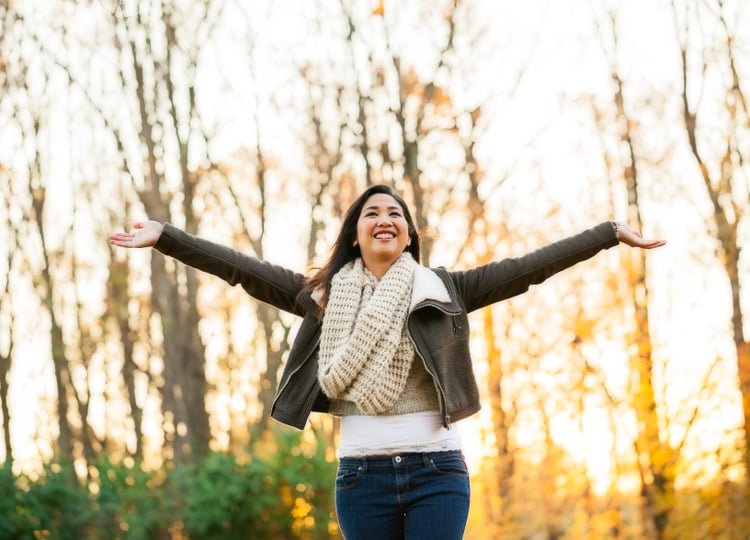 In my more than 20 years performing breast implant surgery, I've heard almost every reason for women wanting larger breasts. For many women, breast implants help them feel sexier, younger, more voluptuous...more feminine. For others, breast implants correct breast misalignment, breasts that never developed, the absence of breasts after surgery, or some other issue. But for all of these women, breast augmentation can be a wonderful turning point in their lives, boosting their self-esteem and enabling them to have a positive body image, sometimes for the first time. For more information on breast augmentation, download our free fact sheet!
There are many positive emotional and rational reasons for a woman to have cosmetic breast implant surgery
I'd like to share 5 of them here that I've observed over the years:
1. Breast implants often lead to a healthier lifestyle.
For many women, the preparation for breast implant surgery encourages them to switch to a healthier lifestyle. Many of my breast augmentation patients get into a vitamin regimen, quit smoking, start working out, de-clutter their homes, and overall, commit to being healthier.
2. They correct breasts that never developed.
For some young women, their breasts never develop, a condition called micromastia. One patient told me, "I had two nipples on a flat chest. I looked like a teenage boy." Breast implants allowed her to feel more "feminine" and to confidently wear clothing that accented her new curves.
3. Breast implants also correct asymmetrical breasts.
Many women's breasts don't match in some way, either in size or shape. One breast might be a D-cup, while the other is a B. Sometimes there is only a half-cup difference in size (this might not sound like much but it can be very noticeable and embarrassing). In some cases, women truly feel they have a deformity. It's a body image issue, not a self-esteem issue. They want to look better in clothes and bathing suits. The positive effect on their self-confidence is amazing.
4. They turn back the clock after pregnancy and breastfeeding.
After pregnancy, many women's bodies bounce right back but often their breasts do not. "I want my breasts back," is something I hear a lot from moms. Implants not only restore the shape and fullness these women had before childbearing but also the positive, feminine way they feel about themselves.
5. They restore a woman's breasts after a mastectomy.
Women who have had a mastectomy due to breast cancer or other serious health condition often want to "feel whole again." Breast reconstruction and augmentation can achieve this very important goal for them.
Interested in breast augmentation? Contact me.
If you are interested in scheduling a free consultation for breast augmentation surgery, please contact me. We will send you additional information prior to your appointment. You also might find the Breast Augmentation page on my website helpful.
Board certified by the American Board of Plastic Surgery (ABPS), a member of the American Society of Plastic Surgeons (ASPS) and the American Society for Aesthetic Plastic Surgeons (ASAPS), and a Fellow of the American College of Surgeons (FACS), Samuel J. Beran, MD is a plastic surgeon with offices in Manhattan, Harrison and Mount Kisco, NY. With years of experience and a thorough command of the most advanced techniques and technologies, he consistently provides his patients with the highest level of plastic, cosmetic and reconstructive surgery of the breast, face, skin and body.