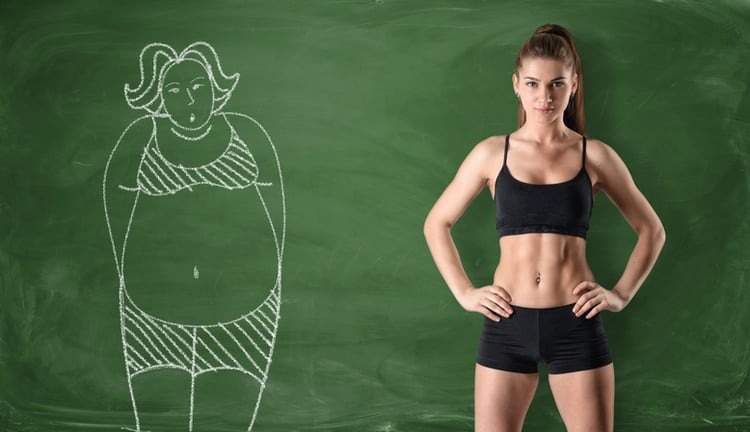 If you've tried dieting and exercise but still have stubborn, localized areas of fat that simply won't go away, liposuction could be the answer you've been looking for. It slims and reshapes specific areas of the body by decreasing excess fat deposits and improving your body contours and proportion.
Since fat cells do not reproduce, once they are reduced through liposuction, they will not be replaced—great news for many of my patients, which is probably why liposuction is today's most popular cosmetic procedure, according to the American Society for Aesthetic Plastic Surgery.
For more information about liposuction, watch my short 2-minute video by clicking on the button below.
Liposuction can dramatically change your self-image as well as your body
Not only can liposuction dramatically change your shape, it can also change the way you feel about yourself and motivate you to live a healthier lifestyle. In fact, many of my patients use liposuction as a starting point to change their lives for the better, especially now at the beginning of a new year. For people who want to be healthy, look better and feel their best, liposuction is a great way to start.
Permanently improve several areas of your body with liposuction
Liposuction can be performed on almost any part of the body but the following are the most commonly requested areas:
cheeks, jowls and neck
upper arms
breast or chest areas
back
abdomen and waist
hips and buttocks
inner and outer thighs
inner knees
calves and ankles
inner knees
calves and ankles
Three highly-advanced liposuction techniques to choose from
With new techniques and advancements in technology, plastic surgeons are able to achieve better, more natural-looking results with liposuction, making it today's most popular cosmetic procedure, according to the American Society for Aesthetic Plastic Surgery. Here are the three most commonly-used procedures which I will personally discuss with you and together, we will choose the one that's best for you.
Tumescent (traditional) liposuction
With this technique, a small, hollow tube (cannula) is inserted through one or more tiny incisions near the area to be suctioned. Fat is suctioned out through this tube as a plastic surgeon moves it around under the skin to target specific fat deposits, vacuuming away the unwanted fat.
Laser-assisted liposuction (SmartLipo)
Using laser technology, SmartLipo uses a thin laser fiber to liquefy fat by producing a burst of energy as the laser enters the fatty tissue. Laser-assisted liposuction also stimulates collagen production in the skin, which may offer additional skin-tightening benefits.
Ultrasound-assisted liposuction
This technique uses ultrasound to liquefy the fat, which makes it easier to extract. This technique may be particularly helpful in reducing fat from the upper abdomen, sides and back.
Liposuction can be performed along with other plastic surgery procedures
Liposuction can successfully be combined with other cosmetic surgery procedures such as a facelift, breast augmentation, tummy tuck or lower body lift. If you're interested in reducing fat throughout your entire body, this will likely take multiple procedures.
How liposuction is performed
Depending on the type of liposuction you are having, you may be able to go home the same day. Before the procedure starts, you will be given an anesthetic. Depending on how much fat is being extracted and the type of liposuction being done, you may get local anesthesia or general anesthesia. Once the anesthesia has taken effect, I will make small cuts, insert a suction device inside the cut, and extract excess fat using a suction pump or a large syringe. How long it takes depends on how much fat is being extracted.
Are you a good candidate for liposuction?
In order to be considered a good candidate for this surgical procedure, you should be in good overall physical health and maintain a routine of regular exercise and proper diet. Liposuction tends to work best on smaller areas of fat, so you should be somewhat close to your ideal weight at the time of your procedure. This surgery is not a substitute for other weight loss strategies and is not designed for patients who are overweight or obese.
Are you considering liposuction?
If you are thinking about having liposuction, please contact me for a free consultation where you will hear about all your options and have the opportunity to ask any questions. I have performed hundreds of liposuction procedures and am highly experienced in this specialized type of plastic surgery. Deciding to have liposuction is an important decision and I am dedicated to helping you achieve the beautiful body you've always wanted.
More information on body sculpting procedures
For further information on body slimming and toning procedures, you might find these pages helpful on my website:
Board certified by the American Board of Plastic Surgery (ABPS), a member of the American Society of Plastic Surgeons (ASPS) and the American Society for Aesthetic Plastic Surgeons (ASAPS), and a Fellow of the American College of Surgeons (FACS), Samuel J. Beran, MD is a highly accomplished plastic surgeon with offices in Manhattan, Harrison and Mount Kisco, NY. With more than 20 years' experience and a thorough command of the most advanced techniques and technologies, Dr. Beran consistently provides his patients with the highest level of plastic, cosmetic and reconstructive surgery of the breast, face, skin and body. Recently, Dr. Beran was named a "Top Doctor" by RealSelf for his dedication to responding to consumer questions and patient feedback. The "Top Doctor" designation is awarded to less than 10% of the RealSelf physician community.