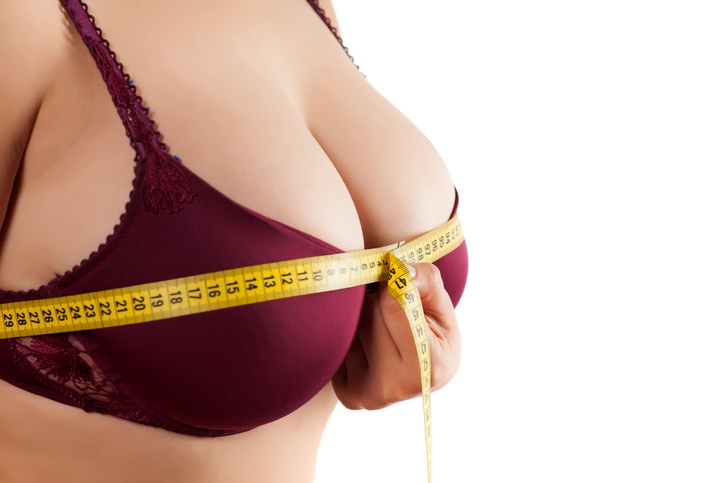 In my plastic surgery practice, I have many, many patients who want larger, fuller breasts. However, I also have many patients who would like their breasts to be smaller. Very large breasts, especially on small-framed women, can cause neck pain, back pain, painful indentions on the shoulders, rashes, problems with exercise, self-consciousness and embarrassment.
If you feel your breasts are too large, especially if they have become cumbersome and uncomfortable, breast reduction surgery can be a very effective solution. As well as reducing the size and weight of your breasts, this procedure also improves the shape of your breasts and nipple areas, allowing you to feel good about yourself and your appearance, sometimes for the first time.
It's also important to know that I perform breast reduction on men as well, usually due to a condition called gynecomastia in which male breasts are abnormally enlarged.
My answer on RealSelf.com to a breast reduction question
A woman in Omaha, Nebraska recently asked this question to RealSelfRealSelf.com:
"How long does a normal breast reduction take and what are the risks?"
Here is my answer:
It's hard to put an exact number on the length of time for a breast reduction. I do all of these cases with one of my partners. We schedule the surgical time for 2 hours but the actual procedure time varies between 1 hour for smaller reductions and 1.5 hours for larger reductions.
What happens during breast reduction surgery?
There are three main features of a breast reduction:
A decrease in the size of the breast and a reduction in the tissue.
The nipple remains attached, but is relocated to a higher position on the chest.
The loose skin is removed and tightened.
Breast reduction surgery is usually performed through incisions on your breasts with surgical removal of the excess fat, glandular tissue and skin. In some cases, excess fat may be removed through liposuction. If your breast size is largely due to fatty tissue rather than excess skin, and if your breasts are not overly saggy, I might use liposuction on its own during the breast reduction procedure.
The exact technique used to reduce the size of your breasts will be determined by your individual physical condition, your body type, your breast composition, the amount of reduction desired and the end result you are hoping to achieve.
Here are the 5 steps of a typical breast reduction surgery:
Step 1: Anesthesia
Medications are administered for your comfort during breast reduction surgery. The choices include intravenous sedation and general anesthesia. Your doctor will recommend the best choice for you.
Step 2: The incision
Incisions include:
A circular pattern around the areola. The incision lines that remain are visible and permanent scars, although usually well concealed beneath a swimsuit or bra.
A keyhole or racquet-shaped pattern with an incision around the areola and vertically down to the breast crease
Step 3: Removing tissue and repositioning
After the incision is made, the nipple is then repositioned. The areola is reduced by excising skin at the perimeter, if necessary. Underlying breast tissue is reduced, lifted and shaped. Occasionally, for extremely large pendulous breasts, the nipple and areola may need to be removed and transplanted to a higher position on the breast. The nipple is NOT removed.
Step 4: Closing the incisions
The incisions are brought together to reshape the now smaller breast. Sutures are layered deep within the breast tissue to create and support the newly shaped breasts; sutures, skin adhesives and/or surgical tape close the skin. Incision lines are permanent, but in most cases will fade and significantly improve over time.
Step 5: Enjoy the results
The results of your breast reduction surgery are immediately visible. Over time, post-surgical swelling will resolve and incision lines will fade. The goal is for you to be happily satisfied with your new breast size and shape.
If you are interested in breast reduction
If you are thinking about having breast reduction and would like to schedule a free consultation, please contact me. I will send you additional information prior to your appointment.
More information on breast procedures
You might also find these pages helpful on my website:
Board certified by the American Board of Plastic Surgery (ABPS), a member of the American Society of Plastic Surgeons (ASPS) and the American Society for Aesthetic Plastic Surgeons (ASAPS), and a Fellow of the American College of Surgeons (FACS), Samuel J. Beran, MD is a highly accomplished plastic surgeon with offices in Manhattan, Harrison and Mount Kisco, NY. With more than 20 years' experience and a thorough command of the most advanced techniques and technologies, Dr. Beran consistently provides his patients with the highest level of plastic, cosmetic and reconstructive surgery of the breast, face, skin and body. Recently, Dr. Beran was named a "Top Doctor" by RealSelf for his dedication to responding to consumer questions and patient feedback. The "Top Doctor" designation is awarded to less than 10% of the RealSelf physician community.