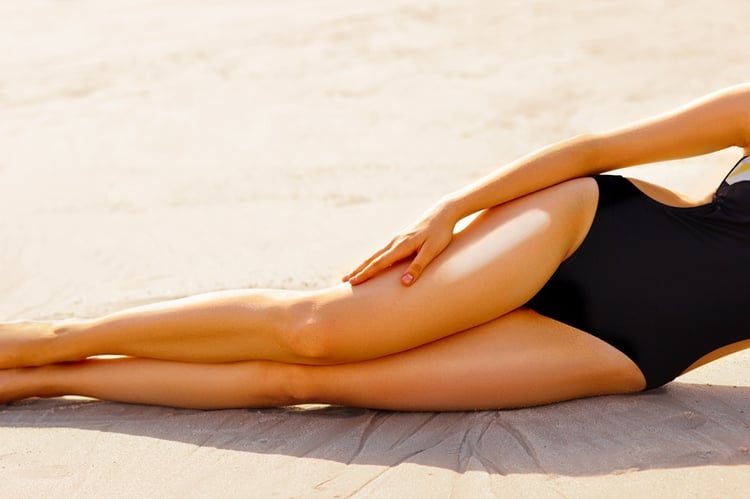 Many of my patients are self-conscious about their thighs, wishing their legs in that area were thinner, trimmer and more toned. For some, no matter how much they exercise or eat a healthy diet, they still are not able to get rid of stubborn fat in the "saddlebag" or "inner thigh gap" areas. If you also have this problem, you may want to consider CoolSculpting, the only FDA-approved technology of its kind, proven to reduce the size of thighs by freezing away stubborn layers of fat on the inner and outer thighs without surgery or downtime. For more information on CoolSculpting, download our free fact sheet!
No surgery, no scars, no downtime
Instead of undergoing a surgical procedure like liposuction to get rid of your fat, CoolSculpting can make you look slimmer and more toned without injections, incisions or a lengthy recovery period.
CoolSculpting cools down the targeted area to freeze the fat cells in your inner and outer thighs. The fat cells are crystallized and flushed from your body naturally over time without effecting any of the surrounding area. Since fat cells are more vulnerable to cold temperature than the surrounding tissue in your thighs, they are frozen while the rest of your body operates as normal. Between the next 3 weeks-3 months, your body should naturally get rid of those crystallized fat cells, leaving you with slimmer legs.
Some patients may need a few sessions to achieve their desired results; this depends on the size of the fat layer and what your particular goals are.
What will your thighs look like after CoolSculpting?
So what exactly can you expect? Noticeably smaller fat bulges and a more toned appearance. Results can be seen as soon as 3 weeks following treatment*, with the greatest results occurring over the next 2-4 months*(as shown by the illustration below). Your body will still be flushing fat cells at that time, and it will continue doing so for up to 4 months*.

Most importantly, you should feel more comfortable wearing the clothes you want to wear. With all of my patients who choose CoolSculpting, my main goal is to enable them to feel happy, satisfied and beautiful with their "new" thighs.
The best part: As long as you maintain your weight with normal diet and exercise, the results should be long-term.
Is CoolSculpting the right choice for you?
CoolSculpting is the perfect treatment for many people who are unhappy with their thighs. It is also effective in the treatment of sagging fat pockets on the tummy, back, hips and arms. However, it is not a shortcut method to reducing fat. Rather, it is meant for people who already live healthy and active lives but cannot seem to get rid of the few inches of stubborn fat on their thighs no matter what they do. You just need enough tissue on your thighs for the applicator to grab.
What happens during the procedure
First, a gel pad is placed over the area that is being treated to protect the skin from the freezing treatment. Next, a device similar to a large vacuum hose is attached to your skin. You will feel a cold sensation like an ice pack on bare skin, then a firm tug and pull – enough of a pull to make sure the selected tissue will be cooled most efficiently. Then you will feel a sensation of intense cold, which soon goes away.
Since the CoolSculpting procedure is completely non-invasive, you can return to your normal activities immediately. You may experience redness, minor bruising, tingling or numbness in the treated area, but this is temporary.
Interested in CoolSculpting?
If you are thinking about having CoolSculpting and would like to schedule a free consultation, please contact me. I will send you additional information prior to your appointment.
More information on body sculpting procedures
For further information on body slimming and toning procedures, you might find these pages helpful on my website:
*Results may vary from person to person
Board certified by the American Board of Plastic Surgery (ABPS), a member of the American Society of Plastic Surgeons (ASPS) and the American Society for Aesthetic Plastic Surgeons (ASAPS), and a Fellow of the American College of Surgeons (FACS), Samuel J. Beran, MD is a highly accomplished plastic surgeon with offices in Manhattan, Harrison and Mount Kisco, NY. With more than 20 years' experience and a thorough command of the most advanced techniques and technologies, Dr. Beran consistently provides his patients with the highest level of plastic, cosmetic and reconstructive surgery of the breast, face, skin and body. Recently, Dr. Beran was named a "Top Doctor" by RealSelf for his dedication to responding to consumer questions and patient feedback. The "Top Doctor" designation is awarded to less than 10% of the RealSelf physician community.