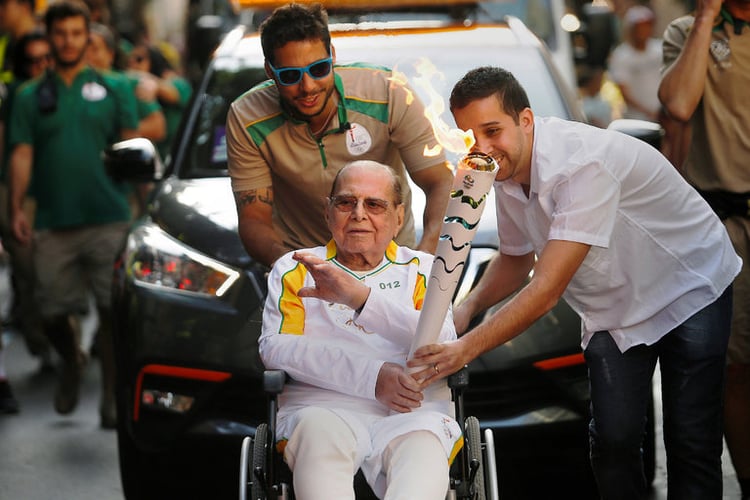 Photo courtesy of The New York Times
Dr. Ivo Pitanguy, the world-renowned Brazilian plastic surgeon and pioneer of the Brazilian butt lift, died Saturday, August 6th at his home in Rio de Janeiro at the age of 93, one day after carrying the Olympic flame through the 2016 host city as part of a relay to light the flame for the opening ceremony of the Games.
Inspiring plastic surgeons around the world for decades, Dr. Pitanguy advanced techniques in reconstructive and aesthetic surgery such breast reconstruction, rhinoplasty (nose jobs), tummy tucks, face lifts and body contour surgery.
Known as "plastic surgeon to the stars," Dr. Pitanguy helped develop techniques that have become standard in the industry, particularly tummy tucks with scars low enough to hide under a bikini bottom, making him highly-sought in Brazil's ultra-revealing beach culture.
According to his obituary in The New York Times, Dr. Pitanguy endeared himself to Brazilians in 1961 when he operated on victims of a circus tent fire, many of them children. Describing the event as "transformative," Dr. Pitanguy said that treating skin burns showed him that operations that altered a person's appearance were not trivial pursuits but could be "curative remedies for the psyche as well as for the body."
Plastic surgeons from all over the world regularly traveled to Rio to observe Dr. Pitanguy's surgeries and to train with him. Scores of actors, actresses, royals, business executives and the super-rich traveled to his clinic as well, causing New York Magazine to dub him "the king of plastic surgery" in 2008.
As a testament to his skill with the scalpel and the celebrity of his patients, The Times article states that "in the 20th Century, perhaps only two Brazilians — Pelé, the soccer star, and Carmen Miranda, the actress and singer with the signature fruit-laden hats — were better known internationally than Dr. Pitanguy.