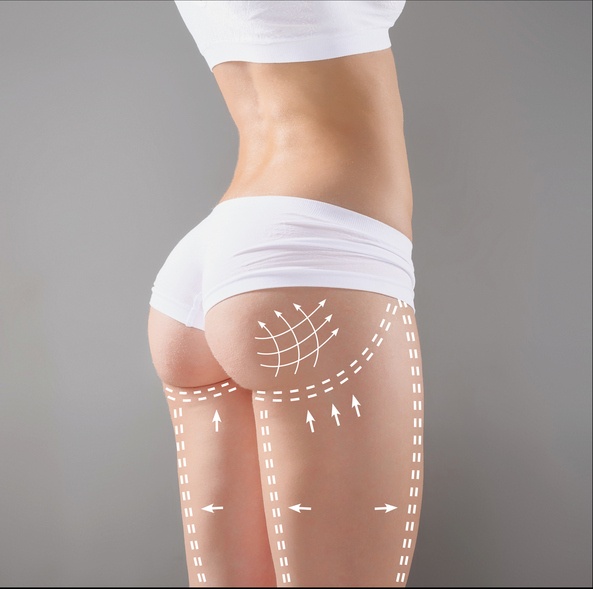 I frequently hear from my patients that they really like the way I explain plastic surgery procedures because I talk one-on-one with them, I describe what will happen in terms they can understand, and I let them know about the risks as well as the benefits of any surgery. Since they seem to learn a lot from my explanations, I thought I'd make a video discussing the Brazilian butt lift so others can benefit, too. You can read what I talk about (here in this blog) or you can watch my short 2-minute video by clicking on the button below.
How the Brazilian butt lift came about
These days, a commonly inquired-about procedure is the Brazilian butt lift. In the past, maybe 15 to 20 years ago, plastic surgeons did buttock augmentations with implants, but those implants had a number of problems. While breast augmentation is commonly performed with implants quite safely, butt augmentation is a different sort of procedure.
Surgeons were searching for a way to enhance the buttock, both the size and the shape, without using implants. What we started using, which has had great success, is fat grafting (another term for Brazilian butt lift).
What happens during the procedure
In Brazilian butt lift surgery, I first liposuction fat from an area of your body that has a good supply of fat deposits, most commonly the stomach, inner thighs, love handles and/or the back. I take that fat, concentrate it, purify it, and then transplant it into your buttocks.
Because it's your own fat, there's no risk of rejection. When people hear the word transplant, they think of transplanting a kidney from a cousin or a heart from a donor. It's not like that. Because the fat is from your own body, it doesn't get rejected.
I then take that concentrated, purified fat and apply it in layers superficially into the buttocks. In this way I'm able to precisely enhance the buttocks by controlling how and where the fat is applied.
Each woman's desired results are unique
Some women come to me who have a little flattening on the sides of the top or bottom of their buttocks and just want some small differences to be made in the shape of their butt. Other women come in wanting both an augmentation (an increase in size of the buttocks) and a change in shape. Fat grafting allows me to do both types of procedures.
The downsides of Brazilian butt lifts
You have to have enough fat for me to take out and transplant. Therefore, if you weigh 100 pounds and you want a big butt by way of fat grafting, you probably don't have enough fat for me to do so.
The Brazilian butt lift procedure is a procedure. It is surgery. Some of the fat will be revascularized with a new blood supply and will survive just like normal fat in your buttock would, but some of the fat won't. It just gets absorbed. I anticipate this, so I always overcorrect.
The more you sit upon your buttocks for the first 6 weeks after the surgery, the less of the transplanted fat will "take." For a lot of my patients, that's an issue because they have to go to work and it's hard not to sit. So I have some tricks we do to help that, but in the end, there's definitely an inherent sacrifice to the success of the operation if you have to sit on your buttocks all day at work.
But in spite of the drawbacks, the Brazilian butt lift has become quite popular and is a very effective way of enhancing both the size and the shape of the buttocks.
Considering a Brazilian butt lift?
If you are thinking about getting a Brazilian butt lift and would like to schedule a free consultation, please contact me. I will send you additional information prior to your appointment, then when we meet, I will answer all your questions, evaluate your body type and overall health, and learn what you're hoping to achieve. Then together, we'll decide what will bring you the best possible results.
Learn more about body contouring procedures
For further information on body slimming, toning and contouring procedures, you might find these pages on my website helpful:
Board certified by the American Board of Plastic Surgery (ABPS), a member of the American Society of Plastic Surgeons (ASPS) and the American Society for Aesthetic Plastic Surgeons (ASAPS), and a Fellow of the American College of Surgeons (FACS), Samuel J. Beran, MD is a highly accomplished plastic surgeon with offices in Manhattan, Harrison and Mount Kisco, NY. With more than 20 years' experience and a thorough command of the most advanced techniques and technologies, Dr. Beran consistently provides his patients with the highest level of plastic, cosmetic and reconstructive surgery of the breast, face, skin and body. Recently, Dr. Beran was named a "Top Doctor" by RealSelf for his dedication to responding to consumer questions and patient feedback. The "Top Doctor" designation is awarded to less than 10% of the RealSelf physician community.