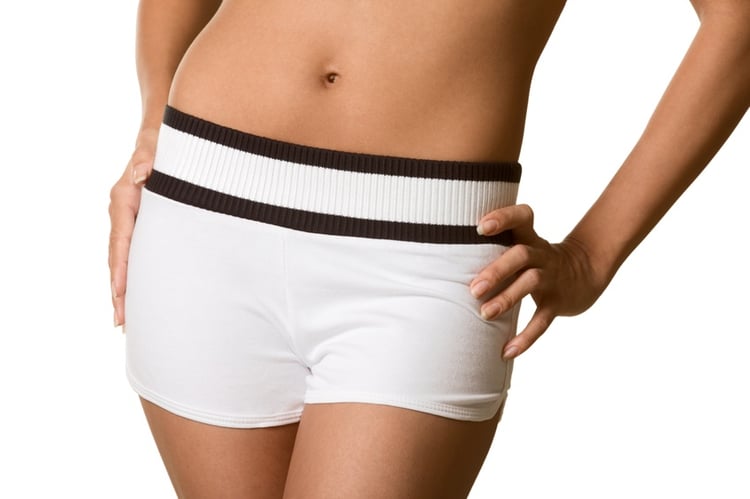 Would you like a flatter, more toned, sexier tummy? Tummy tuck surgery, also known as abdominoplasty, is a great way to reduce excess fat and skin and help restore weakened or separated muscles. The result? A smoother, firmer, more attractive midsection.
If you are like many of my patients of otherwise normal body weight and proportion, over the years you may have developed a protruding, flabby, sagging abdomen. The most common reasons for this include:
Normal aging
Heredity
Pregnancy
Prior surgery
Significant fluctuations in weight
Add liposuction for even better results
With tummy tuck surgery, I take loose, flabby skin that has lost its shape and elasticity and transform it into a flatter, smoother abdominal surface. If you decide to also have liposuction at the same time, I can extract unwanted fat around your waist, hips, thighs and buttocks. When this is done in concert with a tummy tuck, the results can be even more dramatic. Sometimes we can re-use this unwanted fat and transfer it to your buttocks to enhance the shape, known as a Brazilian Butt Lift.
5 top reasons to have a tummy tuck
There are several beautiful benefits to having a tummy tuck, including:
1) Slimmer, more toned, younger-looking midsection
After pregnancy or weight loss, a woman's midriff often does not return to its previous tone, shape and look. The skin may be loose or even hanging, the muscles may have spread out and weakened, there may be excess fat in places where it wasn't before, and the waist may have widened. A tummy tuck helps reverse all of these by reducing extra skin and fat and tightening the abdominal muscles. The result? A narrower waist, a flatter belly and a more toned appearance.
2) Return to pre-mommy clothes
Physical changes after pregnancy often cause extra skin or fat to remain in the hips or lower stomach. The extraction of this tissue and tightening of the muscles usually results in a smaller dress size and the ability to wear sexy, body-hugging clothing you may not have felt comfortable wearing for years.
3) Improved abdominal tone and better posture
After extreme weight loss or multiple pregnancies, stomach muscles can become distended. Diet and exercise alone often cannot help reverse this. A tummy tuck surgically tightens weak muscles while reducing excess skin and fat, thereby flattening the abdomen. Also, after having abdominoplasty, many of my patients notice that their posture has improved significantly, due to the tightened muscles supporting their spine, which can have the added benefit of relieving certain types of back pain.
4) Results are very long-lasting
However, if you lose or gain or lose a considerable amount of weight after the surgery, this could compromise your results.
5) For a more positive self-image
Getting a tummy tuck gives you a lot more than just a flatter stomach and tighter midsection. Just as importantly, it increases your self-confidence and how you feel about yourself as a woman. In fact, many of my patients have told me that after their tummy tuck, they not only look and feel better but also have a new outlook on life and a renewed purpose.
If you are considering a tummy tuck
If you are interesting in having a tummy tuck, please contact me for a free consultation. I have performed hundreds of tummy tucks and am highly experienced in this specialized type of plastic surgery. I am happy to meet with you, answer your questions, and discuss how this procedure can give you the beautiful results you desire.
To learn more about plastic surgery body procedures
For further information on body slimming and toning procedures, you might find these pages helpful on my website:
Board certified by the
American Board of Plastic Surgery
(ABPS), a member of the
American Society of Plastic Surgeons (ASPS)
and the
American Society for Aesthetic Plastic Surgeons (ASAPS)
, and a Fellow of the
American College of Surgeons (FACS)
,
Samuel J. Beran, MD is a plastic surgeon with offices in Manhattan, Harrison and Mount Kisco, NY. With years of experience and a thorough command of the most advanced techniques and technologies, he consistently provides his patients with the highest level of plastic, cosmetic and reconstructive surgery of the breast, face, skin and body.