Until now, you had only two choices of breast implants:
You could get silicone implants

that would give you

natural-looking results but

you'

d worry about silent rupture.
Or

you

could get saline implants that would give

you

peace of mind but

you'

d

worry about wrinkling and an unnatural feel.
Now there's a beautiful third choice: the

structured implant (IDEAL IMPLANT)
The revolutionary IDEAL IMPLANT is a structured, saline-filled implant that combines the natural feel of silicone with the safety and peace of mind of saline. Created by a plastic surgeon, these FDA-approved structured implants use the most advanced technology to bring you a realistic, youthful look and feel without the drawbacks that concern women most—unnatural feel and silent rupture.
My patients love the new IDEAL IMPLANT because they no longer have to choose between a beautiful, natural look and the confidence of knowing their implants will stay intact. To learn more about the range of breast surgical procedures I offer to help you get the beautiful breasts you're looking for, click here.
10 beautiful reasons women are choosing the

IDEAL IMPLANT
1. Youthful shape and natural feel
2. Smooth surface
3. Filled with saline that is easily and safely absorbed by the body if ruptured
4. No sticky silicone gel from ruptured implants in surrounding tissues
5. No silent rupture—you will always know that your implants are intact
6. Lower rupture rate and higher rupture strength
7. Takes a smaller incision than silicone gel implants
8. No costly MRIs needed to detect silicone gel rupture
9. Only available from Board Certified plastic surgeons
10. 10 year warranty and revision surgery unlikely
Structured vs. saline implants
Saline is a safe, natural solution easily absorbed by the body in case of rupture. However, saline implants wrinkle and move like water balloons.
Structured vs. silicone gel
implants
When intact, silicone gel implants are FDA-approved and safe. But when they rupture, the implants and gel need to be removed. These ruptures are silent and can only be detected by an MRI, so women with silicone gel implants should have an MRI scan every 2 years to make sure they haven't ruptured.
Revolutionary design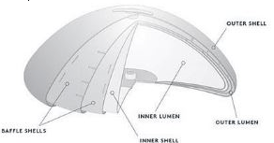 The unique design of the IDEAL IMPLANT is what gives it a natural look and feel without using silicone gel. It has a series of implant shells nested together and two separate chambers that hold the saline. Plus, it uses an advanced internal structure to control movement of the saline and support the implant edges to reduce collapse and wrinkling.
Approved by the FDA and Health Canada in 2014, the IDEAL IMPLANT has undergone 10 years of development, testing and refinement, including the clinical expertise of numerous plastic surgeons.
Considering breast augmentation?
If you are thinking about having breast implant surgery, please contact me for a free consultation and I will send you additional information prior to your appointment. During our meeting, I will assess the current appearance of your breasts, your reasons for wanting surgery, and your expectations. Then together, we will decide if the IDEAL IMPLANT would be the right choice for you, or another option. (NOTE: the IDEAL IMPLANT is not eligible for my special pricing.)
Want to know more about breast procedures?
You might also find these pages helpful on my website:
Board certified by the American Board of Plastic Surgery (ABPS), a member of the American Society of Plastic Surgeons (ASPS) and the American Society for Aesthetic Plastic Surgeons (ASAPS), and a Fellow of the American College of Surgeons (FACS), Samuel J. Beran, MD is a highly accomplished plastic surgeon with offices in Manhattan, Harrison and Mount Kisco, NY. With more than 20 years' experience and a thorough command of the most advanced techniques and technologies, Dr. Beran consistently provides his patients with the highest level of plastic, cosmetic and reconstructive surgery of the breast, face, skin and body. Recently, Dr. Beran was named a "Top Doctor" by RealSelf for his dedication to responding to consumer questions and patient feedback. The "Top Doctor" designation is awarded to less than 10% of the RealSelf physician community.