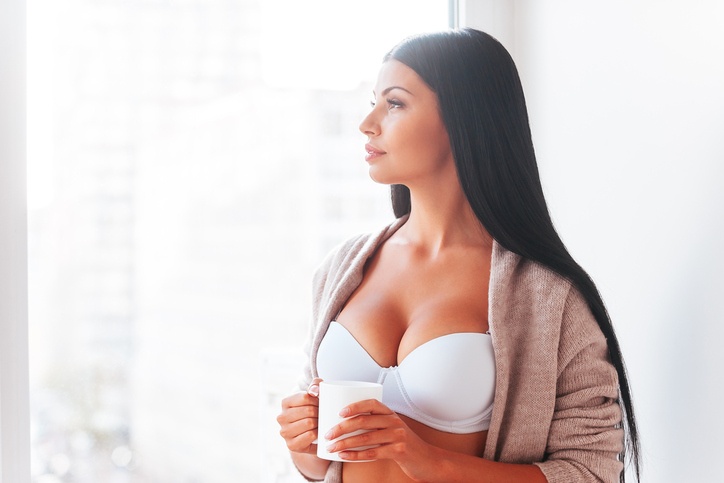 No matter which type of plastic surgery procedure my patients are considering, I've always believed that the best patient is an informed patient. It's very important to me that before you have a procedure, you have all the information you need to make the decision that's right for you. To learn more about the range of breast surgery procedures I offer, click here.
That's why I like providing short videos where I briefly explain a certain body enhancing procedure—in this case, breast implants, one of the most popular plastic surgery procedures I perform. The breast implant that I discuss here is the Ideal Implant. You can read what I talk about (below) or you can watch my 2-minute video by clicking on the button below.
Ideal Implant: how it's different from silicone and saline
We've all heard of saline implants—a rubberized shell filled with saline—and silicone implants—a rubberized shell filled with silicone gel, like gummy bears. Now there's a third implant that's been around for a couple of years called the Ideal Implant. That's a structured saline implant. The idea was to take the best of the silicone implant, which gives you the feel of a breast, and merge it with the benefits of a saline implant.
Multiple layers make it feel more like a real breast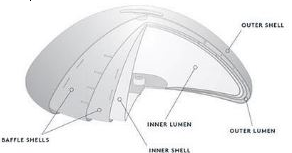 The difference between an Ideal Implant and a regular saline implant is that the Ideal Implant has multiple layers and multiple little channels to restrict the flow of the saline.
Much like a waterbed that's baffled so the water doesn't shift from one side to another all at once but instead, slowly makes its way across the inside of the bed, the saline in an Ideal Implant is pocketed in various spots within the implant so that the implant doesn't show the rippling that saline implants can and it feels more like a silicone gel implant.
Both the silicone gel and the Ideal Implant feel more like a breast than a saline implant.
So for those patients who are interested in a saline implant, but want something that's going to have the best feel of a silicone implant, I love the Ideal Implant .
One drawback: price
One big downside of the Ideal Implant is that it's much more expensive than a normal saline implant. For many patients, this puts it out of their price range. For the actual cost depending on your body type and personal expectations, please contact me.
How much do breast implants cost?
Naturally, a very important question to ask when you're considering getting breast implants is how much they will cost. My answer is that there is not one standard price. Every woman's breasts are unique, the results she is seeking from breast augmentation surgery are specific to her, and each of the three types of breast implants has a different price.
For these reasons, I determine the exact cost of a breast implant procedure after I have met with the patient, evaluated her breasts and body type, her overall physical condition and her personal goals and expectations. Then together, we will decide what type of procedure will achieve the best possible results and how much that procedure will cost.
If you are a good candidate for breast augmentation and you are not seeking to combine it with another surgery, you may qualify for my special pricing. For further pricing details, please contact me. (Please note: the IDEAL Implant is not eligible for my special pricing.)
Insurance coverage
I want to make sure all my patients know that insurance companies consider breast augmentation surgery (no matter which type of breast implant they choose) to be elective cosmetic surgery and therefore is usually not covered by insurance, meaning that patients pay the entire cost themselves.
Seeing is believing
To see unretouched "before and after" photos of actual patients of mine who have had successful breast augmentation, please visit the Breast Augmentation page in the Photo Gallery section of my website.
If you already have breast implants, please come see me
If it has been a few years (or more) since your breast augmentation surgery, it's important to get them checked. I highly recommend doing this once a year. Please make an appointment to come see me so I can check for any problems.
Considering breast augmentation?
Deciding to have breast augmentation surgery is a big decision, impacting how your breasts look and feel for the rest of your life. If you are thinking about this procedure and would like to schedule a free consultation, please contact me and I will send you additional information prior to your appointment. I will assess the current appearance of your breasts, your reasons for wanting surgery, and your expectations. Then together, we will decide which option will bring you the beautiful results you're looking for, whether that is the IDEAL Implant or another option.
Want to know more about breast procedures?
You might find these pages helpful on my website:
Board certified by the American Board of Plastic Surgery (ABPS), a member of the American Society of Plastic Surgeons (ASPS) and the American Society for Aesthetic Plastic Surgeons (ASAPS), and a Fellow of the American College of Surgeons (FACS), Samuel J. Beran, MD is a highly accomplished plastic surgeon with offices in Manhattan, Harrison and Mount Kisco, NY. With more than 20 years' experience and a thorough command of the most advanced techniques and technologies, Dr. Beran consistently provides his patients with the highest level of plastic, cosmetic and reconstructive surgery of the breast, face, skin and body. Recently, Dr. Beran was named a "Top Doctor" by RealSelf for his dedication to responding to consumer questions and patient feedback. The "Top Doctor" designation is awarded to less than 10% of the RealSelf physician community.