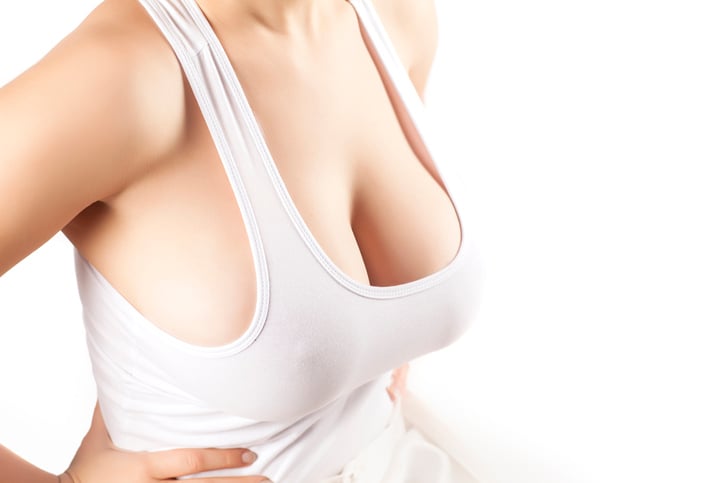 Earlier this year, textured breast implants made by the manufacturer Allergan were recalled in the United States and around the world because they have been linked to a rare form of cancer called breast implant-associated anaplastic large-cell lymphoma. (The American Society of Plastic Surgeons has published a report discussing this type of lymphoma which you can read here.)
Allergan is now offering to replace their recalled BIOCELL textured breast implants with Allergan smooth implants at no charge.
If you currently have Allergan BIOCELL textured breast implants, Allergan will replace them with smooth implants FOR FREE.
This offer is good until July 24, 2021 and applies to revision surgeries on or after the date of the recall announcement, which was July 24, 2019. Patients would still have to pay surgical and operating room fees. To read the offer details and Frequently Asked Questions, click here.
Note: only one type of breast implant has been recalled
Fortunately, the majority of women with breast implants do not need to worry about the safety of their implants. Specifically, implants that have been recalled are those that have a textured or slightly roughened surface, as opposed to a smooth covering.
I only use smooth breast implants in my practice, not textured
To reassure all of my patients who have breast implants or are considering getting breast implants, I want to state very clearly:
I only use smooth implants, not textured ones. Therefore, none of my patients have to worry about the Allergan BIOCELL recall. However, if any of my patients have friends or family members who do have textured implants, such as the tear drop variety, I am happy to meet with them to advise them on what they should do going forward.


For an explanation of the recall and what it might mean for you, watch this short video
To help patients better understand the Allergan textured breast implant recall issue, I've made a short video explaining the details, which you can see by clicking on the image below.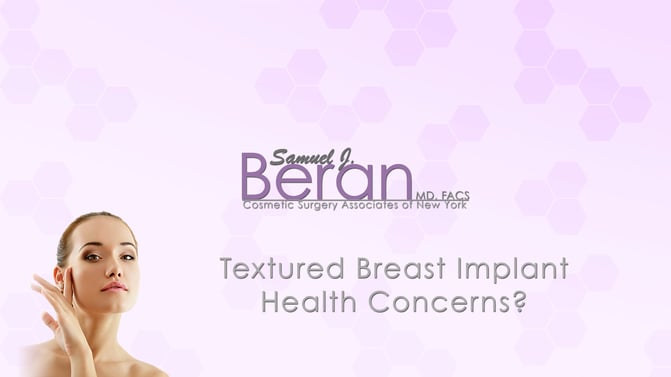 If you have breast implants, especially textured ones, you should call your plastic surgeon or come see me for an exam
If you have any type of breast implant — saline, silicone, structured or textured — it's important to get them checked for ruptures, slippage, leakage, swelling, the above-mentioned rare cancer or any other potential problems. For my patients with implants, I strongly recommend getting them checked once a year. If you have textured implants which are part of the Allergan recall, you should act even sooner — get them checked right away.
Symptoms of potential problems include:
Pain
Lumps
swelling
breast asymmetry
If you are experiencing of these symptoms, consult your plastic surgeon right away. However, if there are no symptoms, there is no reason to remove the implants.
When asked if breast implants are safe, my answer is yes
In over 20 years of performing breast implant surgery in my plastic surgery practice, I have encountered very few complications. In fact, for many women who want larger breasts, or want the size and shape of their breasts to match, or have had a mastectomy and are seeking breast reconstruction, breast implants are a highly satisfying solution. Also, according to the American Society of Plastic Surgeons, breast implant surgery is the top cosmetic surgery performed in the US today.
I offer three types of breast implants, all safe
There are three types of breast implants available in the United States today:
Silicone breast implants that are filled with silicone gel
Saline breast implants that are filled with saline (sterile saltwater)
Structured, saline-filled implants that combine silicone gel and saline
Most women (and most plastic surgeons, myself included) prefer the look and feel of structured or silicone implants, both of which are generally considered to be more like real breast tissue. Saline implants are more prone to cause rippling of the skin.
5 highly informative blogs explaining the safety of breast implants
So that you can be fully informed on this important subject, I've written several blogs explaining the safety of breast implants:
Seeing is believing
To see unretouched "before and after" photos of actual patients of mine who have had successful breast implant surgery, please visit the Breast Augmentation page in the Photo Gallery section of my website.
Considering breast implants?
If you are thinking about having breast implant surgery and would like to schedule a free consultation, please contact me and I will send you additional information prior to your appointment. During our consultation, I will assess the current appearance of your breasts, your reasons for wanting surgery, and your expectations. Then together, we will decide which breast procedure will bring you the results you're looking for. I specialize in the most advanced techniques of breast augmentation surgery and am ready to help you achieve your goals.
Learn more about the many breast procedures I offer
You can find a good deal of information on my website about the many breast procedures available to you:
Board certified by the American Board of Plastic Surgery (ABPS), a member of the American Society of Plastic Surgeons (ASPS) and the American Society for Aesthetic Plastic Surgery (ASAPS), and a Fellow of the American College of Surgeons (FACS), Samuel J. Beran, MD is a highly accomplished plastic surgeon with offices in Manhattan, Harrison and Mount Kisco, NY. With more than 20 years' experience and a thorough command of the most advanced techniques and technologies, Dr. Beran consistently provides his patients with the highest level of plastic, cosmetic and reconstructive surgery of the breast, face, skin and body. Recently, Dr. Beran was named a "Top Doctor" by RealSelf for his dedication to responding to consumer questions and patient feedback. The "Top Doctor" designation is awarded to less than 10% of the RealSelf physician community.